After a great opening weekend of films and parties, the Atlanta Film Festival has a week filled with Creative Conference workshops, features, and short blocks.
Tonight at 7:00 at 7 Stages Theatre's Main Stage is a short block of "New Mavericks: Female Directors." With films from Greece, Denmark, Canada, and the U.S., this is a rare opportunity to see the work of some of tomorrow's most promising female directors. Brittany Shyne's Painted Lady and Eliza McNitt's Without Fire are two films that demonstrate the development and strength of young female characters.
On Tuesday, aspiring filmmakers can head to the Plaza's Main Theatre to attend the Creative Conference workshop Demo: Cameras (10:00 AM) and Demo: Post (1:30 PM). Through demonstrations, these workshops will help clarify these technical aspects to filmmaking.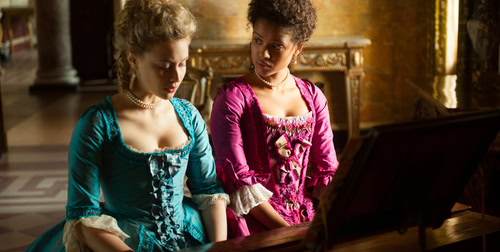 Amma Asante's period piece Belle is the main viewing attraction at 9:15 on Tuesday night at the Plaza Theatre Main Stage. It tells the story of Belle, a mixed-race girl raised by her aristocratic great-uncle Lord Mansfield and his wife. Starring Gugu Mbatha-Raw, the film, based on actual events, is a dramatic look at race and class relations in 18th-century Britain.
There is a wide variety of Creative Conference workshops on Wednesday at the Plaza. Starting at 10:00 AM is Transitions: Actor to Director/Short to First Feature. Discussions surrounding these typical transitions will be illuminating for anyone who has been or plans to be in the filmmaking business for the long haul.
Wednesday night's highlight is the documentary feature 120 Days. Miguel Cortes is given 120 days to get his affairs in order before he is deported from the United States to Mexico, leaving his wife and two daughters behind. Miguel works hard to save money and weighs his options of staying in Mexico alone or risking returning to the U.S. illegally to be with his family. The film will start at 9:15 in the Plaza Chipotle Auditorium.
Thursday's Creative Conference workshop, Production Accounting, starts at 11:30 AM at the Plaza Main Theatre. This class will address one of the most important elements of creating films. At 1:30 PM, workshop attendees will be able to enjoy the session called Conversation with ATL Documentarians.
One of the highlights of the festival will be Thursday night's 9:15 PM showing of Bayou Maharajah: The Tragic Genius of James Booker at the Plaza Chipotle Auditorium. James Booker excelled as a jazz pianist in the 1960-70s in the United States and Europe, but experienced isolation and marginalization due to his race, sexuality and physical disability. Dr. John described Booker as "the best black, gay, one-eyed junkie piano genius New Orleans has ever produced."

Atlanta Film Festival Critics' Picks
(unless otherwise noted, all screenings at the Plaza Theatre)
Click here for the complete schedule.
Monday
7:00 pm—New Mavericks: Female Directors short block at 7 Stages Main Stage
Tuesday
Creative Conference—10:00 am—Demo: Cameras
1:30 pm—Demo: Post
9:15 pm—Belle
Wednesday
Creative Conference—10:00 am—Transitions: Actor to Director/Short to First Feature
9:15—120 Days
Thursday
Creative Conference—11:30 am—Production Accounting
1:30 pm— Conversation with ATL Documentarians
9:15—Bayou Maharajah: The Tragic Genius of James Booker