As the year comes to a close, BURNAWAY Executive Director Erin Jane Nelson and Editor Logan Lockner reflect on their favorite exhibitions in the South in 2018. Stay tuned for BA's preview of 2019 in coming weeks.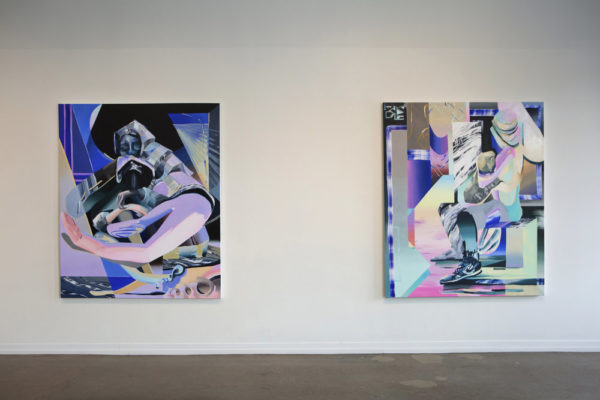 Karen Seapker at Zeitgeist, Nashville
January 6 – February 24, 2018
Nashville-based painter Karen Seapker's work has long been distinguished by its sleek yet painterly verve, and the works on view in her solo exhibition "Sentinels" showed Seapker pushing her visual language in two directions at once: creating a world of profoundly mythic proportions while also showing glimpses of everyday life as a young mother today, iPhone charger and "THE FUTURE IS FEMALE" t-shirt included. In the painting Sibyl (2017), a figure implied to be a mother breastfeeding her child is rendered in overlapping panes of soft color, the distinctions between interior and exterior unclear in her surroundings. Emphasized by its recognizability amid this abstraction, her Nike Jordan grounds the painting, appearing to rest on the edge of a vast, pink body of water. — Logan Lockner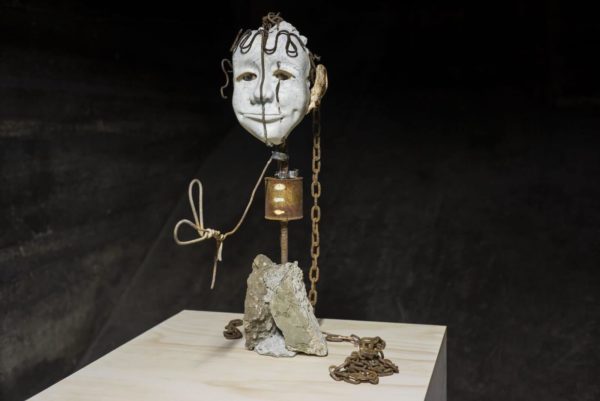 Tau Lewis in Chute Space at Atlanta Contemporary, Atlanta
January 11 – March 4, 2018
Watching Lonnie Holley have a conversation with Tau Lewis—a 25-year-old, self-taught Canadian artist whose career has exploded internationally in the last year—was one of the most profound experiences I had at an opening this year. Lewis's work, comprised of wire silhouettes and scraps of fabric tangled together, has much symbolically, materially, and spiritually in common with Southern self-taught artists such as Lonnie Holley, Joe Minter, Bessie Harvey, and Charlie Lucas. Daniel Fuller has been pulling a lot of artists from outside the region into his curatorial program at Atlanta Contemporary, and this particular exhibition provided a wonderful example of why creating dialogues between the region and the broader art world is of vital importance. — Erin Jane Nelson
Joe Minter at Atlanta Contemporary, Atlanta
January 11 – April 1, 2018
Why hadn't one of the most important living artists working in Alabama had an institutional solo exhibition until 2018? Though best known for his elaborate artist environment, the African Village in Birmingham, Minter's work has been making its way into major museum collections for decades and was recently propelled into the spotlight through major gifts to institutions across the country from the Souls Grown Deep Foundation. Though not a retrospective, his exhibition at Atlanta Contemporary provided a long overdue presentation of his work in a critical mass. — EJN
Tomashi Jackson at Zuckerman Museum of Art, Atlanta
January 27 – May 6, 2018
In her solo exhibition "Interstate Love Song" at the Zuckerman Museum of Art, artist Tomashi Jackson collaborated with curator Sarah Higgins and local artists including Michi Meko and Krista Clark to produce a body of work that interrogates the particular context of Atlanta and its suburbs while also continuing Jackson's ongoing investigations of color theory, racialized language, and the history of abstraction. In addition to its graceful incorporation of archival materials from MARTA and Clark Atlanta University alongside Jackson's work, the exhibition's emphasis on voting rights in Georgia proved to be not only a history lesson but also a harbinger of the state's conflicted 2018 gubernatorial election. — LL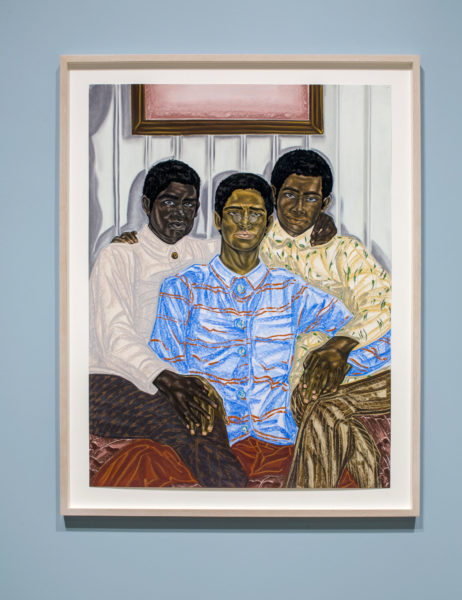 Toyin Ojih Odutola at SCAD Museum of Art, Savannah
February 20 – September 9, 2018
Though she was born in Nigeria, New York-based artist Toyin Ojih Odutola grew up and completed her undergraduate studies in Alabama. During the walkthrough of "Testing the Name" at the SCAD Museum—the third installment in her now complete Wealth series, which visually narrates an intergenerational, queer Nigerian family saga in masterfully executed, large-scale drawings—she noted that one reason she was excited to show her work in Savannah was that it was within driving distance for her parents and family members living in the South. "Testing the Name" opened while its predecessor in the series of exhibitions, "To Wander Determined," was still on view at the Whitney Museum in New York, and within weeks of the theatrical release of Marvel's Black Panther, another story that reimagines Europe's colonization of Africa. In a year when the achievements of Black artists from Jordan Peele to Amy Sherald garnered historic levels of attention, Ojih Odutola's work feels like an essential document of our times and roadmap for the possibilities of the future. — LL
"Changing Course" @ New Orleans Museum of Art, New Orleans
June 29 – September 16, 2018
Many institutions have been reckoning with the violent and troubled colonial histories tied to their collections and the regions where they are located, but "Changing Course" at NOMA, organized as part of the city's tricentennial year, stands out as an earnest and brave attempt at allowing artists and artworks (rather than institutional positioning) to do the work of re-shaping narratives. I am still haunted by the Propeller Group's The Living Need Light, The Dead Need Music (2014) and Skylar Fein's memorial to the Upstairs Lounge arson, the deadliest attack on the queer community in the U.S. until the Orlando nightclub shooting in 2016. — EJN
Sondra Perry at Institute of Contemporary Art, Miami 
July 13 – November 4, 2018
Perry's work explores the intersections of power, Blackness, and technology in deeply immersive installations like those presented in "Typhoon coming on." Installed in the context of Miami, where the art infrastructure has been battered by super storms in recent years (and will continue to be deeply threatened by climate change) her work felt especially poignant and fitting. — EJN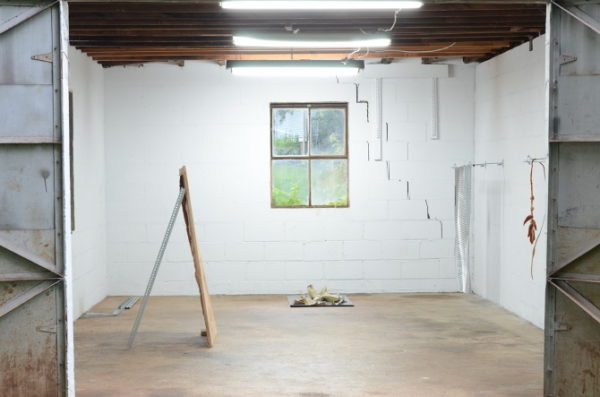 Jaime Sneider at Wreath, Atlanta
June 28 – July 27, 2018
Jaime Sneider's solo exhibition "Conduits" was the final show at the Atlanta space Wreath, formerly operated by E.A. Hyde. It showed Hyde doing what he did best at Wreath: showcasing a single artist's idiosyncratic, often gorgeously crafted, slightly what-the-fuck work. In Sneider's case, this work included a canvas painted with squid ink, coffee, and urine and sparse sculptures combing industrial and organic materials such as link chains, silicone, and leaves. I'll miss Wreath—not only for the ambitious, far-ranging roster of artists it showed, including Quay Quinn Wolff and André Filipek—but also because of Hyde's hospitality, unique sensibility, and cozy backyard space. — LL
Zipporah Camille Thompson at Whitespace, Atlanta
September 7 – October 20, 2018
Inspired by a recent Idea Capital Grant-funded trip to Oaxaca, Mexico, Zipporah Camille Thompson's dark, cosmographic, and elaborately crafted sculptures and wall hangings in her solo exhibition "Black Cloud Prism" at Whitespace in September was a highlight of this year in Atlanta galleries. Spiritually and materially complex, this show recalled the recent work of Simone Leigh channeled through early Betye Saar assemblage in all the right ways. — EJN
Zanele Muholi at Spelman Museum, Atlanta
September 14 – December 8, 2018
The opening reception for South African artist and activist Zanele Muholi's exhibition "Somnyama Ngonyama: Hail the Dark Lioness" at the Spelman Museum, its American debut, felt like a proper event: the audience eagerly chatted before Muholi's conversation with London-based curator Renée Mussai and crowded into the museum's galleries afterward. Balancing Muholi's striking photographs with contextual information, the exhibition's precise presentation demonstrated that Spelman continues to confidently occupy a place of institutional distinction among Atlanta's—and the country's—finest museums. Following recent grants in support of curatorial studies not only at Spelman but across the entire Atlanta University Center, we should expect great things to keep coming from this museum, starting with Michelle Obama portraitist Amy Sherald's solo exhibition opening in early 2019. — LL
Permanent collection reinstallation at High Museum of Art, Atlanta
October 2018
The ticket-holders lined up for 30-seconds in a mirrored room at Atlanta's High Museum should consider instead visiting the galleries showing the museum's permanent collection, which was reinstalled this year for the first time since 2005. Perhaps indicating the High's ambitions to attract a more racially and economically diverse audience reflective of the city's demographic composition, the modern and contemporary galleries in particular showcased works by Black artists including Adrian Piper, Glenn Ligon, Lyle Ashton Harris, and Arthur Jafa, whose video Love Is the Message, The Message Is Death (2016)—an immersive internet-era audiovisual collage documenting America's past and present violent relationship with Black people and Black culture—feels like an important artwork to have on view in Atlanta. This is also true of Kara Walker's cut-paper installation The Jubilant Martyrs of Obsolescence and Ruin (2015), which occupies a half-moon-shaped gallery built specifically for its display—but I would remind anyone prematurely celebrating the artist's "return to Atlanta" that the work originated in a 2015 solo exhibition of Walker's called Go to Hell or Atlanta, Whichever Comes First. Perhaps my favorite painting on more-or-less permanent view in the city, Julie Mehretu's Mogamma (A Painting in Four Parts): Part 2 (2012) has been moved from one gallery to another but thankfully remains for now. We Atlantans may have to part with it next year as Mehretu's first traveling survey opens in Los Angeles and travels to New York in 2020, but the show is set for a stop at the High Museum later on its tour. — LL
"Southbound" at the Halsey Institute for Contemporary Art, Charleston
October 19, 2018 – March 2, 2019
The South has been a veritable Mecca for photography since the beginnings of the medium, and Southerners have been some of the leading contributors to photography's growth over the last century. "Southbound" makes the convincing case that the region is still a leader of photography globally by surveying not only exciting young upstarts like Sheila Pree Bright, Susan Worsham, and Tommy Kha but also acknowledging artists like Burk Uzzle, Alex Harris, and Lucinda Bunnen who have been working in the region for decades. — EJN
"Til the Lights Go Out" at Hathaway Contemporary, Atlanta
November 15 – December 2018
Rarely did the institutional scale of the now demolished original location of Hathaway Contemporary benefit the exhibitions it contained until this group show curated by Atlanta-based artist Scott Ingram. Comprised of mural-scale works by 17 artists and an exhibition-within-an-exhibition organized by Howard's Art Gallery of Athens, the most surprising thing about this show was that every artist delivered ambitious and energetic new work in spite of the pretense that all work would be destroyed with the space. One of the most unique and memorable group shows in an Atlanta gallery in recent years. —  EJN
As BURNAWAY celebrates the year's end and our 10th anniversary, we ask you to consider how much you've gained from the magazine over the last decade. Please consider donating to our end-of-year fund, and give thanks for all the free content you've come to love and depend on.