You know that sign on Moreland just south of I-20 that says "What Is Your" on one side and "Soul Purpose" on the other, right next to the giant hatted chicken at the Jamaican place? "I assumed it used to be a soul food restaurant," said a colleague of mine — a good guess, this being Atlanta and it being at the top of a gauntlet of fast food restaurants. Some people may remember the sign's origin, but most are surprised to find out that it is an artwork by Karen Tauches.

I pass by this sign every day on my drive to work, or pretty much anywhere. Before I knew its backstory, the sign and its disjointed query would always make me pause and ponder, for a moment, what it was, or had been, and why it hadn't been replaced by a mixed-used development. But then the traffic light would change and Atlanta traffic would sweep away those thoughts. For the past year, it's been a nagging reminder of this story I wanted to write but never found the time for.
What Is Your Soul Purpose? was one of three signs Tauches installed for the Living Walls Conference in 2012. Trying to abide by a city ordinance governing art in public spaces, Living Walls director Monica Campana had urged Tauches to seek permission from the owners of the six properties she had her eye on. Anticipating rejections, Tauches was reluctant. They ended up splitting the difference and she agreed to seek permission from three of the six. "Guess which three are the projects that happened?" she rhetorically asks.
"Soul Purpose is the name of an astrology book," the cosmically inclined artist explains. In conceiving the work, she enjoyed the irony of posing a deep question on a commercial strip of fast food. Tauches intentionally selected an outdated 1980s-style font for the black vinyl letters and did a mock-up on her computer.
Another Tauches sign further south on Moreland lingered for only a year. It was a wood sign with white lettering that read "This used to be a forest," its anti-development sensibility perhaps more obviously the work of an artist or activist. Coincidentally and somewhat ironically, the remnants of an older sign for something called Whispering Pines was still visible on the backside of Tauches's piece.
The third sign was located on Memorial near Boulevard, on the facade of a low-lying sliver of a building that's now home to a fitness studio. It was short-lived; its title, Everything Disappears…, was both self-fulfilling and prescient as developers have snapped up property in the area at a furious pace. Almost in defiance of its titular destiny, the building persists.
Tauches did a guerilla-style installation of Soul Purpose in the middle of the afternoon with the help of Kristin Juárez (former Burnaway contributor and now a graduate assistant at the Spelman Museum of Art), who was both the lookout and photographer, and Keif Schleifer, the logistics director for Living Walls. They set up scaffolding, donned hardhats, and installed the vinyl letters in about 20 minutes. "We looked official, so no one bothered us," she says.

Recently, What Is Your Soul Purpose was joined by a huge eyesore of a shipping container that looks as if it were hastily plopped down in the parking lot (by another enterprising soul?). It has served as an ad-hoc billboard, a music video set, and graffiti gallery. To most passers-by, the two must look much the same: evidence of urban decay.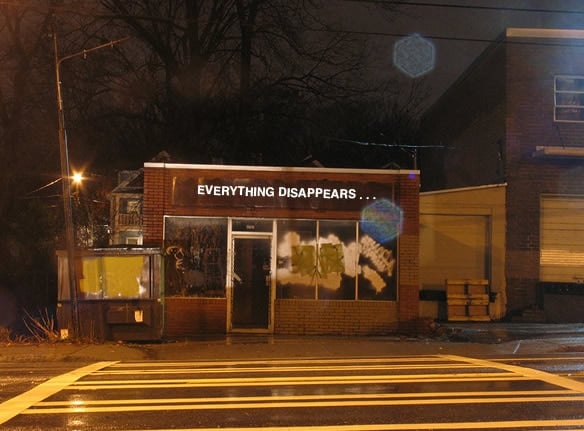 Tauches has more ideas for signs that haven't (yet) been executed. So if in the near future you start to notice signs on the Edgewood stretch of Moreland that say "Pedestrian Bridge Coming Soon," don't hold your breath.