To say it's been ugly lately is an understatement. The torrent of images of Black death spectacle making its way around the internet again is so exhausting that it feels like a sinister exercise to further exhaust, punish, and demoralize Black people as a form of aesthetic terrorism. Living so close to the Wendy's where Rayshard Brooks was murdered—now marked as a site of great tension and fear and anger, tear gas explosions and screams—has rendered me incapable of any sort of normal function. I want to go home; I want something to comfort me. Of course, I can't go home to rural Arkansas or New Orleans: we're in the middle of a global pandemic, and the reassurance I want from my father—that we are still Black, still breathing, that we will continue to do so, that we are strong and we will continue—is impossible, as he's been dead for over a decade now. So I'm looking for comfort food wherever I can find it, and I usually start with the music video for the remix of the 2010 Big K.R.I.T. song "Country Shit" featuring Ludacris and Bun B.
Unlike their pop or rock counterparts, rap videos are not made to showcase a body, a narrative, or a particular issue. They are primarily driven by pride, defiance, and showcases of wealth and power. Not a frame is wasted in rap videos—they are out to show the world how the star has succeeded, what they have acquired in the face of capitalistic violence and degradation, pride in where they are from, the communities from which they hail. Because of the precision of the vision they contain, rap videos (especially Southern ones) are such important cultural artifacts that they have used as sources for studies on public housing in pre–K New Orleans. Black people have always been acutely aware of the power of imagery and have, in turn, always used it to great effect.
The "Country Shit" video begins with aerial views of Atlanta, our interstates, and establishment shots of Ludacris's face. He begins to rap in front what the majority of Americans would see as an archetypal rural home: broken, old asphalt, laundry hanging out to dry, plants and other wild nature encroaching on the house's boundaries, domino games, and a general feeling of slowness. He raps, "I might not mean shit to you, but my momma thinks I made it!" Viewers are made to understand that where Ludacris stands represents the "Country Shit" of the title, but we Atlantans know that he is not far from home at all: most likely he is at one of the dead ends in East Atlanta, where the visuals of rural Black life are maintained in kudzu-shrouded working-class enclaves within our Southern metropolis. The use of a clever visual trick— showing images of signs demarcating I-10 West—introduces Big K.R.I.T.'s verses. I-10 is, of course, the highway that runs through the "Hurricane Corridor," the Dirty Coastline that stretches from Texas to the coast of Georgia. All three of these men—Big K.R.I.T., Ludacris, and Bun B—are connected by this interstate, and the transition between Georgia, Mississippi, and Texas is seamless because, in the topography of Black Life, there is no disruption between these places.
They are one across this region because everywhere is rural and everywhere is theirs. The display of beauty and pride in the video is straightforward. The rappers make it clear what they are proud of, what I am proud of, what my father taught me to be proud of, and they want to show the world. A family meal. BBQ. A girl dancing. Cadillacs. Candied yams and collard greens. Brown liquor, fish sandwiches, rivers, boys playing basketball, children playing with dogs, local record stores, matriarchs. This tableau is undeniably rural and undeniably Black, unified by the common threat of environmental disaster. A hurricane in Texas or flooding in Mississippi drives us to Atlanta, where we are all welcome.
I was born in rural Northwest Arkansas, about an hour away from where the Crystal Bridges Museum of American Art is located now, and about thirty minutes away from Harrison, the global headquarters of the KKK. Though I staunchly believe that Arkansas is the South (justified, at least for me, by the demarcation of SEC schools), there are many people who do not believe Arkansas belongs to the region, nor the gateway to the North, St. Louis, which is where I believe the Black Southern experience truly ends.
In this regard, the rapper I am thinking of is St. Louis's own Nelly. I love Nelly. In the music video for his first number-one hit, "Ride Wit Me," Nelly and his St. Lunatics embark on a Smokey and the Bandit-style adventure. After the St. Lunatics arrive at a cow-town dive bar where an off-key cowgirl aggressively serenades passed-out patrons, they call in support from Nelly, who, Lone Ranger-style, is asleep on a leopard-print hammock in the desert. It is ridiculous—it's ridiculous! Although campy in the extreme, this isn't really about making fun. It's what country boys do when they have a little extra money. As in "Country Shit," the parameters for success in this video are tied to family, to home, and to small gestures that truly emphasize how Nelly has made it: instead of his mom's name on the deed to his TransAm, it's his. The girls who ride Nelly's party semi—another favorite Southern rap video motif—are all dressed in the trappings of rural wear: trucker hats, plaid flannel, big leather belts with giant buckles, cowboy boots, bandanas, and jeans. The semi in which they dance is emblazoned with a mudflap girl with distinctively Black curves. Nelly is country as hell, and he wants to present his success as equally informed by the traditional trappings of Black fame—the chains and first-class flights—and his roots, his understanding of Black St. Louis as a country place. After all, his debut album featuring "Ride Wit Me" is titled Country Grammar.
The video for "Ride Wit Me" is the visual and spiritual forebear of our beloved Lil Nas X's "Old Town Road," playfully reclaiming an aesthetic that was always ours to begin with. In the song, Nelly's voice lolls, in its strange lilt, "Looking for a little shorty I can take ho-ome." It was the first time I had heard the accent I was violently trying to suppress on the radio. Nelly remains one of the few rappers to put my voice out there, a voice distinctively from the South.
The final video I've been watching over and over in this exceptionally dark time has been the one that is the most isolated and the most subtle. In the video for OutKast's 2000 hit "Ms. Jackson," André 3000 and Big Boi are alone in front of a rambling, decaying estate, performing the sort of labor that is ultimately futile — repairs and upkeep on a mansion that is determined to collapse around their ears. The titular matriarch drives by in a 1940s Packard, hair in rollers, a displeased look on her face.
Big Boi and Dré wave as she passes, the latter kitted out in one of the most defiant outfits I've ever seen: shirtless, his jeans held up by a big leather belt with a giant confederate belt buckle. Big—one of the most Atlanta Atlantans to ever Atlanta—is wearing a Dallas Cowboys jersey. It's sly but effective joke. This is Big Boi playing a cowboy, next to André's imperious belt buckle. The song—inspired at least in part by Dré's relationship with Erykah Badu and her mother—has the two men asserting that while things went badly, they are going to be good fathers and present in their children's lives, countering the theme of paternal abandonment that often appears in depictions of Black life. Their rotting manse is full of animals, some taking cover from the storm raging outside, others helping Dré and Big collecting water in buckets. It's man and beast against the forces of nature. Eventually, their home is destroyed, but the storm ends and they are still there, still standing, refusing to be brought low by the environment, nor by vengeful women. It's some of the most Country Shit out there, and it was one of the biggest songs in the world just after the turn of this century.
Of course, none of this is the embrace of my father, reassuring me that it will be okay. Because it won't, and it never was, and it never will be. But for a few minutes, I can almost, almost, almost go home.
---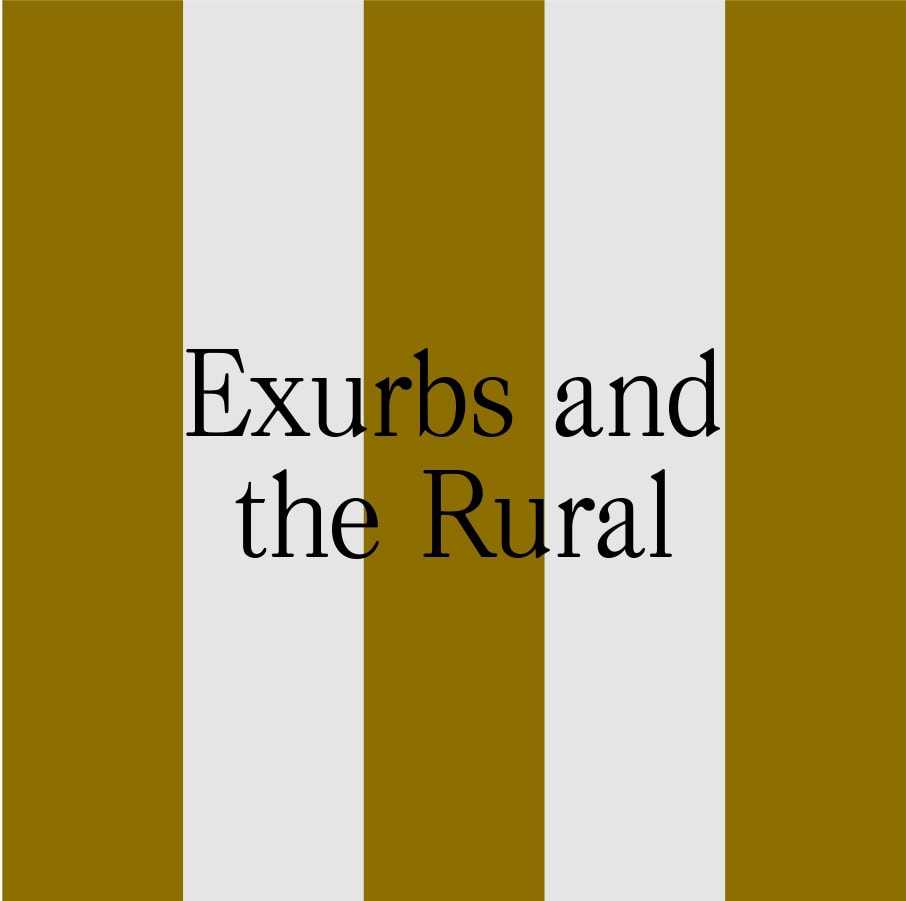 This essay is part of Burnaway's yearlong series on Exurbs and the Rural.