This spring, Margot Ecke opened the doors to Smokey Road Press, a print shop and bindery in Athens, Georgia. Ecke's impeccable command of letterpress printing and book arts techniques comes from years of experience: an MFA from the Rhode Island School of Design and a professional printer's certificate Tamirand Institute, among other accomplished. Ecke is also a dedicated teacher. She spoke with me via Skype from the printmaking studios of the Penland School of Crafts in Bakersville, South Carolina.
 Ivy Williams: As an accomplished printer, how do you think of technique at this point in your career?
Margot Ecke: There's the part of me that's always investigating new techniques, and for me that's graphic design. That's what I came to most recently: investigating how I can bring new tools like lllustrator or Photoshop into the letterpress world. As a technician I have a responsibility to show off the technique as well as I can. I feel like I'm a working, physical historian, helping people see and smell and feel and touch this profession that's been around for a long time. I'm helping them be a part of history in that sense.
IW: What is the current philosophy behind your fine art?
ME: I am interested in strong women and how they survive. I've been thinking about becoming a little more political with my work. In the past, it's been more conceptual. I did a lot of work where I was cutting out windows and showing certain characters of plays—a very academic approach. However, I think I'd like to get a little bit more potent, a little bit more real, and a little bit more relevant with my work.
IW: I like that your ideas progress from academic and abstract to real life situations and experiences.
ME: I've been thinking a lot about being more frank with my own story—the difficulty of balancing everything as a female, as a mother. But I'm also thinking about the plight of other women and things that they've had to go through: some abuse, some strength, and other issues; strong women who have overcome things. I'm working on a couple of projects that deal with these themes.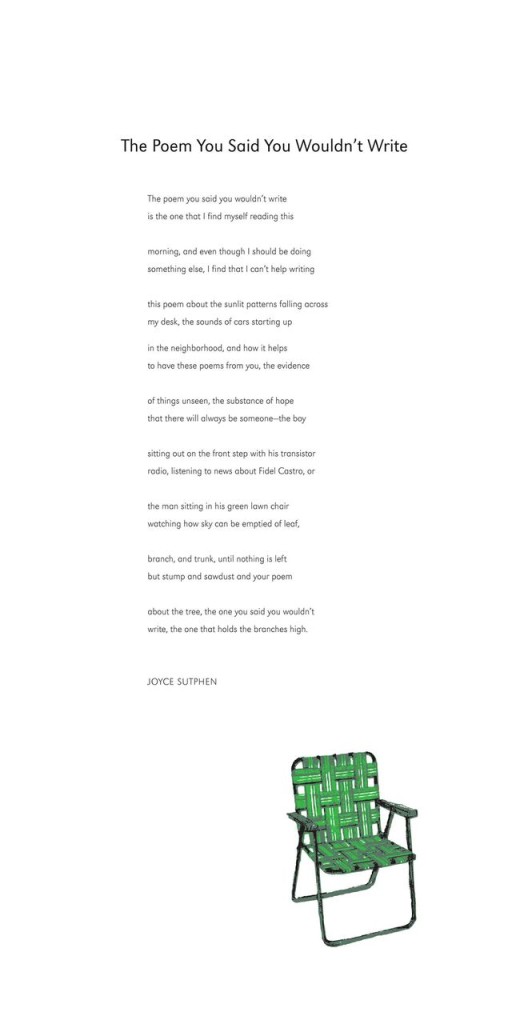 ME: My trick for applying for things or making work is to try to make a lot of it, to at least know the technique well so I know it's made well. I try to iron out as many wrinkles as I can, but of course there's still that "what if" factor. What if they don't actually like the idea? What if they don't like the line?
That really has to do with ego. "What if they don't like me?" That's an important thing to think about as an artist—to be as comfortable as you can be with who you are. I think—just as in life—that has a lot to do with integrity, not really caring what people say.
IW: You've worked with the public a lot in your career and continue to teach and work with design clients at Smokey Road Press. Does working with people who are not artists ever influence the way that you make or perceive your own work?
ME: Something I think a lot about is not necessarily what people like or what they don't like, but what will sell. My artwork, the way I've left it is sacred. I'm not going to let other people influence me. It's just going to be the way it's going to be. That integrity of the artwork is important.
However, I do more than just fine art. I do commercial stuff but also graphic- design merchandise that I hope will sell. In order to facilitate that, I need to know what people want and have to put stuff out there to see what sells. It's really surprising! Some people would find those experiments tedious or disappointing, but I find them interesting. I feel like it's like a sociology experiment—a litmus test.
IW: Printmaking, by its nature, lends itself well to collaboration. Do you like working with other artists?
I've loved collaboration because it's enabled me to become faster and more economic with my time—to become more skilled with my techniques. I love working with artists and poets who I admire. To be able to work with a poet laureate [see image] is not only an honor, I'm star-struck. It's been a wonderful experience to work with some of these people. It's a good way to get to know artists that you really love.
When I was in college and thinking about my major, I waffled here and there, and I remember telling my mom, "I don't know if this is the wisest thing to do. I'm really worried about money." She said, "Well, you may never make a lot of money, but you'll always be surrounded by interesting people. And that in itself is a commodity." No statement has ever rung more true than that.