This essay was composed for our Art Writing Incubator (formerly Art Writers Mentorship Program), focusing on cultural reporting and art criticism that position the arts within broader cultural and social contexts. Susan Snodgrass, a longtime senior lecturer in the New Arts Journalism program at the School of the Art Institute of Chicago, assigned participants to write essays that address current issues of concern to their local art communities or beyond.
---

"It's all closed!" a man shouted at a museum volunteer across the piazza. "I'm from New York, and practically the whole museum is closed." He repeated several times that he was from New York, as though it was a credential.
The man was referring to the temporary closure of the High Museum's permanent collection galleries for reinstallation, sloshing his martini onto the veranda that employees call "Peaches and Pears" for the Claes Oldenburg and Coosje van Bruggen sculptures that had lived there for 11 years like animals in a granite pasture. This was May's First Friday, and the renovation and reinstallation had begun several days before, closing a third of the museum through this October. In the coming six months, the permanent collection will be rotated and the Richard Meier–designed Stent Family Wing, an airy, shell-shaped colossus built in 1983, is going under the knife.

It's not all spin. This is a necessary, arguably overdue undertaking for the museum. The permanent collection has not been rotated since 2005, when the museum was expanded by the Renzo Piano addition to the Meier Wing. In the new reinstallation, 1,450 of the 17,000 works that slumber in the museum's basement will go on display, many for the first time in decades. The museum will be showing 8 percent of its collection, when previously it was only 6 percent.
Among other improvements, the renovation will add a "black box" space for works from the new media collection, the resuscitation of 2,000 square feet of exhibition space on the second floor of the Stent Wing, and a rotating gallery dedicated to textiles and works on paper, which are difficult to display in any permanent collection due to their light sensitivity. The photography collection, at 8,000 pieces one of the museum's strongest, and particularly celebrated for its Civil Rights era works, will find a new home on the museum's lower level, where it will have five times the amount of square footage. This is part of a plan to move the African art collection to the upper level, "to create a real concordance between the African art collection and our folk and self-taught collections and modern collection," said Kevin Tucker, chief curator of the High, in an interview.
Tucker describes highlights of the reinstallation in a way that makes the work sound rather like nervous debutantes, picking at their skirts until called for entrance, including "various works by Toulouse-Lautrec, a series of prints by Degas that will be making their appearance in the reinstallation, a constellation of Southern decorative arts works, mostly 19th century. And I should certainly mention the reappearance of Sol LeWitt's Wall Drawing, which will occupy all of the floors and steps in the atrium space."
All six curators of the museum are engaged in creating new presentations that will "embrace equity, diversity, and approachability throughout."  "It is essential that our galleries recognize and reflect changes [to Atlanta and the Southeast] and celebrate the diverse artistic achievements represented in our holdings," says Rand Suffolk, director of the High. The goal, it seems, is to curate work that will more imaginatively speak to its surroundings:  the gallery space, nearby works, and us.
The museum has been working fairly diligently to improve diversity in its audience, employees, and offerings since 2015. As Julia Halperin wrote in a December 2017 Artnet News article, "Over the past two years, the Museum's nonwhite audience has tripled, from 15 percent to 45 percent. Now, its visitors more closely—although not exactly—mirror the population of the Atlanta metro area, of which 51 percent are people of color." The reinstallation of the permanent collection aims to further this progress, reflecting the diverse works that are waiting in storage, the majority of which were assembled after 1999 and include a strong representation of African American artists.  "We want to think about the collection as something that's alive, that's organic, that's dynamic," says Tucker. He notes that reinvigorating the collection must begin with the reinstallation, rather than end with it, "and that means a commitment in future years to do more, and multi-layered, interpretation."

Despite all these desirable outcomes, the mood at First Friday was low. The gallery's atrium remained open, with a robotics demonstration and a DJ spinning to the assembled crowd of folding tables. Ticket sales were a fraction of the usual, and when I asked a security guard about the mood in the building, she summarized, "Everybody came to take their picture with the Anish Kapoor, and they can't, and they're mad."
To an extent, this gets at the public response perfectly. The museum must be current–that is, it must rotate its collection and present new work to stay relevant. And the museum does present new work–usually through blockbuster exhibitions advertised on billboards, which draw crowds and pay the bills–and works from the permanent collection are constantly being rotated through the galleries–small changes, resulting in that subtle shift in tone when someone joins or leaves a party.
But for many, the museum's permanent collection is a mainstay. Reliable, familiar, and a cornerstone of sorts. A permanent collection allows us to form relationships with works; it's like visiting a familiar landscape, or a friend's kitchen, where we already know where the spoons are kept. It's easy to dismiss people doggedly set on seeing "the Kapoor," Untitled, a parabolic, stainless steel mirror that breaks one's image into hundreds of dancing fractals. But it is part of their cultural landscape, a place to share, to revisit–quite literally, to reflect. That people know and care about the Kapoor at all feels like a small miracle of arts engagement. Perhaps the museum's flow was flawed and its galleries outdated–but it was also intimate, full of relationships we could build, that some of us had spent 13 years building.
Familiarity breeds a sense of ownership and mutual belonging. It offers something that a first encounter with a work simply can't, and that is texture. Every time I stood in front of the Kapoor it was slightly different–the light, the angles, its peculiar kaleidoscope–and so was I. There are few secular places that can induce this reflexivity. For some, the Kapoor was one.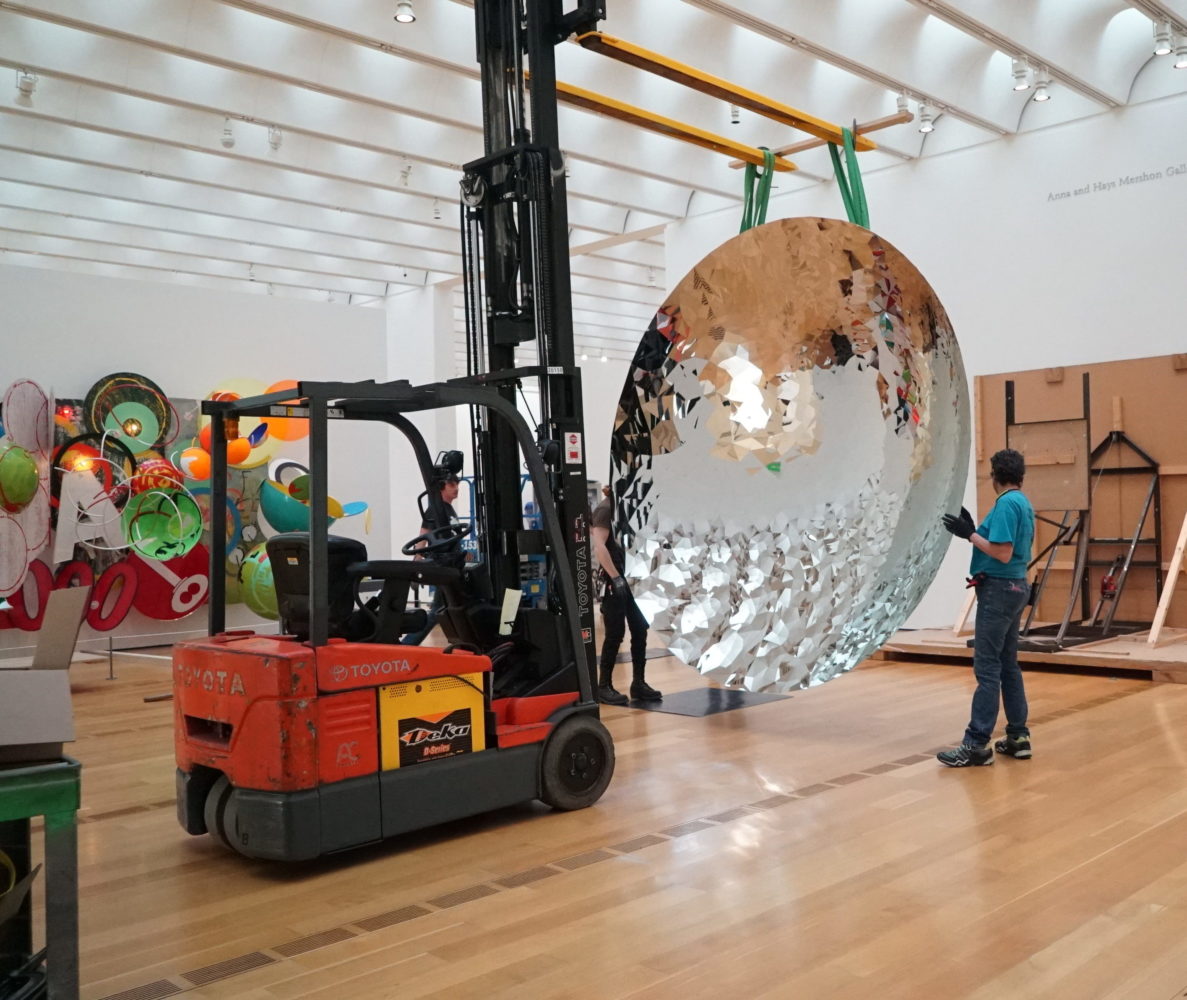 In an email, I asked two museum docents to reflect on works from the collection that they particularly respond to, and their answers were personal and idiosyncratic. Bryan Brooks slipped immediately into an immersive description of Winfred Rembert's The Dirty Spoon Cafe, though the work was nowhere nearby. "You can hear the piano, drums, saxophone, and other instruments banging out a glorious jazz lyric with couples dancing while others are just visiting or playing cards….Life is about what you make of it — and you feel it when you're standing in front of The Dirty Spoon Cafe…The gallery space would not be the same without its presence."
Anne Mershon, a long time docent and board member of the High, said, "I personally love Twilight by Martin Johnson Heade. It may not make it into the new installation, but I love it for its calm luminosity. I am very anxious and excited to see the new installation. I remember the High throughout the years…as a school child, a teen, and as an adult. We will see old friends again and meet new ones," she says, as though to reassure me.

Of course, the renovation is overdue, and the reinstallation will, I hope, tell a more truthful and complete story about art.  But if the goal of the curators is to present work that better reflects us, our history, diversity, achievements, and values–to present ourselves to ourselves–we should not altogether dismiss the permanent collection's ability to speak volumes, eloquently, and over the course of years, revealing in its oversights as much as its inclusions. It continues to engage us in conversation, for even to say "this collection is tired,"  or "this collection doesn't represent us" requires meaning-making, analysis, and thoughtfulness around who we are.
I look forward to meeting the new work. I trust the museum's curators to create dynamic exhibitions, relevant and important to our time. But I hope they reinstall the Kapoor, if for no other reason than for how beloved it is, how much it still has to say, and how much we still have to reflect.