Sometimes—at the best of times—a work of art leaves me lacking sufficient language to describe either the work itself or my experience of it. Above and beyond these concrete particulars, there is only the intense visceral rush that unfurls in a moment of intimacy, not unlike the overpowering ripple that runs through your entire body when you first kiss someone. As time passes, it becomes more difficult to recall individual details—this is, after all, the usefulness of good documentation, whether in art or life—because all that remains is a moment of rapturous joy, flickering in the past.
This was my experience of the French-born artist Raphaël Barontini's The Golden March, a performance commissioned by the SCAD Museum of Art in Savannah in conjunction with their recent exhibition Frederick Douglass: Embers of Freedom. That exhibition, which closed earlier this month, showcased items from the Frederick Douglass Family Archive—now belonging to the collection of Savannah residents Walter and Linda Evans—alongside thematically linked works by a range of contemporary artists such as Lyle Ashton Harris, Betye Saar, Kevin Beasley, LaToya Ruby Frazier, Onyedika Chuke, and Titus Kaphar, among others. While the archival materials and the majority of artworks were located inside the museum, Barontini's contributions—comprising both the performance and the flags, banners, and the drum major's cape he created for it—were unabashedly and unequivocally made for the streets.
According to Barontini, he's been working toward this escape from the typical white cube for years. After beginning to experiment with unstretched, fringed canvases in his final presentation in the painting studio at the École nationale supérieure des Beaux-Arts in Paris, he became invested in developing new possibilities for how viewers interacted with his paintings.
"I wanted the spectator to imagine another scenario, another idea of what a painting can be," Barontini told me when we spoke on the day of the performance last October. "I was also really interested in popular traditions from the Caribbean, but also from Europe—my father was Italian, and I grew up in France, so we have some living traditions related to carnival, to flags, to these collective moments where people have the same practices they've had for generations. I wanted to express the possibility that a painting could be a banner or a flag hanging in the streets."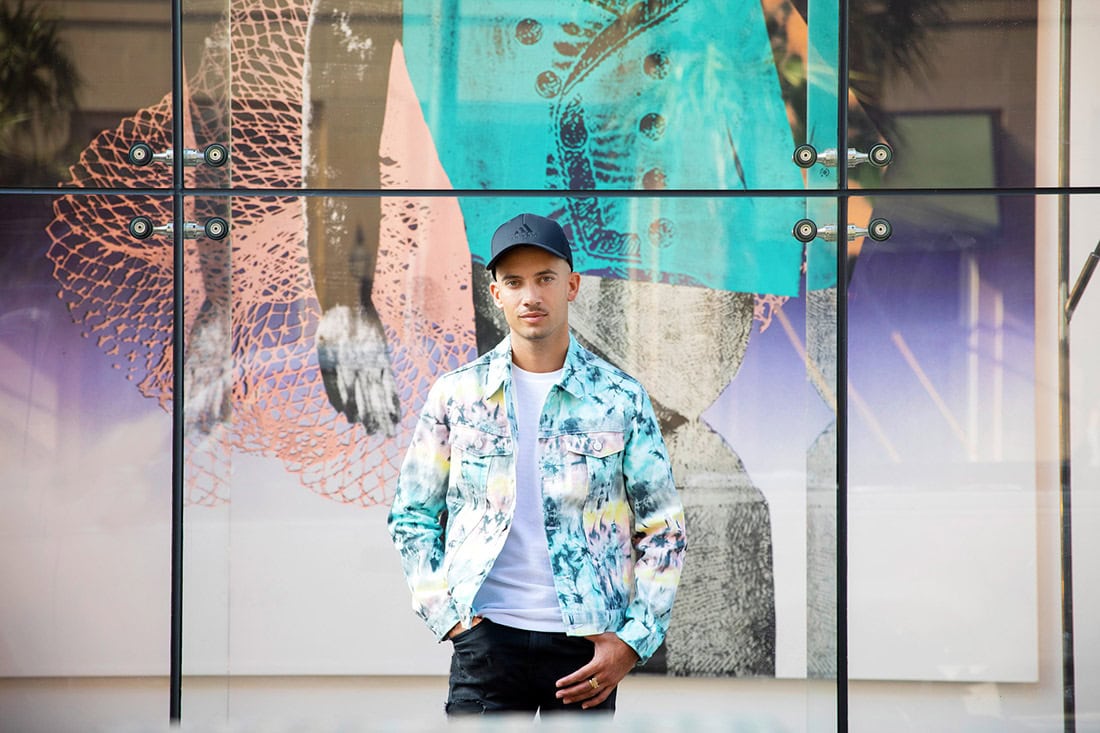 By the artist's own admission, his techniques for creating these works demonstrate a variety of influences that resist any sort of exclusive allegiance to nationality, race, or gender, including Romare Bearden as much as Hannah Höch, Robert Rauschenberg alongside Jacob Lawrence, and "also Andy Warhol, even if that's cliché to say," he admitted, grinning mischievously. Barontini eventually moved beyond his fringed canvases, applying silkscreen and collage techniques to fabrics. In previous works, set against diffusely washed-out, almost tie-dyed backgrounds, he incorporated fragmented images of traditional African statuary and classical sculptures with cropped portions of paintings of European nobles, achieving a visual hybridity reflective of his own background and his concerns with interrelationships between Europe, Africa, and the Caribbean.
For the SCAD Museum, however, his challenge was slightly different, in that it required him to focus on a particular historical figure. Commissioned to create work for the Jewel Boxes, the museum's street-facing window displays, Barontini pored over materials in the Frederick Douglass Family Archive searching for images. "It was too much," he said, noting that Douglass was the most photographed American of the nineteenth century. "And it was all so figurative, realistic, which was kind of boring to me." This led Barontini to include (in his typical collaged style) references to other figures, such as James Baldwin, Franz Fanon, Harriet Tubman, and Sojourner Truth, in his Jewel Box installations. "It was important to me to show a Black woman who was alive and working as an abolitionist at the same time Douglass was," he told me.
As our conversation progressed, Barontini described how the idea for a parade had arrived to him in a dream. "I'm not too mystical, normally," he said, chuckling, "but I remember being half asleep and thinking, Maybe I should do a parade." He explained that, while studying abroad at Hunter College in 2008, he had witnessed a parade of marching bands in Harlem, and once again while doing a site visit in Savannah during Saint Patrick's Day weekend, one of the city's most raucous periods of celebration. "I saw so many bands that day, but as soon as I saw the Savannah High School Band, I was like, That's them. We're doing a parade. They were almost like professionals."
Barontini was himself part of a band during his high school years in Paris: a carnival band in which he played drums. "When I was shy," he said, "my parents would bring me to carnivals, so it was really in my cultural background." The artist's mother traces her family to Guadeloupe and Réunion Island, French territories where carnival traditions remain central to community life. "I was in some parades myself when I was fifteen or sixteen," Barontini said, but then stopped participating in music once he enrolled in art school.
The parade that took place in Savannah on that warm October evening last year returns to me now less as a linear narrative and more as a series of images and iron-hot sensory moments. The crowd who gathered on Turner Boulevard that night arrived there with different interests and from remarkably various origins, comprising students and journalists and marching band parents and surely a few passersby who were simply seduced by the sheer spectacle.
I remember the goose-pimpled flesh that remained on my forearms for the entire performance.
I remember the sunlight, fading with dreamlike saturation, that seemed to bless the parade with the very quality its name hoped to achieve: golden.
I remember, as the drum major unveiled each successive Jewel Box like pages of a picture book, the Savannah High School Band playing Black anthems ranging from "Lift Every Voice and Sing" to Kendrick Lamar's "Alright." I remember crying.
I remember, maybe most of all, the bright lime green acrylic fingernails of a passing flutist, and realizing there were details of this performance that were so exquisite, so perfect, that there was no way Barontini could have anticipated or planned for them. I remember the bodies crowded around me, the feeling of our collective movement as we jostled from one Jewel Box to the next, eager attendants all. I remember the overpowering sense of knowing exactly where I was in the world, not far from the coast of Georgia, on land whose soil had seen unspeakable violence but also, against all odds, the possibility of this joy, which—like Barontini's compositions—joined our disparate parts into a cohesive whole.
---
Raphaël Barontini's The Golden March closes on Sunday, January 19, at the SCAD Museum of Art in Savannah. The exhibition Frederick Douglass: Embers of Freedom, presented in conjunction with Barontini's Jewel Box displays and performance of the same name, was on view at the museum from October 3 through January 5.
Barontini will present a solo exhibition featuring a collaboration with riders from the National Multicultural Western Heritage Museum in Fort Worth, Texas, at Fort Worth Contemporary Arts on February 28.