North Nashville is the last predominantly Black neighborhood within the city limits. As history has taught us, without storytellers to record the truth, word of mouth morphs into myth.
Even with tornadoes flattening buildings and bulldozers churning at the edge of town, North Nashville has managed to retain its soul, whether it be through bloc parties led by its community leaders or markets held by the neighborhood's artisans. For how long this will last, no one knows. In fall 2022, I discussed North Nashville's art history with Carlton Wilkinson, Omari Booker, Marlos E'van, and Evan Brown who represent the neighborhood's past, present, and future.
---
North Nashville 1980s-2000s
In 1986, painter and fine art photographer Carlton Wilkinson returned home from California to his native Nashville with a BFA and MFA ready to showcase his artwork on the walls of a local gallery. He was met with silence. "I wanted my work represented and I couldn't find a gallery in Nashville to do that," says Wilkinson.
As institutions closed their doors on the emerging artist, Wilkinson decided that the next option was building a space where work by Black individuals and people of color could be shown safely. "My mother had [an] eye on the Onyx building property." DeLois Wilkinson was an integral part of the Civil Rights Movement. "If you come home, we can do this," said Wilkinson's mother. "So that's what I did."
In The Gallery, the Wilkinson family's fine art gallery and photo studio, opened in the Onyx building off of Jefferson Street in 1987. People from the neighborhood would come to Wilkinson's openings, especially since they weren't comfortable going to white-owned galleries on the scene at the time. "I had a lot of first timers at In The Gallery," stated Wilkinson. "They weren't used to going to those types of environments because they saw them as white and not friendly."
In The Gallery had a high volume of self-defined "virgin" Black collectors who were young and anxious to invest in Black art. On the opposite end, the gallery had a rolodex of non-Black patrons and collectors. "Around forty percent of my collectors were white," stated Wilkinson. Some famous In The Gallery visitors include members of the June Carter Cash family.
North Nashville has always been a cultural home base for the Black community. "Nashville wasn't really diverse. It still isn't in a lot of ways, but it really wasn't in the 1980s and 1990s," says studio artist and muralist Omari Booker. "I think that's why people are a bit more protective of [North Nashville], you know?"
Delois Wilkinson's passing in 2005 served as a moment of distinction. She was In The Gallery's binding glue. It became difficult to run the space, and the gallery competed with his desire to teach at universities like Fisk and Tennessee State. In The Gallery ultimately closed its doors in 2007.
North Nashville 2010s-Present
Despite the closing, North Nashville's artistic community remains strong. It's important to note the neighborhood boasts historically Black colleges and universities with galleries like Hiram Van Gordon Gallery at Tennessee State University, in addition to Aaron Douglas Gallery and Carl Van Vechten Gallery at Fisk University.
Omari Booker graduated from TSU with an undergraduate degree in graphic design, but his path to graduation wasn't easy. "At the time, I was fighting my case [a drug possession charge]. Nobody knew what it was going to be. We thought it might be probation. Nobody expected it to be a fifteen-year sentence." says Booker. He had to leave TSU to do the sentence, but before his departure, professors Dr. Carlyle Johnson and Dr. Samuel Dunson told him, "When you get out, come back and we'll figure it out."
"I have a lot of gratitude to TSU for doing all they could and not letting students slip through the cracks. Dunson is still my mentor, and we talked on the phone this week. I think because the North Nashville community is so connected, you never really get lost out there."
Booker's anecdote highlights the importance of HBCUs. They stand as symbols of prosperity and inclusivity. It's also a testament to the impact of empathically attuned educators who care deeply about the wellbeing and lives of their students.
The Watkins College of Art, now a part of Belmont University as of 2020, is located in North Nashville, but this institution has shown historic racial bias towards Black students. "[During] my last year of Watkins, the professors would not let me into the seminar class," multidisciplinary artist and filmmaker Marlos E'van remembers. "The professors were saying we don't think you're ready." E'van refused to let this obstacle stop them and built their own curriculum for the entire senior year.
"That whole year, I just made work: ceramics, paintings, sculptures, videos. Around that same time, Courtney [Adair Johnson] and I started working together. We started building the residency at McGruder Family Resource Center. She helped me find a connection with Kelly Bonadies who had an abandoned building in North Nashville off of Buchanan Street just five minutes away from McGruder. So we traded artwork to be able to do the show there." says E'van. "It ended up being a massive show. Hrag Vartanian, the owner of Hyperallergic, was there. It was the show that kicked my career off."
North Nashville is an established neighborhood of artistic mentorship, educational opportunity, and long-lasting connection for the Black community, as well as a space for genuine allies. E'van and Johnson built out McGruder as a hub for young artists and practicing artists alike. "Every summer, we do the Opportunity Now program where we hire eight teens to come work with us in the studio at McGruder for seven weeks," states E'van. "They were a part of the piece Nuveen Barwari, Courtney and I did for the Murals of North Nashville Now [exhibition at the Frist]."
Legacy: North Nashville is a Historic Arts District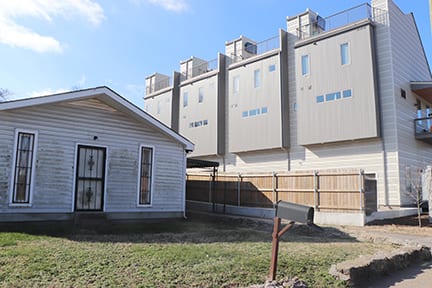 If you turn off Rosa L. Parks Blvd onto Garfield Street, past mid-rise developments in progress, your path will inevitably lead you to Buchanan Street where NKA Gallery and Elephant Gallery reside. Both galleries function as a hub for North Nashville's artistic community by hosting regular workshops and a co-op space. How long this corner of creative vitality will remain is unknown. "We know that's going to affect us sooner rather than later," remarks Evan Brown, NKA Gallery's curator, about the new builds happening at the edge of the neighborhood. "I want the sun to still shine on us." This metaphor is literal and spiritual as new builds eventually eclipse original properties in darkness.
"I want it to be known that North Nashville has great Black artists and prominent Black artists that have been around for decades," proclaims Brown. The Godfather of the Harlem Renaissance, Aaron Douglas, has a namesake gallery and painted murals inside Fisk University's library. Douglas worked as a professor and the founding chairman of the university's art department for twenty-nine years. TSU brought the early works of Jean-Michel Basquiat to its gallery in November 2022, while Fisk is a dedicated art collecting university. The monthly Jefferson Street Art Crawl headed by local artist and business owner Elisheba Israel Mrozik highlights the mini galleries residing in North Nashville businesses. Throughout the neighborhood, portraiture murals decorate building exteriors, immersing the community in a deeper level of culture and history.
Loading: Gentrification in Progress
In March 2020, a tornado blew through North Nashville, leaving behind flattened buildings, displaced families, and ousted businesses. Onyx, the former home of In The Gallery, was among the destroyed buildings. The crisis was the perfect opportunity for developers to buy up newly available land. "Real estate is key to art, but we don't have the property, we don't have the investment." states Wilkinson.
Instead of local politicians or real estate developers pondering solutions of historic restoration or neighborhood upkeep, gentrification wreaks havoc on historically Black communities. The same old tale, a different neighborhood. "It's an intentional devaluing of something that's extremely valuable," says Booker.
"I was lucky. Without generational wealth, there are a lot of limits," says Wilkinson. With traditional art galleries, there needs to be a consistent stream of support from collectors, investors, and artists. Without continued advocacy, the community loses another piece of its identity.
"The system doesn't work as effectively if people can easily say what's wrong with it," says Booker in reference to his Redlining exhibition at Channel to Channel gallery in 2019. Redlining, real estate steering, and racial covenants leave Black neighborhoods vulnerable to gentrification. Redlining refers to the process in which the Home Owners' Loan Corporation ranked neighborhoods a "D" on a barometer of A-D. Real estate steering directs Black homeowners and renters to certain neighborhoods over others. Racial covenants prevent homeownership through contractual agreements that prohibit Black individuals from purchasing, leasing, and/or occupying property. All of these factors plague North Nashville.
Concerns and Hopes for North Nashville
"It's not my Nashville anymore," says Wilkinson. North Nashville is a part of his past now.
"These developers, it's like they think let's get the money, fuck the culture, fuck the history, fuck the future and what it could look like, get the money now. I'm just like, man, what has happened to the people who have taken the money?" says E'van. "Where they at now? I'm not sure."
"I'm not a minister. I'm not a bishop. I'm an artist who believed in what he needed to do to make art, especially in the African diaspora, more accepting," says Wilkinson. Exhibitions like In The Gallery, Looking into Past, Present, and Future curated by Wilkinson and presented at Zeitgeist Gallery in August 2021 preserve the legacy of North Nashville's art history.
"My hope is that the people who are really invested in North Nashville support each other, sustain each other, whether that is through even verbal support," E'van says.
I invite you to think of the life you've labored for. Not for a few months or even a couple of years, but decades. Now think about the impact of that effort disappearing. Imagine the soul of the neighborhood you've poured your essence into vanishing. That's the trajectory North Nashville's legacy will end if we don't seek, engage, heal, and remember.
---
Upcoming North Nashville happenings include:
Marlos E'van's short film, currently Untitled, will premiere in 2023.
Omari Booker's solo exhibition titled, 15, will open at Elephant Gallery in April 2023.
Donate to Catholic Charities at C.E. McGruder Family Resource Center: https://cctenn.org/locations/mcgruder/.