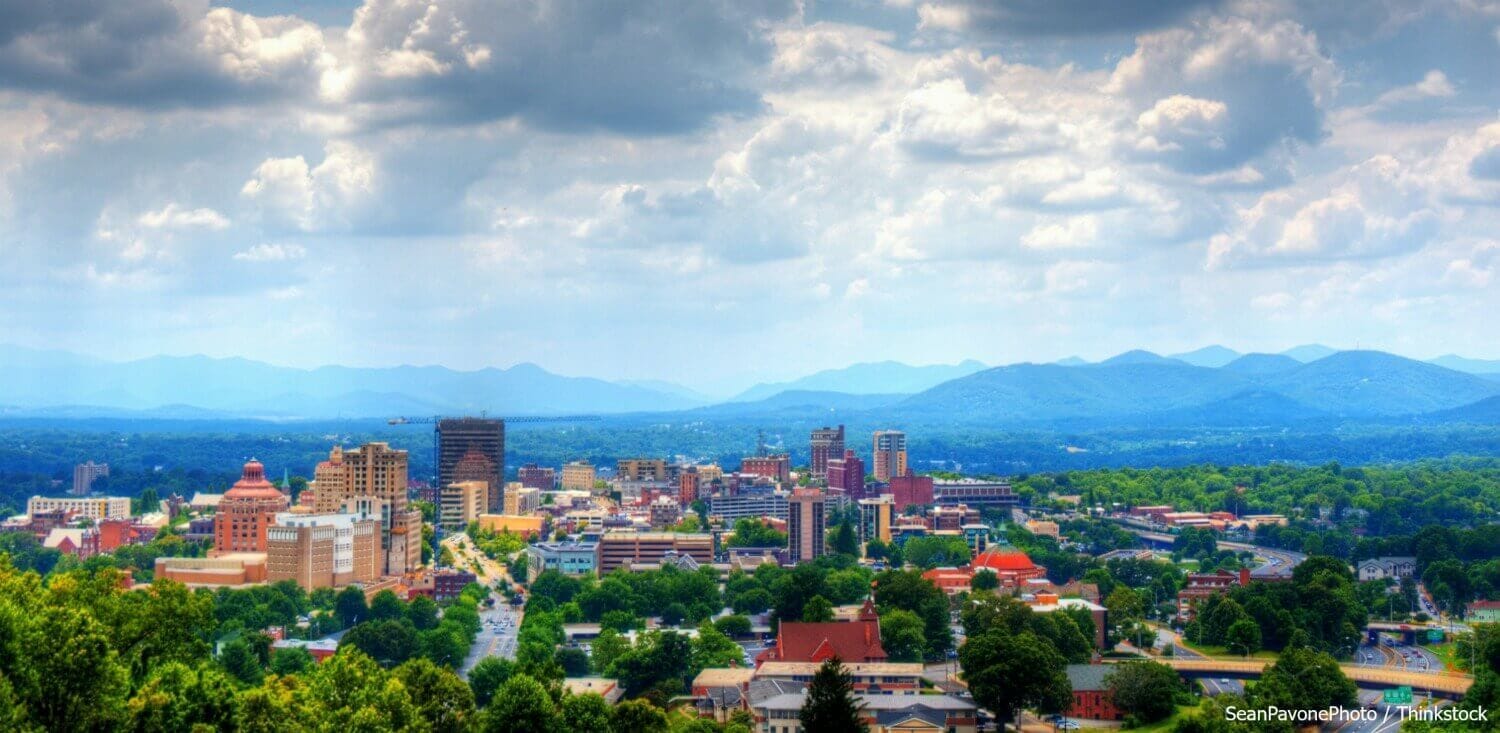 With a population of around 90,000, Asheville, North Carolina, is a large town rapidly turning into a small city. Over recent years, it has been optimistically dubbed (or self-dubbed) "Beer City," "Craft City," "Climate City," "Foodtopia," and most charmingly "the Paris of the South." Lonely Planet and Forbes have both designated the Blue Ridge Mountain town a world-class hotspot. (On Forbes's list of "15 Coolest Places to Visit in 2018," Asheville is a shiny speck listed alongside the countries of Bolivia, Malawi, Egypt, Cambodia, and Chad.)
One of the latest "best of" rosters to tout Asheville points specifically to its thriving cultural scene: Southern Methodist University's 2018 list of "40 Most Vibrant Arts Communities in America." The fourth annual report from SMU's National Center for Arts Research takes "an empirical approach to assessing a variety of factors that make up a community's arts vibrancy," such as the number of nonprofit arts and cultural organizations per capita; supply and demand for arts in the community; and the number of dollars in local, state, and federal support for the arts. In the end, though, the metrics give way to something rather less quantifiable: "We use the term 'vibrancy' in keeping with Merriam-Webster's definition of the word," says SMU's 2018 report, "to mean 'pulsating with life, vigor, or activity.'"
How does all this vibrancy take shape in Asheville's contemporary arts community? If one measure of vibrancy is growth, well, there's no question that the city's visual arts sector is developing. Three crucial arts institutions are currently undergoing major expansions/renovations. The Black Mountain College Museum + Arts Center (BMCM+AC) is consolidating its two downtown galleries into a larger single space on College Street, which will open its doors on September 28 with a Jacob Lawrence exhibition. The recently opened Momentum Gallery is relocating to a copious 15,000-square-foot new space on Broadway, making it one of the largest private gallery spaces in North Carolina. And the Asheville Art Museum is moving into the last stages of a $24-million renovation; it is scheduled to reopen in the spring of 2019 with a survey exhibition titled Appalachia Now!
The western mountains of North Carolina have long been a hive for traditional craftspeople—before the weavers, ceramicists, and experimenters of Black Mountain College there were the John C. Campbell Folk School and the Penland School of Crafts, and before those there were, of course, the makers who had lived in the region for centuries. But as Asheville grows and continues to redefine itself, it is becoming a fulcrum for contemporary visual arts that have little to do with traditional craft practices. The question for the city's arts community is whether Asheville can attract or build an audience to meet the challenge of provocative contemporary work.
The artists are certainly here. Down in the River Arts District, the banks of the French Broad are now dotted with restaurants, bars, and the sleek New Belgium brewery, alongside dozens of artists' studios with their doors flirtatiously open to passersby. On Depot Street, the Pink Dog studios serve as a kind of collective for nearly 30 artists who work in the building, which also features a gallery space. There is a similar cooperative feel in the cluster of studios at the Mill on Riverside Drive, a group of former factory buildings just north of the city.
In downtown Asheville, Blue Spiral 1 is a venerable emporium of art (and craft), and the nearby Haen Gallery shows a lineup of accomplished local creatives. The Satellite Gallery tends to feature what owner Bill Thompson refers to as "forward art," sometimes in a downright countercultural mode; its recent "Opening Eyes" exhibition, curated by and including Jeremy Phillips, was a strong showing of paintings by Asheville artists Mark Flowers, Nava Lubelski, Randy Shull, Ralston Fox Smith, and Aaron Tucker.
In the brewery-heavy area known as South Slope, the Refinery Creator Space, a function of the Asheville Area Arts Council, houses studios, a media lab, the Asheville Darkroom, the Thom Robinson/Ray Griffin gallery space, and more. Across the street is the Tracey Morgan Gallery, an elegant white-cube venue that opened in early 2017 and since that time has presented a number of well-conceived shows. Morgan is a veteran of New York's blue-chip Pace/MacGill and Yancey Richardson galleries, and while high-end photography is her primary focus there are also painters and sculptors on her gallery's roster (including Black Mountain College alumnus Gerald van der Wiele). Morgan brings an optimistic level of urbanity and critical rigor to this developing neighborhood, showing works by artists both regional and not. Currently on view are photographic works by Sharon Core (upstate New York) and Dawn Roe (Asheville); a show of photographs made in East Tennessee by Mike Smith opens in late September.
Artist/designer Randy Shull and his partner Hedy Fischer run 22 London in a monumental former warehouse space. Something of an outlier in Asheville, both geographically and in terms of programming, 22 London serves as Shull's art studio for much of the year, but this fall it will present its third annual exhibition, "Say It Loud," featuring works by 18 contemporary African-American artists from Shull and Fischer's own remarkable collection. The show, which opens September 29, will include pieces by Kehinde Wiley, Mickalene Thomas, and Hank Willis Thomas, as well as Asheville-based multimedia artist Clarissa Sligh.
An important new addition to Asheville's art scene is the RAMP—River Arts Maker Place. This cavernous former warehouse is now lined with artists' studios, DOT Editions photography printshop, and UNC-Asheville's STEAM studio (a "makerspace" for UNC-A students, who had the opportunity this year to help Mel Chin fabricate his animatronic/augmented-reality installation Unmoored and Wake, on view this past summer in New York's Times Square). RAMP is also home to Revolve, a nonprofit exhibition space and "listening room" hosting electrifying avant-garde music and dance performances, critical discussions, and film screenings, as well as art shows.
Can arts institutions in a city of Asheville's size and apparent ambition manage to avoid butting heads? Economically speaking, of course, many of these cultural dogs are fighting over the same small pile of bones.
In a recent roundtable of Asheville gallerists, artist Colby Caldwell, director of Revolve, observed that the city is ready for "the issues around contemporary art to be engaged in a vigorous and challenging way." He said he believes in the benefits of holistic growth: "There's an opportunity here for the city … to get everyone on board. We can all sit at the table together and look at what will be sustainable for everyone. Economically, Asheville is booming right now—but there's going to be a point when that will shift. If it's not sustainable, we'll be left with a lot of empty spaces in Asheville—as there were thirty years ago."
There are some programs and events on which multiple Asheville cultural institutions are already working together. The current "Summer of Glass"—conceived around the Biltmore Estate's Dale Chihuly exhibition, ongoing until October 7—brings together several Asheville galleries, the Center for Craft, the Southern Highlands Craft Guild, and the Asheville Art Museum (in its temporary digs on Biltmore Avenue), as well as the Penland School and other venues outside the city— all focusing on the region's time-honored tradition of glassmaking.
This fall's photo+sphere festival, taking place November 7–11, is another unifying event in which arts organizations across the city participate. A follow-up to 2016's photo+craft (read our coverage here), this year's gathering will concentrate on environmental issues as investigated through lens-based art. Organized by a group of Asheville science and arts professionals led by photographer Eric Baden, the event includes photography shows, performances, panel discussions, film screenings, and three keynote presentations (by Mel Chin, Sharon Harper, and Justin Guariglia). The photo+sphere project has opened its arms to collaborations with other Asheville venues and individuals tackling environmental concerns—among these are the Center for Craft, which will be featuring a show on climate change by artists Rena Detrixhe and Tali Weinberg; and Susan Patrice and Benjamin Dimmitt's Dialogue in Photographs, both considering vulnerable woodlands, presented at DOT Editions.
The arts are a major part of Asheville's magnetic pull for tourists. According to a 2017 Americans for the Arts survey, more than 64 percent of visitors to Buncombe County come to the area specifically for arts and cultural events (an educated guess: 98 percent stay for the beer). Clearly, the many new hotels that are sprouting up throughout the city are aware of the draw — the walls of the AC Hotel downtown are hung with works by Asheville-area artists and makers, and the soon-to-open Arras Residencies, too, is planning to feature a curated collection by local artists, while the Grand Bohemian Hotel in Biltmore Village has an autonomous gallery space. But weekend tourists, even high-minded ones, may not be in the market for five-figure works of art.
Still, as Jordan Ahlers of Momentum Gallery notes, "a rising tide lifts all boats." Right now the city seems to be experiencing a critical mass of artistic innovation and risk-taking, a proliferation of galleries and creative spaces, and plenty of attention from the world beyond the Blue Ridge Mountains. The big If, of course, is the Asheville art community's ability to use this momentum and these resources to build the market it needs—an audience that will embrace and support contemporary art.