Atlanta is home to a gem of a contemporary art collection that most people don't even know about. The privately held collection was assembled by homebuilder John Wieland and his wife, Sue, the names behind the High Museum's Wieland Pavilion.
John Wieland is famously private about his holdings, which are kept on display in a nondescript warehouse on the West Side. Not unlike the Barnes Collection of old, access to the collection is limited to student groups, private events, and others by appointment.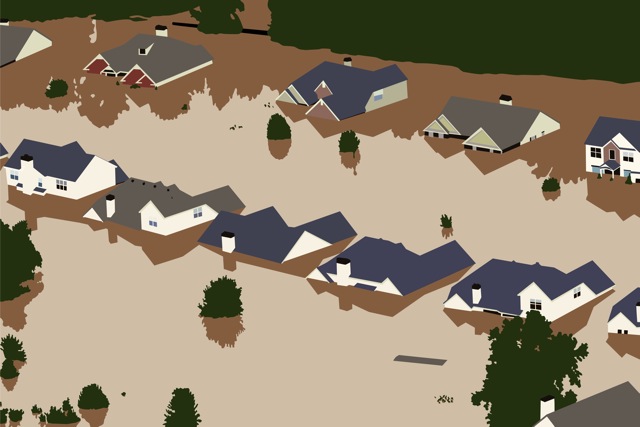 But with the upcoming expansion and renovation of their gallery space, the wareHOUSE, Wieland has sent the collection on tour. According to Wieland curator Rebecca Dimling Cochran, Wieland didn't actively seek to send the work on tour but was asked for a loan at the right time by Jeff Lambson, curator at the Brigham Young University Museum of Art, who knows Wieland from his time at the Hirshhorn Museum in Washington, DC, where Wieland served on the board.
Just opened at the BYU Museum, "No Place Like Home" features works by 65 artists. From January 23 to April 3, another show, "Open House," will appear at the University of Kentucky Art Museum, where former Atlanta Contemporary director Stuart Horodner is now in charge. Each curator was invited to make his own selections from the collection, so there are overlaps in the individually conceived shows.
The fact that the collection is thematic—the works all depict or recreate houses—raises hokey expectations, but visitors to the space are always impressed by the high quality of works amassed by Wieland. None are second tier. There are some obvious choices, like Gordon Matta-Clark, William Christenberry, Gregory Crewdson, and Bernd and Hilla Becher, as well as little known treasures, such as the transported structure assembled by self-taught artist Ferdinand Cooper (not in the shows).
The High Museum would do well to have an exhibition of Wieland Collection works when they return to Atlanta. It will be up to the museum's incoming director, Randall Suffolk, whether to seize the rare opportunity.
Correction: An earlier version of this story incorrectly stated that the Wieland Collection may appear at the High Museum. It is not currently on the High's exhibition calendar.