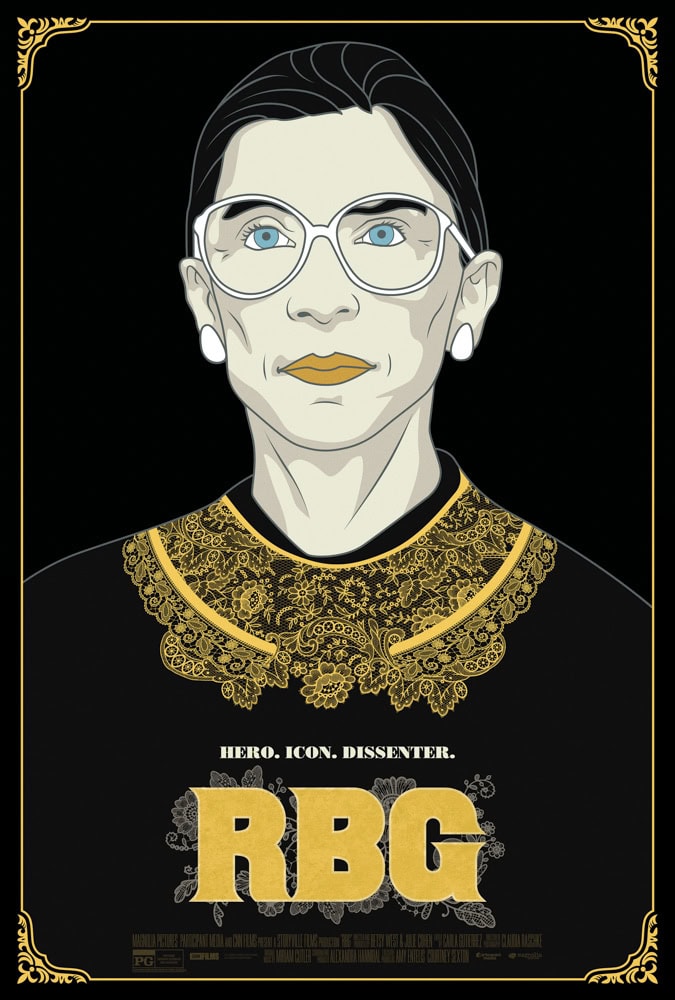 The recent Michelle Wolf kerfuffle is just the latest reminder that forceful and opinionated women are still an aberration in America.
All the more reason to bow down to the Yoda-like wisdom and teacup fierceness of another female heroine when the world so desperately needs one: Ruth Bader Ginsburg. That rarest of specimens, Ginsburg is an elderly woman with a cult following, whose every bon mot is savored like an item from a $310 French Laundry tasting menu. While women like Wolf tend to slam dunk America's tortured soul into the basket of cold, hard truth, Ginsburg's methodology is the more delicate, ladylike poke to the eyeball reminiscent of gentler times. Ginsburg is the one-step-at-a-time, 1950s-style warrior who slyly drags the cave dwellers toward the fire in the fist-pumping cinematic clarion call RBG, a documentary about the diminutive U.S.  Supreme Court Justice who has become an outsize pop culture icon.
If Black Panther was a rallying cry for African-American moviegoers anxious to see their ranks represented as more than an ancillary sidekick destined to die in the second act, then RBG is a female comeuppance, a chance for women to experience a real-world superhero and defender of truth, justice and the American way.
Over the course of her long and distinguished career, Ginsburg has battled for gender parity at every turn. She has gone to bat with as much grit and determination for a widowed man trying to raise his son and finding no Social Security benefits awarded to his gender as she has for the harpsichord-voiced Alabama blonde Lilly Ledbetter discovering her employer Goodyear is paying her pennies on the dollar received by men. Fierceness but also fairness are the Goliath-slaying rocks in Ginsburg's slingshot.
A film directed by two women, Betsy West and Julie Cohen, alongside female cinematographers, producers and composers, you can almost feel the estrogen hellfire raining down from every nook and cranny of RBG.  The film gives weight to myriad arguments zooming around in these heady #MeToo days, that female-made art has a power of its own in representing real world issues and the often ignored or suppressed female point of view.
West and Cohen's film opens with the braying voices of Bill O'Reilly and Donald Trump lambasting Ginsburg. But RBG quickly face-palms their milky white umbrage, delivering a revenge film served up ice cold. The film details the steely will of this child of Russian Jews who never attended college themselves but who raised a young girl who combined mettle and timidity, physical puniness and intellectual stamina, slaying every Darwinian trope along the way about the packages heroes and heroines come in.
As much a love story as a biopic, RBG traces the legal eagle coupling of two Cornell undergrads, the dreamboat tax lawyer Marty Ginsburg and blue-eyed babe Ruth Bader. In their charmingly idiosyncratic marriage, Marty consistently played second fiddle to his wife in deferment to her enormous brain being toted around on the puny shoulders of, as her granddaughter calls her, a Bubbe. Over their 56-year marriage, Marty championed his wife, compensating for her shy nature by tossing rose petals and manning the trumpets on her path to the Supreme Court. Just one of the many anomalies that distinguishes Ginsburg in our modern age of spittle-spraying blowhards and scarlet-faced talk jockeys is the quiet, elegant resilience of a woman who makes her points at a steady, even-keel clip and her white-gloved manner, slaying like any Compton wordsmith with her lyrical rhymes rather than attack-dog hysterics.
Immigrant story and underdog odyssey, RBG has it all, as it shows the time not so very long ago when women could be raped by their husbands with no legal recourse and then fired for being pregnant, all under the mealy-mouthed pretense of honoring their dewy frailty and loveliness.
As one of nine women in a Harvard law class of 500, and in a job market where New York law firms refused to hire her kind, Ginsburg's life experience battling sex discrimination was hard won. As her African American trainer attests, watching the octogenarian hold a plank pose, Ginsburg is a "cyborg" who never let concerns of mortality or man hold her down. Rocky's got nothing on this 5'1" woman in a doily collar whose tiny voice has issued forth some of the most scathing dissents in the Supreme Court's modern history, reminding the American people, if not her increasingly conservative fellow justices, of just who's on the right side of history.
RBG takes its lead from the embrace of the 85-year-old by a new generation of kids with the Internet coursing through their veins. The film recognizes Ginsburg's value for young people, who have grown up with some dysfunctional and self-serving adult role models, for holding fast to essential values of fairness and equality, a decidedly femme antidote to the current brand of toxic masculinity being crammed down our throats.  It's no wonder that the meme that spawned a blog that spawned a book that spawned a movement finds her namesake in hip hop. Adopting a central tenant of that movement, Ginsburg also speaks truth to power and, as the justice quips at a speaking engagement, like Notorious B.I.G., she too came straight outta Brooklyn.
It's absolutely delicious to finally hear Ginsburg in act three of RBG giggle (a sound so rare her own children kept a slim diary throughout their childhood documenting all the times their mother laughed) as she watches SNL's Kate McKinnon do her RBG imitation, guzzling vitamin powder (stay alive RBG!) and sporting oversized glasses to mask her penetrating doe-eyes.  
It must come as some consolation to a woman who's spent her 25-year Supreme Court career surrounded by towering men in black and the laws that serve them, to find allies in millennials and the popular culture who celebrate her and the American values she stands for.
RBG opens on Friday, May 11, at the Regal Tara Cinema 4 and the Springs Cinema & Taphouse and on Friday, May 18, at the Regal Atlantic Station.
 Felicia Feaster is a managing editor at HGTV and Travel Channel, the co-author of Forbidden Fruit: The Golden Age of the Exploitation Film, and writes frequently about art and culture for a number of Atlanta and national publications. She is also a BURNAWAY board member.