"All right, Mr. DeMille, I'm ready for my close-up" is the famous last line of the brilliant 1950 Billy Wilder film Sunset Boulevard, about mad, murderous former silent movie star Norma Desmond, played in a deliciously over-the-top way by the very real former silent film star Gloria Swanson—who was channeling something very strange in her immortal performance. The film is a compendium, a mirror of all the obsessions of the twentieth century: fame, money, power, glamor, identity, youth, sex, death. The close-up itself is one of the hallmarks of film and photography, unique to those art forms, and inextricably linked to the twentieth-century advent of stardom and celebrity. It is the close-up's ability to bring an audience near to a subject, to observe without being observed (or to worship a goddess so powerful she seemingly has no interest in our attention), that is one of the most crucial and central elements which made contemporary celebrity a possibility.
Ready for My Close-up also is the chosen title of a group show by four artists at the Hagedorn Foundation Gallery who examine to varying degrees such ideas of fame, personality, identity, self-creation, and the photographic eye itself as participant—and perhaps point of origin for the contemporary whirlwind around them.
Delving perhaps most successfully into this territory is a Budapest native (and current New York resident), photographer Monika Sziladi. Sziladi photographs various social spheres in New York—talent competitions, promotional events, fashion shows, networking parties, etc., then digitally recombines events and times to create invented panoramas. Her subjects project big personalities, eager, or even desperate, to stand apart from the crowd, but here are mashed into an airless, nearly spaceless foreground filled with others just as eager for attention. The effect is like 20 lions stuck into a carrying cage built for a house cat. Her collages do not create impossible or unconvincing arrangements of people in space, just unlikely ones, ones wherein we can tell something is disconcertingly off. Gazes don't quite match up: Sziladi's subject is intergroup dynamics, but here it's an invented dynamic, or rather an absent dynamic, one that highlights the isolation of these personalities focused on projection. So ready for the close-up, so ready to be received and admired, they stand isolated in crowds, primping and preening.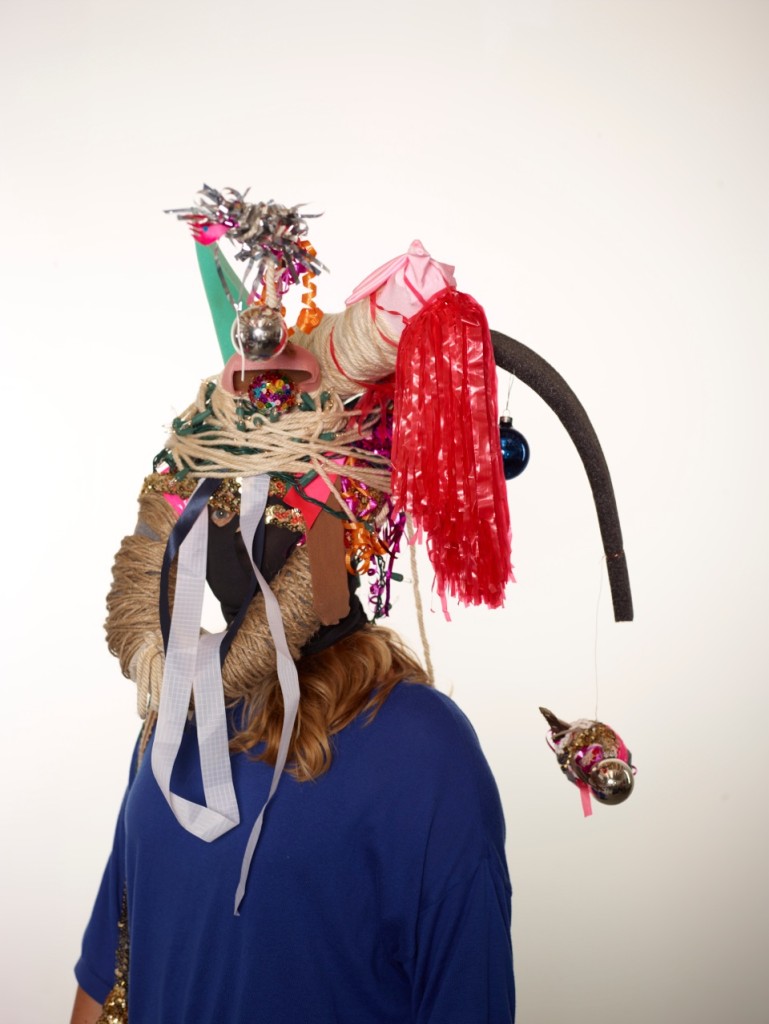 The work of West Coast collective Double Zero, consisting of artists Hannah Ireland and Annie Vought, documents the performative creation of enormous, outlandish masks for the artists, often built from found objects seemingly tied precariously together. In the video loop that accompanies the photographs, we see the artists take turns adding to each other's masks, action that variously suggests a cruel and even literal defacement, an act of kindness or healing as in applying bandages, play, and the complicated intricacies and vicissitudes of a relationship. Although the works are titled simply self-portrait or each other, the subtitles seem to be taken from the playful banter around their creation: The head I made for you is going to be hard to put on or You should use it for my portrait. It would look amazing on me. The phrases and the actions themselves suggest the playful nature of the artistic and personal relationship, and the specifics are left to the imagination.
I found most intriguing in the large-scale crisp photographs the single eye that was occasionally visible in the subjects. "Eyes are the windows to the soul," as the saying goes, but here, though that window is left open, it's the surrounding architecture that's obscured. Eyes behind masks always have a slightly manic, possessed, unknowable look. Our own eyes naturally go to theirs; there's nowhere else to go.
Atlanta-based photographer Jill Frank photographs couples and friends in dramatic, romantic, cinematic poses. There's a playfulness and tenderness to the projection of ludicrously enormous film scenarios onto everyday lives and people. It's an ideal of romance placed in contrast with a less glamorous reality, but there's no cruelty in the action. In Frank's work, it's reality that comes out ahead. The gestures are clichéd, familiar, melodramatic, while the people performing them seem idiosyncratic, authentic, occasionally endearingly awkward or ill-suited to play such blatantly scene-stealing, mythic roles. One might detect a sort of criticism of the commodification of romance, the seeping of such images into actual relationships and interactions and mental frameworks, but there's an overall sweetness to the work that suggests something more intimate and authentic.
A subject might signal readiness for a close-up, but as the varying takes here suggest, it is ultimately artists who narrow in and select, revealing their own understanding of what closeness might contain.
Ready for My Close-up is on view through October 25.