The bedroom is a hallowed, shrine-like environment for the women in Karen Ann Myers's work. These paintings and prints, on view in her show In Her Bedroom, at Georgia College Museum in Milledgeville through December 13, convey intimate, vulnerable moments of young models against highly textured, detailed backgrounds of bedding, wallpaper, and everyday objects. Candy-bright quilts and wallpaper seem to vibrate behind young models like auras—extensions of the women themselves.­
In her statement, the Charleston-based artist, who received her MFA from Boston University in 2008, explains that these "intricately painted, decorative interiors are invented to titillate the viewer." The eight oil paintings are large, ranging from 36 by 60 to 60 by 72 inches. Delicate details of lace, hair, wood grain, and stitching cover these expanses. The compositions themselves have a sense of geometry and deliberate placement. Myers carefully reconstructs reality using her own visual vocabulary.
The gallery is filled with so many references to home interiors that it begins to feel like a decorated space itself.  Screenprints designed to mimic wallpaper hang in groups in three places in the gallery—all patterned with tiny, easy-to-miss figures in explicit coitus. A group of three of these screenprints hangs in ornate frames on a freestanding wall in the center of the gallery. Flesh and fabric dominate most of the paintings, but the figures in the prints are integrated into the cohesive patterns, tying the figures to their safe and personal places, and activating a metaphor for human intimacy.
The overlap of pattern and figure is at the center of Myers's artwork both in form and in content. The pose and positioning of the women and their surrounding interiors mirror each other—a bent elbow in Striped Diamonds II echoes a triangle in the fabric's design, for example. The colors and textures of the interiors indicate a bright excitement that contrasts with their relaxed, contemplative facial expressions. It can be unclear as to who or what is the motif—the pretty things or the pretty women.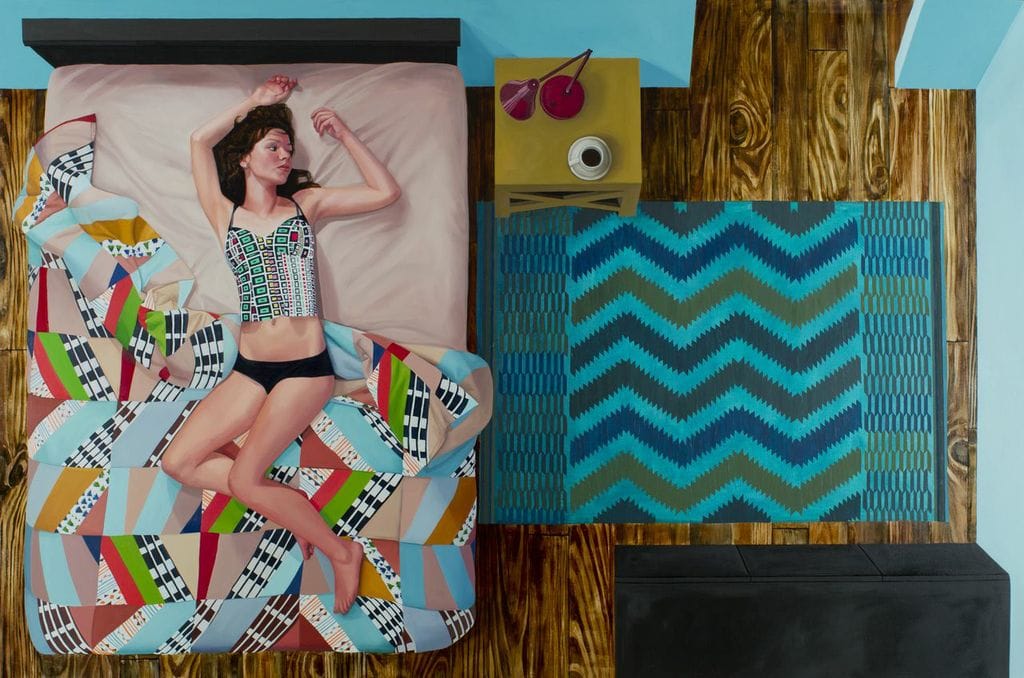 Indications of the psychological states of the women can be found on their physical bodies and in the details of their interior spaces. Revealing this "psychological complexity of women through intimate observations in the bedroom," as Myers puts it, reminds us that our thoughts and feelings are not limited to our minds. They extend to the environments we create for ourselves.