True to his reputation as an online provocateur, former Atlanta-based artist Pastiche Lumumba appropriates a phrase from Twitter vernacular, Don't @ Me, as the title for his solo show, on view at the recently opened Gallery by WISH in Little Five Points through June 8. Perhaps best known as one of the co-founders of the now defunct Low Museum, Lumumba relocated to New York in 2016 after being selected for a yearlong residency at the Bruce High Quality Foundation University.
With Don't @ Me, Lumumba presents an in-your-face cultural conversation about race, kink, and capitalism, as seen and experienced through the medium of the Internet. Taking immaterial virtual products and refashioning them as objects for display in a gallery, Lumumba includes multimedia installations involving digital display screens and readymades, as well as over a dozen memes face-mounted on acrylic sheets and displayed on custom shelves. Drawing on cultural phenomena such as Black Twitter and the work of other queer artists such as Juliana Huxtable, Lumumba mimics the aesthetics of social media to critique the contemporary art world, particularly its toxic tendencies toward racism, exclusion, and commodification.
Whether online or in the gallery, Lumumba often exposes intimate conversations within Black and queer communities to a wider public audience, sometimes deliberately provoking strong reactions. On two banners that greet visitors to the space, Lumumba borrows the distinctive font from the cover of Drake's 2015 EP If You're Reading This It's Too Late to spell out a barbed comment on colorism and masculinity in hip hop and construct a playing card for "post-internet artist bingo." The font appears again in Black People Invented Fire, where the work's title is rendered in acrylic paint on stretched fabric, accompanied below by the cheeky, fire-emoji-topped message "It's lit."
Lumumba's memes offer a wry, complex mix of pop culture references, institutional critique, and savage humor. One shows a photo of tech tycoon Elon Musk and Canadian synth-pop chanteuse Grimes, who recently revealed they were dating by appearing together at last month's Met Gala—much to the chagrin of many Grimes fans. In Lumumba's meme, the grinning Musk is labeled "My Gallery," the eager paparazzi behind the pair are labeled as "Collectors," and the pursed-lipped, annoyed-looking Grimes is labelled "Me." By simply adding a bit of text, Lumumba makes a genuinely funny joke while also highlighting the uncomfortable dynamics that can develop between artists and commercial galleries. (The original photo was taken less than two weeks before the opening of Don't @ Me; Lumumba is a prodigious topical meme-maker.)
In another meme aimed at addressing the controversial inclusion of Dana Schutz's painting Open Casket in last year's Whitney Biennial, Lumumba places phrases including "The Curators" and "The Whitney" on white characters in a photo from Jordan Peele's racial horror film Get Out, while the film's Black protagonist, Chris, is marked "@Me." This character could be standing in for any young Black artist upset by the curators' decision to include Schutz's painting of Emmett Till, though Lumumba was himself present at the subsequent protests at the Whitney and vocal about the incident online. Lumumba's memes also bear a watermark reading "petty images," a queering of Getty Images, the well known stock photo agency. Drawing on the trope of pettiness often playfully deployed in Black queer culture, this watermark is its own serialized meme, adding another layer of subversion and serving as Lumumba's tongue-in-cheek brand.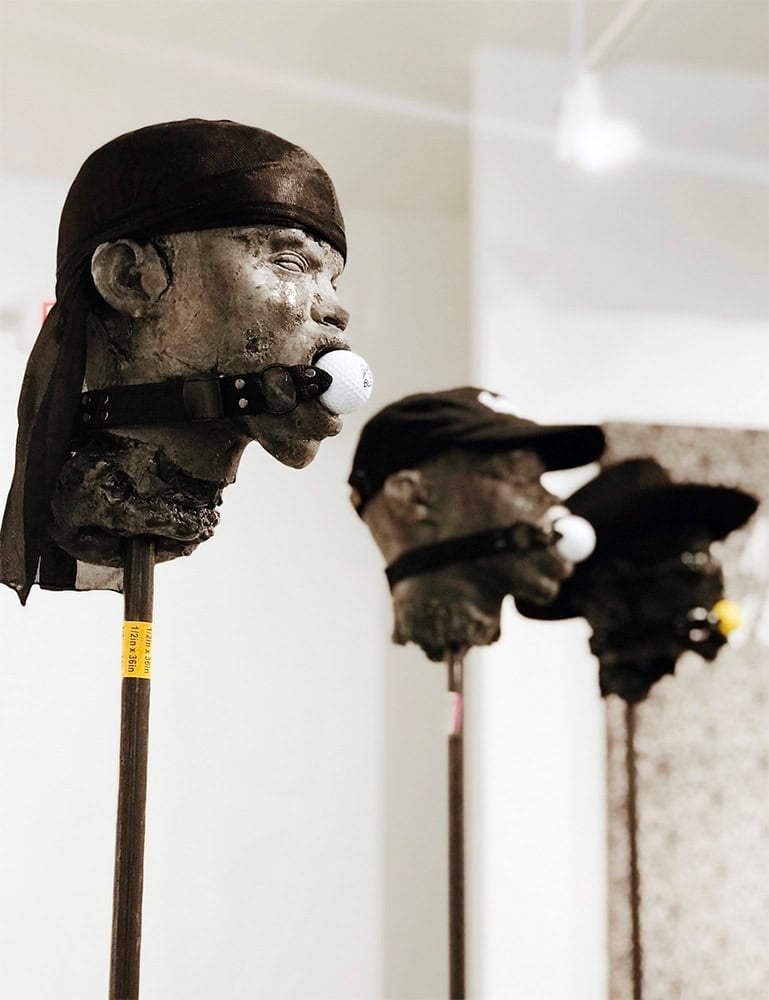 The artist doesn't shy away from examining complex intersections between Black masculinity, queerness, and hip hop culture. The phrase "Cuck If You Buck," a kinky revision of the title of Crime Mob's hit single "Knuck If You Buck," is printed on a golf ball being used as a ball gag in one of Lumumba's provocative, mannequin-heads of a young black man. When it was released in 2004, the Atlanta rap group's song became an anthem of retaliation and aggression, giving voice to discontented black youth. Lumumba's choice to flip the phrase's tone from dominant to submissive advances an important conversation about power dynamics within hip-hop discourse, pushing viewers to imagine possibilities beyond the toxic versions of masculinity that have been perpetuated by forces of racism, homophobia, misogyny, and capitalism.
Lumumba's Don't @ Me compels viewers to stop passively scrolling through the feed of images and ideas provided by dominant ideologies and reexamine their relationship to culture more actively and critically. Such reexamination pushes us toward imagining a world free from the white gaze, toxic versions of masculinity, and oppressive capitalist structures that have long impeded self-awareness and inclusion.
---
Pastiche Lumumba's solo exhibition Don't @ Me, featuring Nandi Loaf, Jenson Leonard, and Zach Fox, is on view at the Gallery by WISH through June 9.