Mary Addison Hackett's show "Crazy Eyes," on view through November 8 at David Lusk Gallery in Nashville, is the latest iteration in her ongoing study of her own studio. It also includes a few surprise scenes painted outdoors during a recent camping trip.
Hackett's process is self-referential, with a wink at the viewer. It's also vulnerable in its imperfections—its incorporation of misfired marks and imperfect gestures. A process painter like Hackett isn't striving to create a masterpiece with each canvas so much as present the development of a body of work over time.
Hackett loves the Beat Generation writers, and one gets the sense that she's memorized Jack Kerouac's "Essentials of Spontaneous Prose" and that she's taken Allen Ginsberg's dictum "First Thought, Best Thought" to heart in a painterly context. With these in mind, Hackett subsumes her considerable experience and talent in the service of impulse and imagination. I can't think of another good painter who flirts with bad painting the way Hackett does. And just as Kerouac's writing style makes us aware of its author, Hackett's hand leaves its own mark on her felt, sensuous surfaces.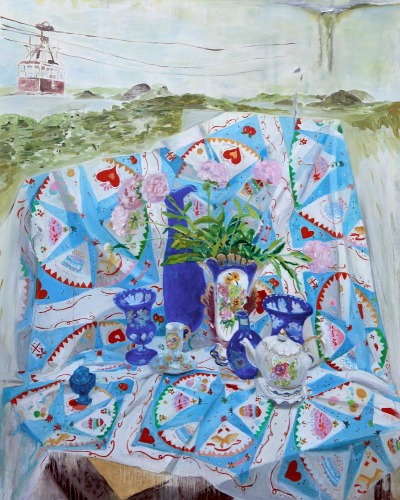 The painting Studio Window encapsulates her project. Hackett paints what she sees when looking past the supplies and knickknacks that decorate a tabletop and windowsill—tree branches framing a view of wooded yards dappled with sunlight and the houses beyond. Her light-filled canvas glows with the clear-eyed optimism and attention to detail that she brings to every brush, can, plant, snow globe and clamp light, each resonating with loving labor.
This piece also tells us about Hackett's internal process through the quotes that appear on painted renderings of notes stuck to the window pane: "I didn't quite get my arm out of sleeve when I painted it"; "Shut up and paint"; "'Everything comes to him who hustles while he waits.' —Thomas Edison."
Here, Hackett allows her paint to drip and smear in seemingly random spots. There's no sense that she's attempting to introduce expressive gestures into her loose representations for any particular reason. She seems just to let those drips drop when and where they do, neither embracing nor discouraging them. If they are intentional, I'd suggest that they are purely impulsive or perhaps designed to sabotage the painting from becoming too perfect, too finished.
Studio is one of several large paintings of Hackett's workspace, and it's joined by a number of smaller canvases. The pieces that she made on her camping trip are stylistically similar but feel less confident than their indoor counterparts. That said, the leap to painting a completely different subject is a brave one, and exactly what I'd expect from a hustling artist like Hackett.
Joe Nolan is a critic, columnist, and intermedia artist in Nashville. Find out more about his projects at www.joenolan.com