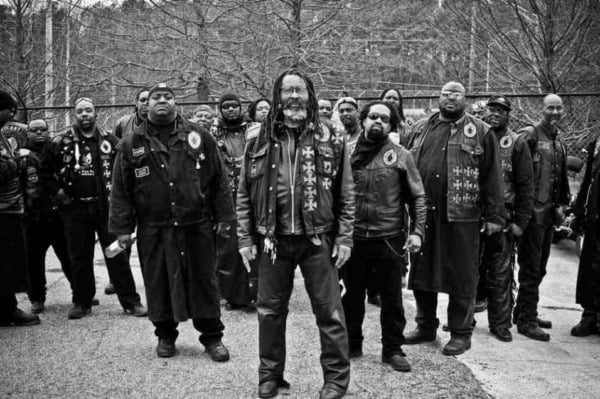 A new feature-length documentary by Atlanta-based filmmakers Devaughn Hughson and Jason Staten shines a light on a fascinating and provocative subject: the current members, history, and philosophy of the Outcast Motorcycle Club, the oldest all-black outlaw biker club in the US.
"My first cousin is a biker, and he joined Outcasts," says Hughson about the origins of the film Outcast Forever. "He came by the office one day, and he was so enthused that it kind of tickled me at first. The more he started telling me about his knowledge of it, the more it piqued my interest. I thought maybe there's a story here."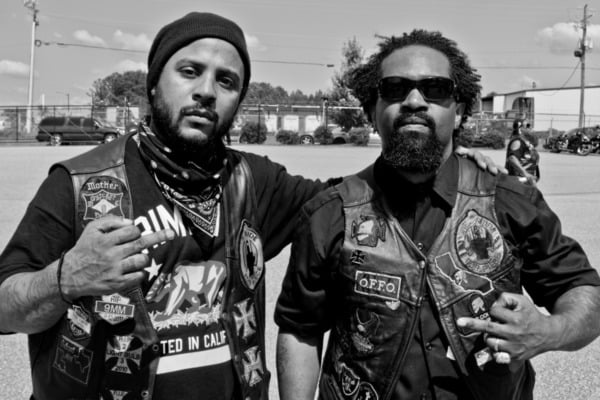 Starting with a short interview with Hughson's cousin, Hughson and Staten soon realized there was indeed a fascinating, seldom-told story about a little-known subculture, and the project slowly began to expand from there. Both Hughson and Staten have full-time careers in the film and music video industry, occasionally engaging in their own independent projects like the Outcasts film. Hughson is a graduate of the Art Institute of Atlanta and the founder of Digital Soul production company.
The Outcast Motorcycle Club was founded in Detroit, Michigan, in 1969. Black riders typically weren't allowed to join white clubs, so the name and identity of "Outcast" was chosen for the new group. The next chapter was formed in Atlanta, and there are now 45 chapters nationwide.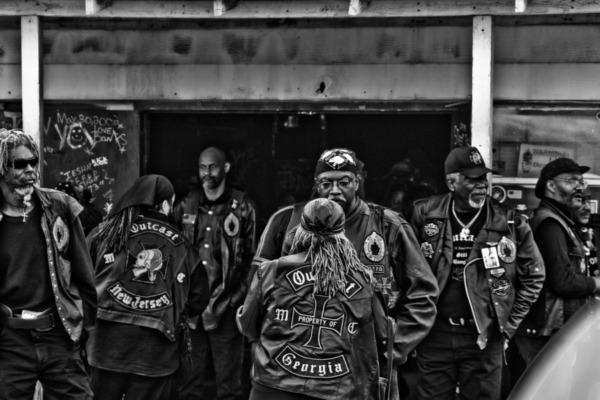 The film primarily focuses on Atlanta-based members, but Hughson and Staten also traveled across the US to capture glimpses of chapters in Detroit, California, Milwaukee, Alabama, and at a major rally in a rural location outside of Jacksonville, Florida.
Gaining the trust of the insular group wasn't easy, the filmmakers say. For years, there have been strict "no camera" rules at Outcast gatherings. "The relationship with Devaughn's cousin really helped open the door in Georgia," says Staten. "It was a long process getting to know the guys and being allowed into the club. They don't want you deep inside the closed doors of their organization. It takes time."
"It took a while," agrees Hughson. "We had to be around a little bit before we could pull out any cameras, visiting the club a few times, being introduced to people."
Outcast Forever (Limited Release) from Outcast Biker Film on Vimeo.
Hughson shot a rap video for his cousin, released as "Down to Die" by Sean P and Crucifix. The video, which included black-and-white footage of Outcast members, was a YouTube hit, and helped build trust among the club's members that Hughson and Staten would handle the project respectfully.
"We sat down and started talking to these guys about what the biker lifestyle meant to them, what riding meant to them, how the biker lifestyle is its own separate entity outside of what you might call the 'square' life," says Staten.
The film shows various aspects of the Outcast lifestyle but focuses primarily on the intense sense of devotion, brotherhood, and freedom that members find in the group. "They're gritty hardcore guys," says Hughson. "But once we were able to penetrate through that, we were able to dig a little deeper. We were able to find super-intelligent people, people who are well-studied, well-rounded, well-cultured, some with incredible personalities."
"Some of the most genuine people are cats who are bikers," says Staten. "It's a 'don't judge a book by the cover' situation. One of the most interesting things about the documentary is that you get past all of that and see the real human being. You get a better idea of who that person really is."
The film, shot primarily in black and white with a few scenes in color, has been soft released on Vimeo-on-Demand, but the filmmakers plan to self-distribute the film soon, as well.
"I hope it's a conversation starter more than anything," says Staten. "I hope it makes people think, especially about the diversity of what people in the black community do and like, what they interact with. People can learn about how camaraderie is formed in different types of environments."
Andrew Alexander is an Atlanta-based critic who covers visual art, dance, and theater.