If an artist spends several decades in pursuit of a singular mode of production, we are compelled to consider that work differently than work that has been conceived and executed in the short term. While the longevity of a practice does not ensure quality or value, there is, nevertheless, a cumulative accrual of intent that merits consideration. "Nancy Rubins: Drawing, Sculpture, Studies," recently on view at the Weatherspoon Art Museum in Greensboro, North Carolina, provided a sweeping evolutionary vista of a formidable artist's output over three decades, focusing on her massive graphite drawings and behemoth assemblages of found objects, which are traceable to the earliest days of the artist's practice.
Rubins's long-term engagement with these forms is part of how they need to be read, and this temporal scope of production was well represented here. The show's substantive catalogue, with writing by Nancy Doll, Xandra Eden, and Nancy Princenthal, features work from 1975 to 2011, including a major sculpture, 12 large-scale drawings and 13 sculpture studies. The question with this kind of exhibition is whether the work continues to be relevant and aesthetically vital. If we consider Rubins with an eye toward other contemporary art practitioners such as Jessica Stockholder, Sarah Sze, or Phoebe Washburn, the answer will come back solidly in the affirmative.
As with Richard Serra's high-density drawings, the term "drawing" is almost a misnomer for Rubins's works on paper. The sheer density of the material, built up on the paper's surface, defies drawing's common association with line. The graphite covers every inch of the paper, producing a monochrome gray metallic sheen. Close inspection reveals discernable gestural marks, thus the works serve as documents of labor, of bodily exhaustion. Rubins's drawings are often folded, layered and creased, formally echoing the draping of fabric in classical art or Linda Benglis's early metallic works. Their three-dimensionality further separates them from drawing and pushes them toward sculpture.
In contrast with the fine art connotations of Serra's oil stick drawing medium, Rubins's use of graphite conveys a powerful sense of a leadenness—with all the triggering that can be associated with that material—the poison lead in cheap house paint, the leaded stained-glass windows of Renaissance cathedrals, or the molten lead wielded as a weapon in the Middle Ages. Lead as an earthly mineral is metonymically wedded to the pull of gravity—a material whose weightedness is associated with the mundane, with dullness, with a lack of finesse—but also with the realm of writing and thinking. The drawings' visible seams give them the veneer of armor or armed vehicles. Their fragmentation and torn edges suggest shrapnel writ large.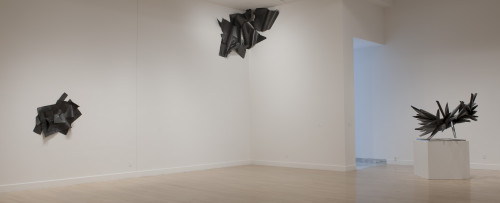 Rubins's drawings are always installed in response to site. At the Weatherspoon they were dispersed in an almost explosive way, activating the space and subverting the complacency of viewing that can happen with standard hanging strategies. Some of the works were positioned close to the ceiling and others were pitched precariously low. At first glimpse, they produce an illusion of heaviness. But then we notice that the works are pinned to the wall with standard silver push pins. No attempt is made to mask the pins or push the illusion: the paper edges curl and flip, revealing their scuffed and smudged undersides.
While the exhibition did not include an actual example of Rubins's colossal boat sculptures, they were represented in the form of studies—photographic collages, maquettes, and small bronzes. Sheer physical presence and scale has long been one of Rubins's aesthetic strategies. Rubins is best known for her massive cantilevered assemblages of objects, from home appliances to motor homes to airplane parts and, most recently, to small boats. She incorporated over 200 vessels in Las Vegas's Big Edge (2009) and Big Pleasure Point (2006); another accretion of boats at New York's Lincoln Center stood a staggering 28 feet tall. These works scan alternately as explosive, dangerous, weaponlike, but also as decorative, organic, floral. The boats are splayed like birds of paradise and feel like they've been caught mid-motion—projectile forms poised for multidirectional flight. Extending in all directions, they point outward, diagramming trajectories through infinite space.
There's also something wholly absurd about them, the surreal decontextualization and repurposing of ungainly utilitarian forms. Rubins's mode of suspension and clustering has as much to do with the art of flower arranging as it does with heavy metal sculpture. This disconnect is a strength of the work, and this paradoxical quality is further played out in Rubins's use of boats as raw material for land-locked sculpture. Binding them in a condition of taut suspension runs counter to their purpose of buoyancy and motion along the water's surface. Their stasis reinforces a subjective interior experience of floating, reminding us of our own watery nature, a subliminal reinforcement of the poetics of saliva, urine, tears, and other bodily fluids. Rubins's monumental boat constructions need also to be read as part of the history of nautical art, part of an oceanic discourse from Katsushika Hokusai to Winslow Homer to Bas Jan Ader. Seen in this light, the work is inescapably traceable to Melville, Rubins's battalions of boats becoming the whale. Because of their seafaring associations, even if placed nowhere near water, they invoke an invisible horizon line.
Rubins's boat studies give us the opportunity to consider the works as singular forms, a vantage point that simply isn't possible when one is hit with the delimited sightlines and proportional overwhelm of the actual towering structures. While they are all of necessity mere fractions of their fully realized counterparts, the shifts in scale among the studies—from several inches to several feet—has the surprising effect of making one feel alternately diminutive and gargantuan as one moves among them, casting the viewer alternately as King Kong and Faye Wray. This stirring of inner monstrousness is not surprising. There is something about Rubins's work that speaks to the idea of destructive power – within ourselves and contained as potential energy in accumulations of hulking obsolescent objects that have been (seemingly) precariously bound. The primal fear of monstrous (human and/or animal) power (King Kong, Ahab's whale) can be read in parallel to a fear of destructive industrial/technological power, a theme that has also been explored by Chris Burden, to whom the artist is married and with whom she has collaborated over the years.
The exhibition was rounded out by a large work (18 by 11 by 10 feet) titled Drawings & Hot Water Heaters (1991-95), which situates Rubins's drawing and sculptural impulses in one piece. An arrangement of outsized water heaters, enamel-coated in white with Tiffany blue and pale yellow accents, rusted and scarred, the work took up much of the front gallery space. Poking out in all directions like gigantic cigarette stubs, the water heaters read as both industrial and domestic, the industrial organs of the domestic body, the internal organs of the home. The morass of water heaters is draped with drawings across the top. Slung like blankets or strewn documents, many of the drawings cannot be seen from floor level.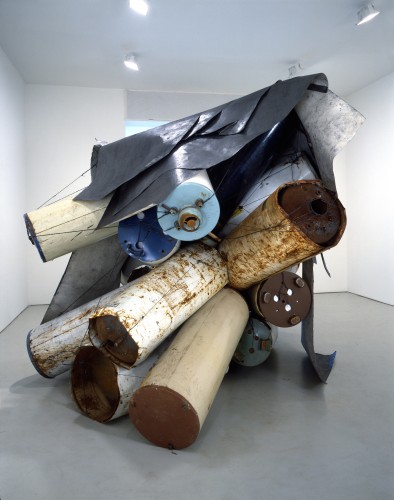 This complex gesture of inclusion and refusal raises questions about how the drawings are meant to function. The mere fact of their inclusion, the idea of their inclusion, becomes part of the work's intent. The heaters are bound together with black plastic twine and convey the contradictory feeling of taut security and immanent collapse. Drawings & Hot Water Heaters was an integrating gesture in an exhibition of disparate forms, and yet the marriage of these elements does not clarify the meaning or function of their proximity. How do graphite-laden works on paper relate to sculptural stacks of industrial detritus? The formal and conceptual autonomy of the drawings and the water heaters, and their lack of integration, is a question raised by the exhibition that was left unanswered.
In the exhibition catalogue, Weatherspoon director Nancy Doll talks about the influence of David Smith and John Chamberlain on Rubins. However, the differences are as instructive as the parallels. Rubins tends not to violate or expressively shape her found objects but rather brings attention to them as a collection, as a jumble, a pile, a suspended, spatial manipulation through which the materials are transformed by recontextualization, while at the same time maintaining their structural integrity and identity, a complex condition as both readymade and abstract trace. A highlight of "Nancy Rubins: Drawing Sculpture Studies" was a series of film documents that take us along the artist's trajectory from some of her earliest projects to a recent large-scale sculptural installation of gray aluminum boats (Monochrome for Paris, 2013).
Rubins was one of the artists featured in "Helter Skelter," the notorious 1992 exhibition at MOCA Los Angeles. For that show, Rubins stacked a trailer-park's worth of mobile homes and hot water heaters at the back of the museum (Trailers & Hot Water Heaters, 1992). Watching the artist oversee a crew and the heavy machinery required to mobilize huge industrial/domestic structures, which were never designed to be airborne— or stacked for that matter—drove home the sense of consistent, powerful vision that has driven her practice over the past three decades.
"Nancy Rubins: Drawing Sculpture Studies" was on view at the Weatherspoon Art Museum, February 8-May 4, 2014.
Amy White is an artist and writer based in Carrboro, North Carolina, where she contributes to Indyweek, Art Papers, and other publications. She has received top honors for her arts criticism from the North Carolina Press Association and the Association of Alternative Newsmedia and was recently selected to participate in the Art Writing Workshop, a partnership between the International Association of Art Critics (AICA) and the Arts Writers Grant Program, supported by Creative Capital and the Warhol Foundation.