Since the early 1980s, British artist and filmmaker John Akomfrah has offered up some of the strongest aesthetic responses to the intersecting discourses of history, identity, and culture for those excluded from power. Alongside such famed New Left intellectuals as Richard Hoggart and Stuart Hall who through their work made it impossible to ignore the role of visual culture in reinforcing a global order of racial inequality and economic exploitation, Akomfrah has mobilized the medium of film to disrupt new historical orders by visual means. As the number of urgent social crises continues to escalate and art's responsibility to respond becomes increasingly urgent, Akomfrah's deep investments in excavating historical source materials and conflating narratives about individual and collective history presents a model for an art grounded in ethics.
Akomfrah's most recent film Precarity, now on view at the Nasher Museum of Art at Duke University in Durham, North Carolina, expands upon a number of thematic concerns that reappear across his body of work: the legacies of slavery and forced human migration; the diasporic experience; colonialism; and climate change.
Commissioned in 2017 by curator Trevor Schoonmaker during his directorship of the fourth Prospect art triennial, the film catalyzes an accumulation of documentary fragments from New Orleans-based archives and Akomfrah's signature cinematic style to convey the tragic story of Charles "Buddy" Bolden, a turn-of-the-century coronet player credited as an originator of jazz in New Orleans. A legend among early jazz musicians in Louisiana, Bolden's significance to the genre has been excised from history due to his struggle with schizophrenia and subsequent institutionalization in 1907 at the age of 30 in the Louisiana State Insane Asylum. After his hospitalization, Bolden was never seen in public again and died in state care in 1931.There are no surviving recordings of his music. Connecting the dots between a single life disrupted by the violent forces of racism and state power and the entire diasporic African-American experience, Akomfrah's dynamic yet discontinuous expression of the life and legacy of one individual "disappeared" and rendered "precarious" by the violent forces of history and state power reveals the inability of diasporic persons to appear fully within their own stories.
The 45-minute film is a thick accumulation of visual and sensory information and is thus difficult to describe, but Akomfrah's poetic sense of cinematic rhythm and composition never allows the tempo of the accumulations to overwhelm or completely confuse. An "essay film" of the first order, the visual motifs are rich while the tone remains calm, with each photograph, snippet of archival footage, and voice-over given the right amount of space and time to resonate individually within the totality of the work. Akomfrah's even inclusion of digitally produced reverberations and the sounds of nature (water running, birds chirping, crickets buzzing) grants a certain peace and harmony to the film, coalescing into a rich sonic textile that demands that your ears be as involved in the creation of meaning as your eyes.
Yet, it is the silent costumed actors representing Bolden and other characters surrounding the musician's personal and professional life (his wife, his supervising doctor at the insane asylum, his itinerant band of musicians) that belie the dark tragedy of this story. As they move in and out of spaces that we are made to understand are significant to Bolden's life and subsequent mental collapse—a rural country homestead, an abandoned and flooded factory warehouse, and the asylum where he will live out his days—their voices are never heard, and their mouths rarely open. Fragments of Bolden's words, mined from his journals, are layered over the imagery, but the words never come from the actor's mouth—the voice does not have a body, undoubtedly a reference to the ways in which the testimonies of black people are often missing from historical accounts as well as the ways in which marginalized persons (minorities, women, prisoners, the poor, the mentally ill) are rendered silent by society.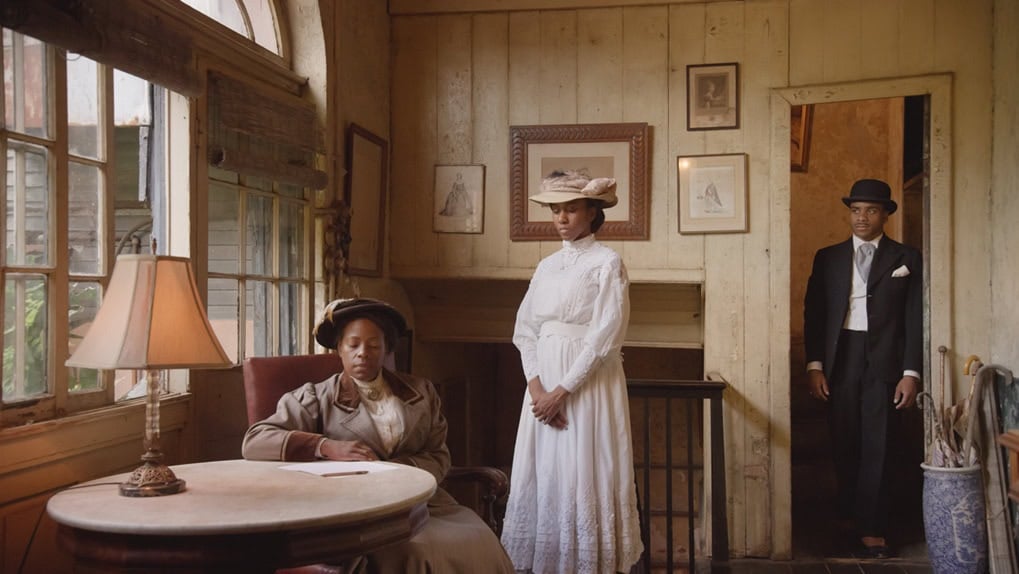 An additional organizational structure for the film is its division into six parts described as the "six processes of double consciousness": Precarity; Fluidity; Plasticity; Fugitivity; Enjambment; and Waywardness. Invoking W.E.B. Du Bois's definition of "double consciousness" in his 1903 text The Soul of Black Folk, in which Du Bois describes the internal conflict experienced by African-Americans — namely the challenge of seeing the self through the eyes of a racist, contemptuous white society and the two-ness embedded within the psyche of black persons — Akomfrah mobilizes the mental struggles of Bolden into a meditation on the psychological struggles of all black persons surviving in a white supremacist society. This is made clear in the repetition by Bolden's "voice" of Du Bois's famous line "an American a Negro; two souls, two thoughts, two unreconciled strivings; two warring ideals in one dark body, whose dogged strength alone keeps it from being torn asunder" across the trajectory of the film, pointing to the split psychic condition as a lived reality for all diasporic persons.
While there are many motifs and visual vocabularies that one could discuss in this film, water plays a significant role within his oeuvre. Used as a metaphor for the unbound nature of consciousness and memory, the dialectical flow of history, and the medium of film itself, water provides Akomfrah with not only a symbol of unadulterated dynamism but a visual tool to articulate the ways in which history itself flows in and out of the present. Combined with Akomfrah's career-long investment in technical strategies of disruption, the repeated motif of water and its capacity to cover, permeate, and seep into whatever it touches belies a kind of politics as well. Akomfrah uses water (swamps, rivers, dams, oceans) as a metaphor for the watery burial ground of the Middle Passage and for the continuous cruelty of history, and its ability to render oppressed persons invisible. While the archive might be a manmade construction rife for disruption under Akomfrah's hand, water is nature's ultimate disrupter, always reminding us that stability is a myth and the essence of life is perpetual movement.
In Precarity, water continues to act as visual metaphor and political message. We see archival footage from the 1927 Great Mississippi Flood of broken levees, destroyed homes, flooded fields, and stagnant water lying still in empty warehouses and drinking wells, as well as contemporary images of Louisiana's Atlantic coastline and Mississippi River woven into the narrative fabric of the film. Repeated shots of shallow, rocky riverbed are used to stage historical objects, archival documents, and photographs of Bolden and his family — arranged just below the surface of the clear flowing waters, not buried but not visible either — that speak of the musician's life and career.
"John Akomfrah: Precarity" is on view at the Nasher Museum of Art at Duke University in Durham, North Carolina, through September 2, 2018.