We have finally arrived at that point in time where the basic concept of a book is no longer the same for everyone. For those whose work is featured in "The Book as Art: Expanding the Limit" at the Art Institute of Atlanta-Decatur, it can take many forms and meanings, as the title promises, with 39 juried entries that push boundaries and challenge expectations in ways that are both startling and exhilarating.
Presented as sculpture, wall hangings, fold-out or pop-up constructions, boxed artifacts or compositions created from unlikely materials like aluminum and hand-dyed silk pages (Robin Price's Love in the Time of War), these creations are not just about reimagining the physical format of the book. They also capture the ideological essence of the content, whether it is poetry, narrative, diary entries or theory, and externalize it in ways that pages in a bound book could never achieve. A prime example is Operation Urgent Fury, Shervone Neckles-Ortiz's meditation on the 1983 American invasion of Grenada. Designed as a book scroll (it is mounted on the wall for the show), this lithograph on Giclée-printed canvas depicts the invasion of a soccer field in Grenada, one of many drop points for American troops. Against a background panorama of green turf and concrete walls, soldiers, collaged and printed in black, are strategically arranged across the composition as individually anonymous but symbolic reenactors of an event that is almost forgotten or fading from our collective consciousness.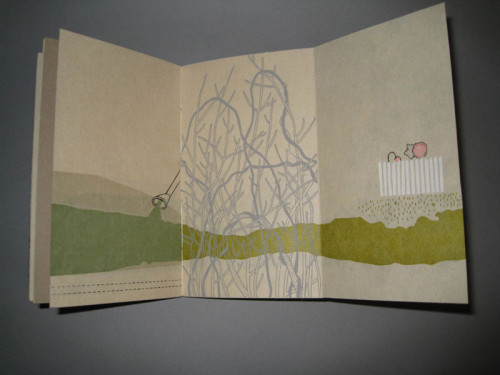 Sarah McDermott's Channel and Flow, which won the first place award, is a critical geographic study of how nature and urban infrastructure interact and coexist in often unpredictable ways. Inspired by McDermott's attempt to walk the length of Tripps Run, a stream that runs through Fairfax County, Virginia, the book is a collection of letterpress and silkscreen vignettes that physically reproduce the spatial discoveries and puzzlements of a journey through an ever-changing environment.
Other highlights include Diane Jacob's Nourish, All Our Relations, an unbound book of eight double-folded folios in a bamboo box that contemplates the current state of our planet; Todd Thyberg's American Manifesto, a 12-page pamphlet published on a vintage Heidelberg letterpress that advocates change in the spirit of Thomas Paine's historic treatise Common Sense; Luftperspektive/Aerial View, a double-sided accordion book by Cynthia Lollis and Daniella Deeg, that offers 360-degree panoramic views of Stuttgart and Atlanta, the hometowns of the two artists; and Jaime Shafer's Mix and Match Families, an inkjet printed flipbook exploring the concept of family as a flexible and fluid social unit.
The only drawback to "The Book as Art" is the fact that you are not allowed to touch the books. This is completely understandable since so much of the work is too delicate or fragile to withstand extensive handling, not to mention the damage that would occur from oil, dirt, and who knows what else from human hands. Also, when you consider the rarity and estimated value of the work (Candace Hicks's epic String Theory, for example, is priced at $16,000), the risk is too great to allow this kind of intimate inspection. It also explains why some of the more elaborate efforts (Sun Young Kang's Memories Unfolded, Andi Arnovitz & Yehuda Miklaf's The History of Sound) are housed in glass cases.
Still, one of the pleasures of analog books is their tactility, being able to hold them, turn the pages, feel the binding. And many of the works on display in "The Book as Art" are arranged in half open, stationary positions on shelves or stands where you can only partially glimpse a few interior pages. This prevents the viewer from experiencing the full impact of something like Ellen Knudson's American Breeding Standards, which is a thought-provoking but playful analysis of what constitutes good and bad breeding. It wasn't until I was able to view a few of the book's fold-out illustrations and diagrams on the MCBA Prize website that I was able to fully appreciate Knudson's idiosyncratic approach (her depiction of the four types of stomachs a person can have is a personal favorite).
The "no touching" restriction though may actually motivate you, like it did me, to conduct your own research on the artists and, in some cases, view their work in more detail on other websites. It may also result in an impulse buy; most of the work in the exhibition is available for purchase.
One thing is certain: This presentation by the Decatur Arts Alliance and the Art Institute of Atlanta-Decatur is certain to make you reexamine your concept of what a book can be and how it might evolve in the years to come. It also serves as a fitting tribute and kickoff for the upcoming ninth annual AJC Decatur Book Festival, August 29-31.
 "The Book as Art: Expanding the Limits" is on view through September 19 at the gallery of the Art Institute of Atlanta-Decatur at 1 W. Court Square in Decatur.
Jeff Stafford writes about art, film, music, gardening, and other favorite topics for various digital publications.