Where I'm Calling From Release Party: Miami Edition
Apr 30, 2023
Paradis Books and Bread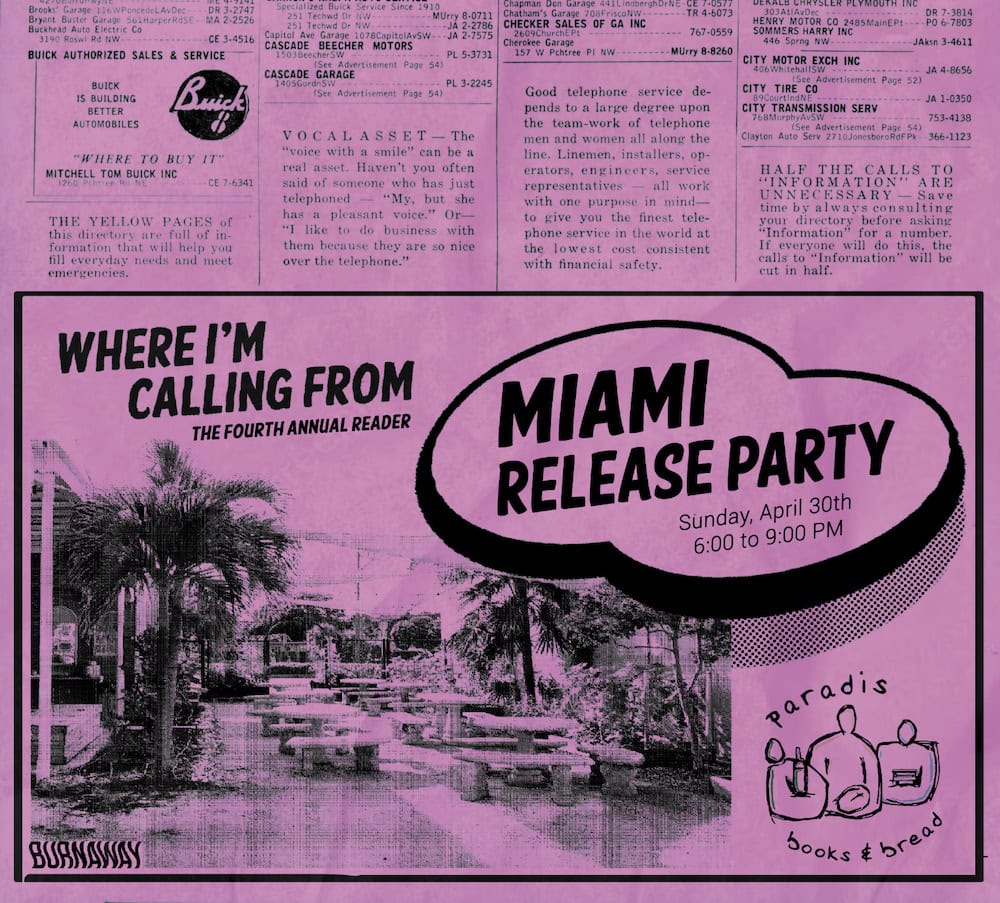 Sunday, April 30th 6-9 pm ET
Paradis Books and Bread
12831 W Dixie Hwy, North Miami
Join Burnaway on the evening of April 30th for the release of our fourth annual print reader, Where I'm Calling From at Paradis Books and Bread in North Miami. A small buffet of pizza and tapas will be available in addition to drink tickets as we celebrate Southern art writing. Copies of Where I'm Calling From as well as past readers and Burnaway merch will be for sale at the event. Attendees can learn about our membership options and meet the staff. Throughout the event, Burnaway will raffle off ten sets of paired tickets to PAMM. We look forward to celebrating in person with our Miami readers!
RSVP not required, but recommended. We strongly encourage you to purchase a copy of the reader or make a donation with attendance to this free event.
---
In this fourth edition of Burnaway's print publication titled Where I'm Calling From – from the Raymond Carver story of the same name – we are taking stock of how we are doing, and what the news on the ground across our coverage area is. Printed on paper reminiscent of the Yellow Pages with a matching bright cover, Where I'm Calling From continues the evolution of Burnaway's print publication as a gorgeous, bespoke object hailing a new Southern sensibility that Burnaway's audience is known for.
Including in this volume are stories on sonic traditions in Jamaica, reflections on the twenty-fifth anniversary of the Pride of Portsmouth, Virginia's — Missy Elliot — debut album Supa Dupa Fly, parrot tourist traps in Florida, The City Behind the Fence in Tennessee, fairies in the Ozark Mountains, the last dogtrot houses in North Carolina, the Hot Boyz of New Orleans, and the destructive strip-mining of Twilight III in West Virginia.