Regina Rex is an exhibition space run by 12 artists in the Bushwick neighborhood in Brooklyn. Located near the border of Kings County (Brooklyn) and Queens County, the group named it Regina Rex. The space evolved organically, with two of the original members having extra studio space and others having an interest in starting a gallery. The members, who either had known each other from grad school at the University of Illinois in Chicago or were closely connected to that core group, began to collectively curate in this space in 2010. Each member has also maintained an independent artistic practice. Their experiment was a quick success, and Regina Rex has become an established presence on the Brooklyn art scene.
The exhibition "New Threads," at the University of Georgia Lamar Dodd School of Art through March 3, is the first time Regina Rex has curated a show of its own work. The exhibition itself can be considered an artwork by Regina Rex, even if a specific component (e.g., a particular painting) is at the same time a work by an individual member. "New Threads" functions as a 3-D exquisite corpse that incorporates group dynamics, experimentation, and process. The title is a reference to part of their working process: email threads of ongoing group discussions are used by Lauren Portada in Threads Drawings. This plethora of voices is also apparent in the checklist, which can double as a handwritten statement depending on how each member wanted to represent their participation in the show. Or perhaps the process of collective curation is better exemplified in the 2013 work Untitled by Max Warsh and Regina Rex, in which a framed email beneath a frosted plastic layer is only discernible by the colorful but obscured Gmail header.
This was a mystery that had to be solved. Negotiating curatorial decisions between 12 people involves a level of collaboration that I could hardly begin to fathom (or stand!), so I was excited to sit down with Anna Schachte and discuss both the evolution of Regina Rex and "New Threads."
Linnea West: In terms of how Regina Rex works, you mentioned you have some informal rules that guide the process. What are they?
Anna Schachte: The way we do things has come from just hitting the ground running and figuring it out as we go, both as a group and as individuals. I know that if I didn't make it to a meeting, I would have very little say in the decision-making process. Even when I was on a totally different schedule than everybody else, if I wanted to have a real voice, I needed to find a way to make it to meetings.
We've used the analogy of sacrifice in this particular show. For example, in the list of propositions, we talked about each putting an individual work into a wood chipper or sacrificial bonfire or drowning them in a swimming pool, which would effectually destroy an artwork made by an individual. While we didn't do any of those literally, that became part of the conversation about our process.
At first, I was irritated by this analogy. I don't feel like I'm sacrificing my personal studio practice to be in Regina Rex. But if you zoom out, there is a sacrificing of one's own time. Time is very precious, as is the money from our own pockets that we put into operating Regina Rex. Also, to learn how to how to be part of a collective when we each are autonomous studio artists requires a little bit of sacrificing of one's own ego and autonomous vision to the group vision.
LW: In terms of sacrifice, you have 12 of the 13 original members, so the consensus seems to be fine with making some sacrifices. What would you say are the benefits of working collectively?
AS: There are a lot of benefits, and that is something we each have had to weigh over the years. For as many things that are annoying, inconvenient, or compromising, the pros continue to outweigh the cons.
For me, we started doing this at a time when my identity was changing, having just had a baby, so being a part of Regina Rex gave me a context that reaffirmed that I am an individual and I am an artist. It's also a rigorously discursive environment. As frustrating as butting heads can be, being in the conversation is very gratifying. Also, I had considered curating before, but I had no idea where to begin. The safety of being in a group and learning to curate in a group of my friends, who I already had trust and respect for, is incredibly valuable. Other benefits are the collaborative aspect of workshopping ideas and drawing on the networks of a larger pool of people. With 12 people's networks, you have a much larger knowledge base to tap into.
LW: Is it fair to call the practice of being in Regina Rex an institutional critique?
AS: It probably is, in a way. "Alternative" is a word we used a lot in the first year in trying to describe ourselves, to ourselves. We exist as an alternative to the predominant gallery paradigm in New York City.
A lot of people have very specific responses when I explain how the group works. They're like, "Really—12 of you? How the hell do you do that?" And, of course, I would say that, yes, it can be frustrating. But it also means that the labor is divided by 12, the rent is divided by 12, and the network is multiplied by 12. Because we aren't aiming to be a mainstream commercial gallery, the terms are sustainable in that we can afford x amount per month and one evening a week to get together and meet. It's been done on a shoestring out of love. It wasn't like we needed to meet our profit projections for the year. Of course, there are much more efficient ways of doing things, but we weren't trying to be a successful business. The journey was as satisfying as a destination, and there was no set destination.
LW: Did Regina Rex looking at other collectives, like Bruce High Quality Foundation, also in Brooklyn, for examples?
AS: I've read a little about Bruce High Quality Foundation and Reena Spaulings, but, somewhat embarrassingly, I can't claim any real knowledge about them, just as we knew we weren't the first gallery in Bushwick even though we weren't very aware of the other galleries in Bushwick. We didn't think we were going to be the first, but perhaps there's a little bit of naiveté. That's me speaking individually—each member would have more or less to say in response to that question.
LW: The gallery is right on the border of Bushwick and Ridgewood. In terms of Bushwick's expanding art scene, do you think you were in the right place at the right time?
AS: Absolutely. A lot of the people who are in Regina Rex either lived in Bushwick together or had their studios together in the same building. But I landed in Williamsburg when I moved to New York in 1998, so I'm entrenched in that neighborhood. In a way, Regina Rex turned me on to the neighborhood and what was already a burgeoning artist-run gallery scene.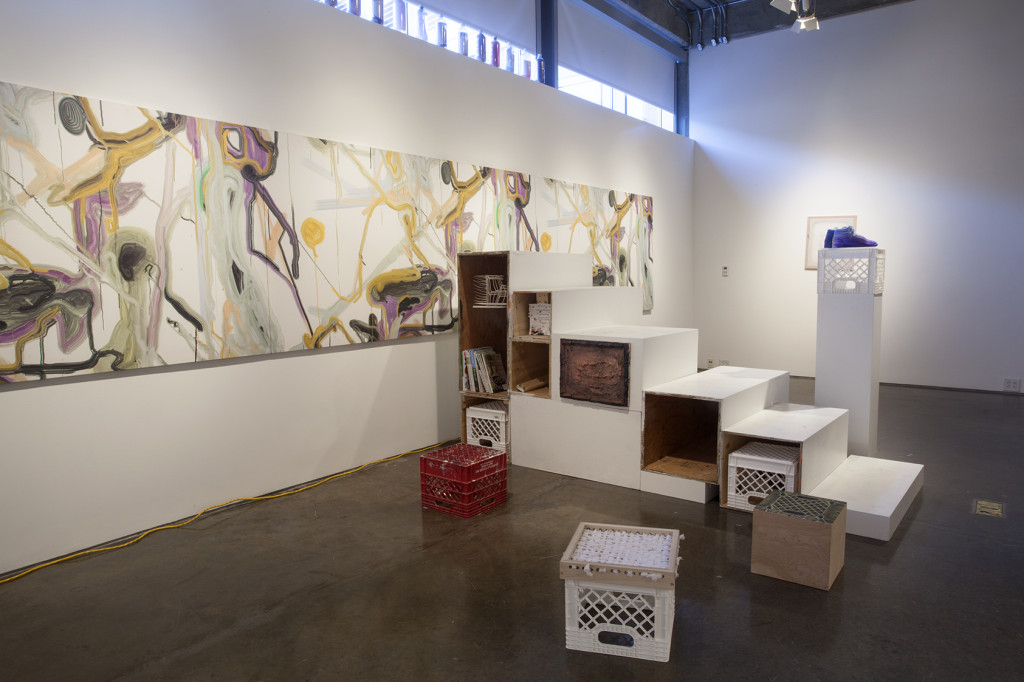 LW: People say that artists are the agents of gentrification, the colonizers of these undesirable areas.
AS: There's a pretty robust effort afoot to keep what happened to Williamsburg from happening to Bushwick—that is, big money, private development, and corporations kicking artists out to put up high-rise luxury condos. At the same time, having lived in Williamsburg/Greenpoint all these years, you both recoil in horror from it and delight in it, because there are all these conveniences in your neighborhood now. I definitely feel both complicit and in opposition to it—it's a funny conflicted relationship that a lot of artists have about gentrification.
LW:  As artists who have known each for a long time, have you shown your work together before?
AS: Not necessarily. I don't know that I've ever been in a show with other group members. Certainly, though, some members of Regina Rex have been curated into shows together, but not me personally.
LW: Was there any hesitation in the group to take on the "New Threads" project and curate your own work?
AS: That was part of the discussion early on, when Katie Geha [director, Lamar Dodd School of Art galleries] invited us to do a show here. I think that this is the first time we've done something in an educational setting. We've done art fairs, which is a very capitalistic setting. We've done things in pop-up spaces, like a failed condo development. Since many of us met at university, I really wanted to consider this kind of gallery venue. I think that part of why Katie asked us to do an exhibition was to show students how they might survive outside of the school bubble, how they can continue to nourish and support their own practice, and ways they can insert themselves into the greater context of an art scene.
LW: Is that why you wanted to focus on process somehow—for example, by showing the email chain conversation about the show?
AS: Yes, I was lobbying for this idea of somehow curating our own work. Actually, my initial proposal was that we all work collaboratively on a piece, some kind of collaborative drawing. Although you could call this exhibition a collaborative drawing of sorts, my first thought was literally to get big pieces of paper and pass them around so everyone could make their mark. The result would be an accumulative marking and responding and editorial process, which I think this show is, but it's not literally a pencil touching paper.
LW: Did having the exhibition here rather than in your own space free you all up to consider the premise of curating your own work?
AS: That's definitely one of the things that made it easier for the group to agree to do this: not only that it's not in our gallery space but it's far away from New York. For some individuals, they felt it was a really strong compliment—even if an erroneous one, we included group members' work in the "Hands Tide" exhibition—that people thought that we never showed our own work. This idea was something of a misperception, but people glommed onto it. When some of our members assert their adamant opposition to showing members' works, they cite this reputation that we've garnered for having a strict ethical policy against showing our own work, or they just feel that it doesn't look good to do so. I think having the show in Athens made it easier for certain people to swallow that we were going to do this.
Some people made new work for the show—a specific response to a proposition. Some people put just material, raw fodder, into the show rather than something from the archive of their work. Different people were able to calibrate their comfort level, to negotiate the problem of showing their own work, because there was a spectrum of ways we could engage the premise of curating ourselves.
————–
"New Threads" is on view at the University of Georgia, Lamar Dodd School of Art, Gallery 307 in Athens through March 3.
Linnea West, a recently returned native of Athens, is a writer and art blogger pursuing a masters in art history at the University of Georgia.