South African artist Sam Nhlengethwa (b. 1955) had his first U.S. museum show, "Life, Jazz and Lots of Other Things," at the Savannah College of Art and Design Museum, as part of the deFINE Art Festival, when I chatted with him while viewing the exhibition. Not well known in the U.S., Nhlengethwa [roughly, en-clay-geh-twa] was included in the South African Pavilion at the 2013 Venice Biennale and in the 2013-14 exhibition "Earth Matters: Land as Material and Metaphor in the Arts of Africa" at the Smithsonian African Art Museum. He has had solo shows at Florence Lynch (2004) and Axis (2005) galleries in New York and Kubatana Moderne Gallery in Atlanta (2002).
A slightly altered version of the SCAD Museum show, including some new works, will appear at SCAD-Atlanta July 21-October 17.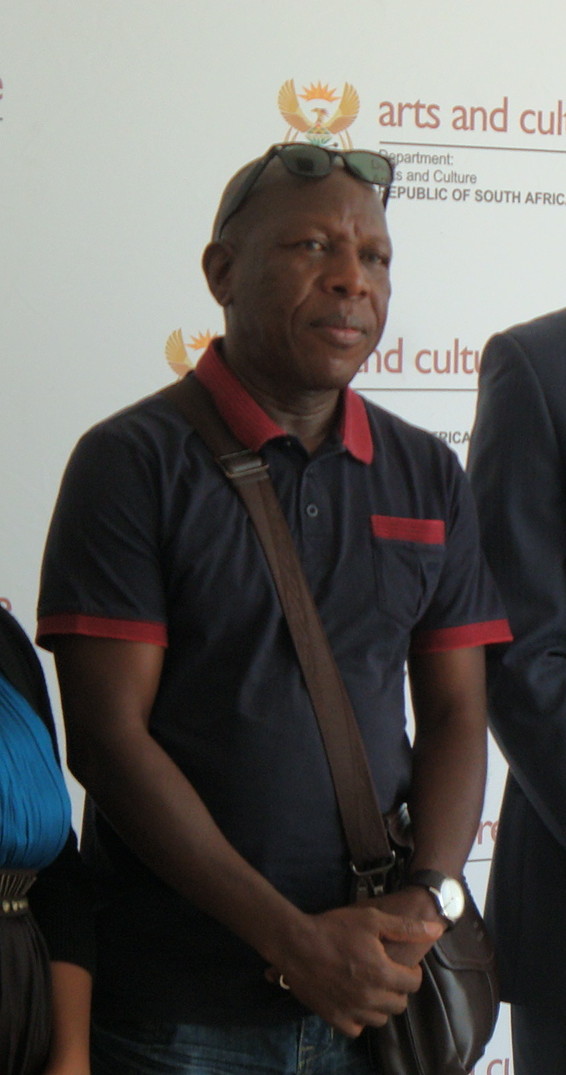 Stephanie Cash: How would you summarize your work and interests?
Sam Nhlengethtwa: My inspiration comes from Johannesburg, but from time to time I work with different themes. One of the earliest themes was the miners, [for] which I did two weeks' research at a gold mine west of Johannesburg.
SC: In what year?
SN: In 1996. Even now, when we left the country to come here, there were miners trapped, and I think one person died. Stories about miners appear in our headlines all the time.
SC: Where is this scene?
SN: This is Johannesburg.
SC: The buildings with fire escapes look so much like New York.
SN: Yes, because it's collage. That detail, yes, is New York; it is something that I took from an album by Pat Methany. To me, with my experiences, Jo-berg and New York feel the same.
SC: What are some other sources?
SN: This was actually a collaboration with another artist, so it's difficult to say who did what and why. He had pieces of magazines, etcetera, and then he said to me, "Sammy, how about putting this there?" I said, "You have the choice as much as I, so don't ask me. Do it."
And in this piece [points to a painting of a crowded city square], I wanted to celebrate our democracy in South Africa. I started to put different people of different cultures together to celebrate, because I remember in 1994, the excitement and the vibe in the city, and then I put this one together and made it a proud nation.
SC: Could you talk about the sources for these images?
SN: The sources for these images come from old, old magazines. Somebody was asking me yesterday, "Do you know these people?" I said "No, the only people that I can identify are musician Miriam Makeba and then my mom and my aunt. My mom was still alive when we celebrated democracy. And other people are from different religions and backgrounds. I wanted to put people together.
SC: What is this series about? They look like vintage photographs.
SN: This collage series is called Glimpses of the Fifties and Sixties. It's telling the story of South Africa during the hardships of apartheid, migrant laborers coming from the neighboring states, and the killings in Sharpeville in 1961, when people were protesting for passbooks. It's socio-political. This was exhibited in the Venice Biennale before it came here.
SC: Where did you get the images?
SN: Predominantly from Nadine Gordimer's book titled None to Accompany Me, and other photographers and their archives.
SC: I noticed that you work in a lot of different mediums, like these two textiles. What are they based on?
SN: This was a painting that is in our house—the middle one is my wife [laughs]. They were made by Stephens Tapestry Studio, which has done tapestries for William Kentridge. For this particular one, [Marguerite Stephens] said, "I would love to do a tapestry of that painting of your wife," and I said "Go for it." I asked her to do that one [jazz scene] from a piece in my 2010 show "Kind of Blue," paying homage to Miles Davis. So from my little painting she did this tapestry that I love.
SC: You clearly like music because it often appears in your work. And here you've created a sculptural arrangement that looks like a quartet is about to take the stage. SN: Music is quite an inspiration for me. When I'm in my studio, I will listen to jazz music from around the world. That's a jazz piece of Miriam Makeba over there. But I've moved on from that series. I tell people, I can't keep doing the same thing for my solo shows, but I will do one if someone commissions me to do a jazz piece. My August show that will be at the Goodman Gallery in Johannesburg will have the last tributes. In these I pay homage to artists, and the coming one is a tribute to Matisse, Basquiat, David Goldblatt, and others. I've done William Kentridge; I've done a number of artists.
SC: In what way are they tributes?
SN: I'll pick an image of an artist's work, like I did with the Romare Bearden, and put it on the wall in an interior scene.
SC: Had you seen this particular Bearden before?
SN: No, it is in the collection of [Savannah collector] Dr. Walter Evans, who I will visit tonight.
SC: Tell me about this mural-size piece.
SN: This is made by Spier [Architectural Arts]. They have studios in Capetown where they do ceramics and faience. They asked me to do a painting, and then they did their tricks, scanning, enlarging . . . It's playing around with ideas of the city.
SC: Is it a particular Joburg neighborhood?
SN: It's U-Town, which is our cultural precinct. It's where my studio is; that's where the vibe is.
"Life, Jazz and Lots of Other Things" was on view at the SCAD Museum of Art, February 18-June 22. It will be on view at SCAD-Atlanta's Gallery 1600, July 21-October 17.
Related articles