A mask has the power to conceal and confront. By obfuscating a face, freedom is summoned through camouflage. In the safety of disguise, a portal to our truest selves can emerge—where the absence of fear from predatory attack, retaliation, and humiliation, elicits utopia. Puerto Rican and Caribbean queer artist Luis Gabriel Sanabria has been exploring the transformative power of traditional Puerto Rican vejigante masks since he was a young student. Upon moving back to Puerto Rico, he was bullied for being gay and realized the societal ostracization of queerness had shared roots with the masks donned by performers during celebrations of disruption. The costumes of winged and horned hedonistic spirits depicted the so-called "demonic" Moores, the Medieval Spaniards that colonized and slaughtered the indigenous people. Since 2014, Sanabria has been reclaiming the masks that are rooted in a misogynist and colonialist tradition; and imbuing them with a femme regality. The costumes, which he wears himself, reflect Puerto Rico's queer ecology and customs, concocting portals through glittering and stoic recreations of vejigantes and Taino deities and ultimately placing them back in lush nature, where they are free to exist softly.
"There's a need for change," said Sanabria. "There's a need for exploration."
The carnival tradition is rooted in hypermasculine violence. The Ponce and Loiza carnivals that are celebrated today date back to the twelfth century after James Matamoros, known as Saint James, murdered and expelled the Muslim Moors from Spain. The Spaniards celebrated their victory by taking giant cow bladders (vejigas gigantes), drying them out, painting them and adorning their faces with the reconstructed vizard. According to The Bronx Library Center, the bladders were filled with seeds, staking them on top of a stick to toy with pedestrians in the crowd. As the vejigantes hollered and moaned, it was a reminder of Christianity's defeat over the Moorish "devils," and an urging back to church as salvation. Today, carnival is a disruption to the rote monotony of that very Christian, colonial ideal, an excuse for revelry and escape.
Sanabria's portals take the bewitching iconography of horned and winged creatures into a queer future, liberating them from their colonially masculine roots and demonized implications, and envisioning a moment of radical, celebratory reprieve. "When you are behind a mask, you become a different character," said Sanabria. "You're acting, you're not human. So in that way, you stop everything else that's happening and you become something else."
Sanabria's work camouflages its wearer with the characters ever-present in Caribbean society yet so often extricated by colonial forces. The wearer no longer must submit to society's patriarchal and heteronormative beliefs and norms. The ensembles transform the wearer into hypnotizing, glittery icons like "Padre Plateado" and "Madre Dorada" whose masks are reminiscent of a Guillermo Del Toro monster—sinister and alluring. In another series called "Never Been Gone," Sanabria creates the Taíno Holy Trinity, deities from a wrongfully assumed to be extinct culture and people.
"Madre Dorada" took Sanabria a month to create working eight hours a day, six days a week. At the time, he was living in Jayuya, in the center of the Island, which was rainy and damp, forcing him to wait days to add additional layers to the papier-mâché mask. "Madre Dorada" which is part of the "Carnaval Carnal Series", celebrates the primordial and eternal creative power of motherhood, or Mother Earth. Inspired by his own mother's name (Marisol, which translates to sea and sun), the gown's golden puffy sleeves take inspiration from her wedding dress, a vestige of the 80's fashionable play with feminine structure. The horns, which traditionally do not extend far from the wearer's face, instead create architectural support arching down like mangrove roots. In a self-portrait Sanabria adorns himself in the costume, he is stoic on Cabo Rojo's rocky horizon, the birthplace of his maternal grandmother.
"The way that I'm responding to this history is in a soft and feminine way," said Sanabria. "I don't want to put a gender on it, but I'm just talking about the energy of something that can also represent these other aspects of ourselves."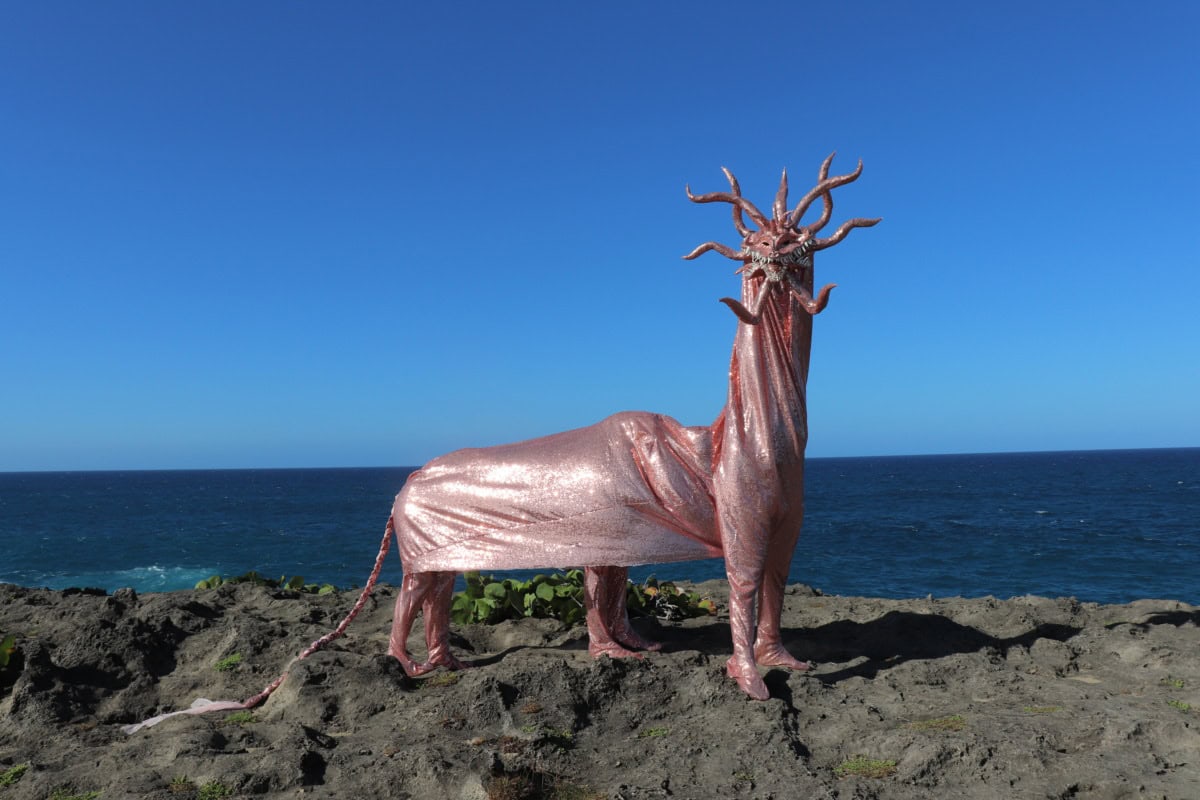 Since his days as a young queer adolescent in Puerto Rico, Sanabria says San Juan has become one of the largest queer cities of the Caribbean, a community fraught with deeply entrenched Christian colonialism. Still, trans women are regularly subjected to physical harm. A 2020 Human Rights Campaign announced that of the reported twenty transgender and gender non-conforming people who had been murdered in the U.S., six had been murdered in Puerto Rico. In August 2021, Puerto Rican Governor Pedro Pierluisi, approved a law that designates femicides and transfemicides as first-degree murder, but often, they go unresolved. The Department of Education likewise has yet to officially support a gender-inclusive curriculum, perpetuating conservative Christian ideology and legislation.
"I get to feel an ancient ritualistic energy that is evoked during a mask performance," said Sanabria. "I let the mask tell me how to move, how to breathe, how to interact with the space and others. … Performing in a mask is such a special invitation to dive deep into the darkness of someone or something else. Suddenly you are inside of another body, you still use your eyes and your mind but you are animating another body physically."
Other pieces in Sanabria's portfolio more clearly depart from the vejigante image, such as the Puerto Rican Emerald vejigante from 2021, appear traditional embodiments at first glance, with their menacing mask with grimacing fangs and expansive wings. But, this piece in particular was made to honor the Puerto Rican Emerald hummingbird, with an iridescent print that mirrors the stunning plumage on Puerto Rican's endemic and frenetic bird. Sanabria's creation glistens just the same in an emerald to indigo gradient, but in its performance, the bird is thoughtful and measured, taking time to pose like a hummingbird taking a sip from sweet nectar. In all its regal splendor, Dhani Vallés's performance brings a regality to the bird that is often flighty. According to Sanabria, in the Taíno Medicine wheel or "Guaiko" from the Caney tradition, the hummingbird (babae) is the face of the North direction, symbolizing wisdom earned through experience. According to Andean shamans the hummingbird is the face of the East direction, where the beginning of a new day or era awaits.
"In this time of planetary renewal there is an extreme polarizing effect in the relations of humanity," explains Sanabria. "The hummingbird is a teacher of relating to one another in sweetness and taking in the nectar of life that each of us carry within. So we can connect to this world in a unified loving way."
Sanabria's characters have not attended carnival yet. As of now they've been embodied by his closest family and loved ones. But he hopes that soon he'll be able to take his family of new queer Caribbean iconography to the colonial cobblestone streets of Ponce, where Puerto Rico's queer community will be ready to celebrate a return to softness.
---