Stephanie Cash: Are you feeling settled in? How are you finding Atlanta? Have their been any pleasant surprises or upended expectations?
Victoria Camblin: I had never been to Atlanta before ART PAPERS flew me out to interview for the position. What I found then has been consistent with my experiences since: I've been overwhelmed by the community's hospitality and engagement, which takes place here on a level that I have not seen in other cities. The architecture and energy here has a certain feeling of potential and momentum, which I love. Plus, the food and drink culture here begins rival that of my hometown, San Francisco. That is no small claim.
SC: You moved here from England, where you attended Cambridge. What is your dissertation topic?
VC: My doctoral work is devoted to the illustrated periodicals of Paris' interwar avant-garde, specifically the editorial work of Georges Bataille—who is often described as an author or philosopher, but rarely as an editor. The publication at the center of my dissertation is Acéphale, which appeared between 1936 and 1939. It was illustrated by the sometimes surrealist painter André Masson, and accompanied by a secret society of the same name. It was political, it contained criticism and art, and had a participation component—all things that make it a compelling case study that still has applications today.
SC: What other publishing/media projects have you worked on?
VC: I've always taken an interest in print media, by my true editorial alma mater is 032c magazine, a Berlin-based contemporary culture magazine published twice a year, where I served as editor from 2006 to 2013. It has made significant contributions to design, practically, and pioneered a kind of interdisciplinary cultural coverage that I really believe paved the way for the emergence of similar semi-annuals in recent years, which look at art, design, architecture, fashion, and publishing in equal measure. The tabula rasa that we enjoyed as an English language publication in Berlin in the mid-2000s was frankly priceless, and the magazine has continued to innovate as it has grown—I'm so grateful for my time there. I've also served as editor for the online video platform NOWNESS, and contributed to a number of culture and arts-oriented publications internationally, Artforum and Texte zur Kunst among them.
SC: What about the ART PAPERS job appealed to you?
VC: Well, there simply is no other platform like ART PAPERS. In addition to my editorial and academic work, I have experience in public programming and have curated talks, panels, symposia and so on in several international contexts. When I saw a position that combined all these things, I was instantly attracted. As an editor and as an art historian, I found ART PAPERS' very rich history incredibly unique. People always used to ask me if I would ever start my own magazine, but whenever I thought about doing it I thought, I'm already working with great independent magazines in London, Berlin, New York … But the level of interest and enthusiasm I saw in Atlanta seduced me—the energy here and ART PAPERS' ability to share that on a national and international level is so exciting. It really feels like there is something we can contribute to a global discussion. Above anything else, though, I felt this was a city, an organization, and a team of colleagues that I would learn so much from, and that's really essential to me in whatever I'm doing. It's proved to be very true so far.
SC: What do you think about the never-ending "crisis in criticism"? What do you see as the role of art criticism?
VC: I think the discipline has certainly evolved over the last decades, but I don't think we need to address that by becoming cranky. Rather, I think we need platforms on which a variety of conversations can take place. In essence, what I'm interested in and what ART PAPERS is interested in is providing platforms for discourse, which is essential to any endeavor, be it within or without the creative community. Not jargon, not dogma, not insularity, but dialogue. And fortunately, I think there are a lot of compelling forms that can take.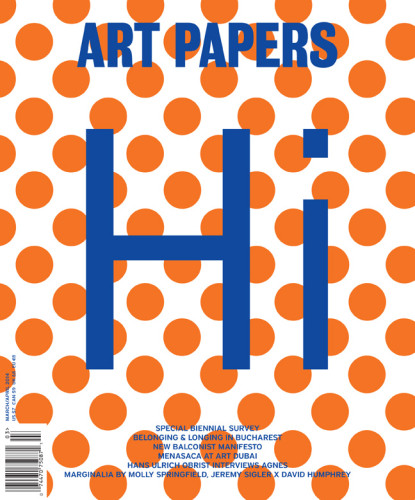 SC: Tell me about your first issue. Is there a theme? Who are the contributors? Any anecdotes you'd like to share?
VC: I had the idea to devote the issue to "Margins"—geographical and identity political, but also with regards to the medium of print—when I was perusing some old issues and found an essay by Adrian Piper that ART PAPERS published in 1990. I wrote to her to ask if she wanted to revisit the topic; she declined—she's pretty focused on other research at the moment—but thanked me very earnestly for continuing to address the theme. When I read that, I realized that the "Margins" weren't merely an idea for the issue, but a fundamental part of what ART PAPERS must engage. It's not a topic we can just abandon. So, my goal for this issue and for the next few issues to come is to plant some thematic seeds that are folded into our editorial vocabulary going forward, no matter what we're looking at.
SC: What do you have planned for upcoming issues?
VC: We've actually lined up some more manifestos! We're also reviewing other arts magazines and publications, in addition to reviewing shows in museums and galleries, following on from the theme of one of our guest-edited issues, which was devoted to the very form of the art magazine. May/June has a human rights orientation, looking at education, sovereignty, community, and other issues from a variety of different angles. Just as we did with "Margins," we're interested in finding all the ways a line of thought can be approached. In July/August, we'll be looking, broadly speaking, at "careering" — artists' career paths, artist mythologies and branding, and so on. Each issue will also feature a "glossary" featuring new or unusual terms or neologisms. This month, we define "JOMO"—the "Joy of Missing Out." The acronym was conceived of by contributor Shumon Basar as an antidote to "FOMO" [fear of missing out]. I found the sentiment very useful while working late nights in the office while closing the issue!
SC: In recent years, Art Papers has been faulted for alienating the local community and losing its focus. What do you see as Art Papers' weaknesses and how might it address those issues?
VC: I think any good magazine to some degree is a magazine that reflects the community from which it emerged, and I'm very interested in and respectful of ART PAPERS' Atlanta lineage. I think it's one of the most exciting things about the organization! In the March/April issue, you'll see a commission from local artist Nat Slaughter, as well as a whole mini-section "canvassing" Atlanta happenings and profiling people and exhibitions that are contributing to the community. It's in no way comprehensive, and we won't always devote an explicit section to our home city, but it felt right this time around — there were a lot of happenings in town that just resonated with the themes we were exploring.
SC: The High Museum faces regularly criticism for its lack of engagement with the community, especially as it forges relationships with institutions like the Louvre and MOMA. Can you comment on how Art Papers could strike a better balance?
VC: We're hoping to collaborate with many local organizations, big and small, and have already teamed up with the High, the ACAC, and GSU. Last month, I was lucky enough to be invited to Turning Sun School, where I spoke to students who are making their own newsletter—they were five years old and are already selecting text and art and even thinking about design! I was blown away, and among many other things the experience made me think about the scope of collaborative opportunities we have in Atlanta. I see Art Papers Live as a crucial tool for community engagement, and an essential part of our editorial program—these kinds of partnerships really help us animate the discussions taking place in the magazine and put them to practice, which will in turn reinforce and texture what we're doing in print.
SC: Print media is said to be dying. How might art magazines survive? Do their roles need to shift in relation to online publications? For publications that occupy both spaces and share staff, it's particularly challenging.
VC: I think print is very much alive, though I do think it needs to evolve conceptually and materially if it's to stay relevant. Online, you have the benefit of immediacy and timeliness—you can really break news. If you're coming out every two months or less, as many arts publications do, you have to think about what you can do that's specific to that medium. We ask contributors—be they artists or writers—to look back at the medium in which the materials will appear, and when we redesign, we'll be thinking a lot about the materiality of the magazine, and how to make it really "printy"! With this issue, we'll be releasing additional, complimentary content for the website—not just sharing some highlights from the magazine, but making supplementary materials available, from our own archive and also from within and around the commissions you see on the page. The idea is that print and digital media are made to collaborate, not to clash or create redundancies.
SC: Are there plans for Art Papers to invest more in its online presence?
VC: There are indeed. We're taking it slowly, but one of the first steps will be to use the web to mobilize ART PAPERS' vast archive, making available some very stellar content going back to the 1970s. In weeks—not months—you'll see exclusive online content, but again, always in discussion somehow with what's happening in print and in our live events. And we'll build from there.
SC: What's on the agenda for the Art Papers Live talks?
VC: We just concluded a big week of talks—our January/February guest editor Fahamu Pecou moderated a discussion between curator Michael Rooks and the rapper T.I., which was phenomenal. We also had poet Jeremy Sigler and artist David Humphrey down to discuss their recent collaboration for ART PAPERS and unpack the relationship between textual and visual practices. We will be hosting several more talks in Atlanta this year, and teaming up with Anderson Ranch in Aspen, Colorado, where we'll take an Atlanta speaker. So there's a huge variety there, but the unifying idea is that these talks don't take place in a bubble—they aim to talk with (not at) audiences, be that by crossing industries, taking on different forms or happening in diverse locations; because we're trying to create a dialogue with a far, dynamic reach.