Kiki Blood is best known for her bold, sometimes sensational performance art. She is also a woman named Kirstin Mitchell who is navigating the world and on a path to enlightenment—or is perhaps already there. I picked up Mitchell at her home in Cabbagetown and we headed to Octane Coffee in Grant Park. It was sunny, so we sat outside for the interview. Mitchell was sporting a minimalist, neutral-toned dress of a fabric displaying crinkles and subtle textures. Blood has been on an adventure, partially involving location. She recently spent time in Atlanta and New York, at a meditation retreat, and on Jekyll Island in Georgia.
Blood's latest artistic endeavor is not a performance piece in the traditional sense; it's a collection of photographs. The artist still considers them a performance, with the photographer acting as her audience. The images include a sense of the ethereal and of play, a strangeness that is refreshingly off-kilter, and sex appeal in the form of someone who is completely in tune with her body. Even in the works for which she photographed herself, the camera became the artist's voyeur.
The new work shows a fondness for "deep looking," a yearning for the human potential to sink into the present moment—to stay put through both the good and the bad that emerges. Blood is taking this difficult, wonderful, and extremely personal process and sharing something very raw and real with us. This new undertaking is not unlike her past work, in which she has used nudity as a vehicle, performed in front of hundreds of people, and taken sizable risks. Blood is certainly brave, if not artistically fearless. She wishes for viewers of her latest offerings to be affected in a way that entices them to experience "the now," to look within themselves, and then to keep looking further. 
Sherri Caudell: You recently went to New York. How long were you there and what inspired you to go?
Kiki Blood: [I was there] two months. I'm in a place of expansion and had been doing a lot of meditation. I wanted to see what New York could unfold for me. A lot of the work that I'm doing now is about letting go, trust, being in the moment, and allowing that experience [to happen] fully.
SC: How did you manage to meditate in New York, where over-stimulation is so profuse?
KB: I was staying in Williamsburg and spent a lot of time in McCarren Park. I would do walking meditations. It's the practice of staying inside your body and inside total awareness of yourself while things around you are circulating, smiling, talking, and moving. The Dalai Lama says it's easy to have a monologue on peace, but to have a dialogue on peace is much more real and challenging. That's where things happen. The idea is not just taking that inner work and staying in a safe place but actually exposing that practice to something that is wild, free, and anything goes. I did four pieces in New York, and two were part of the Brooklyn International Performance Art Festival.
SC: You certainly got a lot accomplished while you were there.
KB: Opportunities were just sort of happening. Laura Cooper, another performance artist, invited me to be a part of her project, A Hunt NYC. I don't do a lot of collaborative work, so that was a nice challenge to stay open and explore that space. Part of my most recent series, Big Deep, was created in the Catskills. It was the bend of a river that became the pinnacle of understanding for me. I put my body in specific locations and interacted with them. I had photographed the first ones in the series myself. In the Catskills I stayed at a supermodel's house, and I asked one of her friends, Crystal Renn, if she'd take the pictures. They turned out to be perfect because she maintained that audience angle.
SC: That must have been a big change for you, to give up so much control.
KB: I gave up a bit of control with someone I trusted, but then was able to get more out of the process that I had been going through. I was so inspired by this experience and this place: visually, experientially, socially, and environmentally. My work deals with energy and emotions, and the surfacing of undefined, nonverbal spaces. It's based on a feeling or a sensation, something that is coming from the belly up. That's sort of where the reference "Big Deep" comes from. I'm moving into womanhood, and there's a shift happening with the way I'm experiencing life and experiencing my body; I want to share that.
SC: Did you feel like you were your "true" self in New York?
KB: I guess I was the "bigger" self. New York is sort of a byproduct. I went to different galleries, and the most fascinating thing for me was the resurgence of art that's of the earth and of the spirit, not slick pieces that are detached from the experience of inspiration. The spiritual aesthetic in New York was missing some of the edge or the darkness that I feel is a part of being a human being. I thought, "Wow, New York kind of needs my edge." I have the capacity and interest to bring the edge of self together with the beauty of self. The darker part of self is just as real and as beautiful as the pretty part of self, because they're still both in you. The new work is about allowing the honesty of who you are to surface, without trying to run from the experience. It's about the dissolving of self because it's an evolving thing. I think that we attach external words to something that really doesn't need to have anything besides the experience, period. We attach it to understand it, to prolong it, or to share it.
SC: How is this new photographic work still performative to you?
KB: They're "Performalist Self-Portraits"—a term that Hannah Wilke used for the photographs that were created by her but directed by other photographers. I've had two or three hundred people watching me, and it ignites a fever that surfaces the intention of what I'm doing. Now, with these photographs, I need the camera there. I can't just go into a space and do it without the camera because it doesn't have that edge of me knowing that there is an audience out there.
SC: Tell me a little bit about the meditation retreat you most recently attended.
KB: It's a 2,500-year-old Buddhist practice, and I did a 10-day silent meditation. It wasn't easy, and that's sort of the point. You don't have to do anything but just be present. It's funny because that's one of the hardest things to do as a human being, to be in the moment whether it hurts or whether it's absolute pleasure. Even if it's just boring or simple: I've found such depth in that alone.
SC: Did the Big Deep series continue when you returned to Atlanta?
KB: Yes, I was deeply influenced by fashion and started making a bunch of clothing. I deconstructed and I cut, and then I hemmed and dyed. I just sort of played and experimented with clothes. Artist Jonathan Bouknight and I got invited to Jekyll Island, and it seemed like the perfect opportunity for a photo shoot. I brought all of the clothes because they became a part of creating this mood, this environment. To me, these photographs are interesting because they are some of the most honest, materialized, inner-surfacing work that I've done; and then they're also sort of editorial. One of the things I've always liked [about my work] are the photographs. I like having the aesthetic control of pinpointing the exact mood that I am trying to elicit. I want the audience to receive my intention of a feeling, and for me these photographs are nailing it.
SC: How was your experience collaborating with Jonathan? You guys are both very meticulous; I hadn't thought about that similarity before.
KB: I am—I know what I want. We also have a sort of sensitivity that is shared. I really enjoyed working with Jonathan and trusted my own vulnerability in that space with him. He knows me on quite a personal level and where I'm at in my own journey.
SC: That is difficult to achieve, to completely be vulnerable with someone.
KB: It's rare, but it's also because of our friendship and the respect I have for him as an artist. I felt an opening with his presence acting as the audience, and I had no apology in my experience with him.
SC: Do you think your audience will relate differently to this new body of work? Will they feel more connected?
KB: Yes, I feel like the work is easier to receive because it's a photograph. I've already been putting some of it on social media, and I'm definitely in dialogue with people around this body of work. Before I left for New York I spoke with Joey Orr and William Downs. We were reflecting on the work, and both of them suggested getting higher-quality images for printing and even getting photographers to do them. I was reluctant but then, after I had Crystal photograph me, it was actually kind of interesting.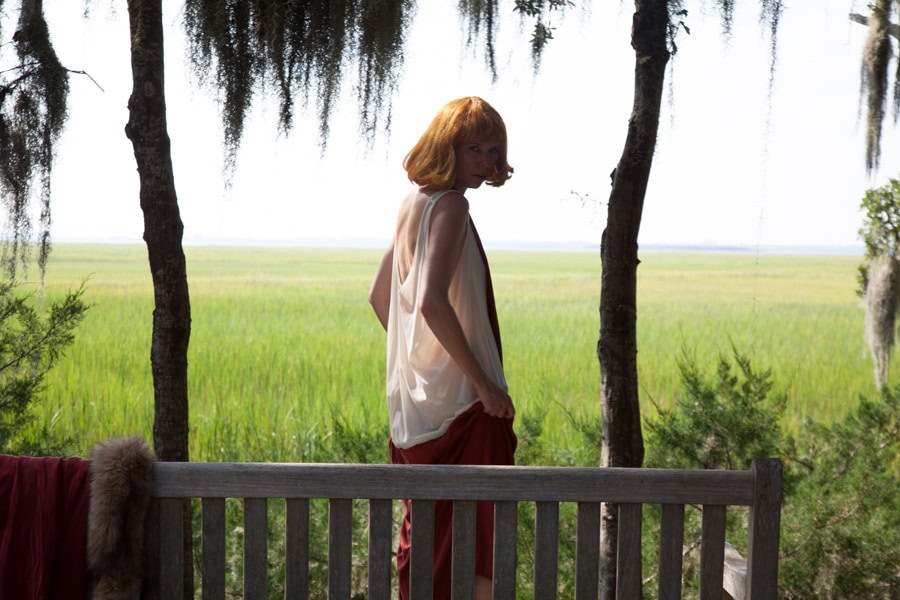 SC: Do you have an upcoming exhibition planned to show this new series?
KB: I have some offers, but I haven't decided exactly how I want to share it. The work is ready. I'd like to pull 10 of the strongest pieces and show them in a gallery setting. I want to see what that's like versus performance. I think it's some of the most honest work that I've done.
SC: Is there anything that is inspiring you currently?
KB: I just want to utterly live in the moment. I don't think there's anything more inspiring than that.