In a neat conjunction of solo shows at Get This Gallery [through May 10], Tommy Nease and Stephanie Dowda explore a concern with the interior life of things. Using photography as a way to render visible the felt presence of an object or environment, the two offer condensed object-meditations and diffuse portraits of place.
Tommy Nease has said that the majority of his work comes from dreams. Exercising an uncanny ability to home in on and charge particular objects with meaning, the photographer creates concise yet lushly described images that stick in the mind.
Much of his previous work utilized variety of scale and techniques, such as multiple exposure, to produce visual and psychological depth. "Nevermore," Nease's second solo show at Get This, sees him simplifying his approach. Through a series of leanly composed images, he hits a variety of notes ranging from trick-or-treat hokey to stylishly spooky to straight-up disquieting.
In one of Nease's tintypes, a sickly hand, seemingly made of clay, extends into the frame and is traversed by tiny eyes, with five more accompanying each malformed finger. These images emphasize a fascination, already present in his previous work, with the aesthetic conventions of horror films and occult ritual. A great many things hover and glow, recalling a comment he made about his process: "It's kind of like a 'magician never shares his secrets' type of thing."
According to the press release, Nease is concerned with notions of lost time. The works in "Nevermore," printed directly onto emulsion-coated metal panels in the style of traditional tintypes, run the risk of aestheticizing a particular moment in the history of the medium rather than taking up time as a subject. However, one untitled piece is an exception. A jet black triangular silhouette rises up against a mottled ground. Pyramid or high-rise or rural shack roof, the elemental form brings with it a timelessness that cuts through the sepia-heavy period specificity of the series.
Many of Nease's images adopt a symmetry that, paired with their diminutive size and material preciousness, verge on fetishistic. Their compositional simplicity, while allowing curious material and chemical quirks to take center stage, can at times feel staid. The works certainly function best in an ensemble. Providing vignettes into a landscape thick with mystery, they are as much coy invitations as they are grave premonitions.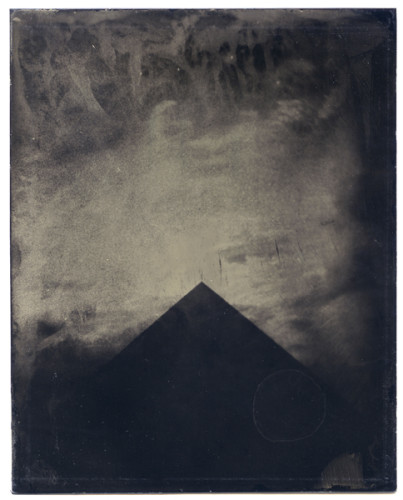 Stephanie Dowda's photographic practice is not one of capturing or composing an image. Rather, it is one of being present with the subject. Maintaining a belief that particular locales contain very real emotional energy, the Atlanta-based artist continues to use photography as a means of registering and recording that energy.
"Topophilia" is Dowda's first solo exhibition with Get This Gallery. This body of work takes as its theoretical framework the concept of topophilia. As delineated by geographer Yi-Fu Tuan, it is a keenly felt sense of place. Dowda, who is currently an artist-in-residence at the Atlanta Contemporary Art Center, has been engaged with this theme for some time now. She has investigated a number of national parks and similar wild spaces around Georgia and elsewhere. This series of silver gelatin prints, in contrast to previous work, strips away color and crisp detail, producing dusty, radiant glimpses into a space that correlates but doesn't equate to the visible world.
Horizons tip, smear, and dissolve, forfeiting a sense of solid ground. Populated by houses, trees, and veiled figures that seem in the midst of slipping away, Dowda's work offers a strange and unmoored vantage. Still, while her images take on a buoyant, disembodied perspective, they speak to a viscerally sensuous experience of the landscape. The prints themselves buckle and undulate in their frames, lending the otherwise transcendent images a heavy, embodied physicality.
Although its etymology would suggest a simple love for the land, Dowda's work shows topophilia to be an incredibly nuanced concept, drawing out a layered and at times disorienting relationship between body and place. One feels not only pulled into but pushed around by Dowda's landscapes, compelled to surrender to them. 
Tom Berlangero is a writer, designer, artist, and improviser. He lives in Atlanta, where he likes to hike, ride bikes & cook new meals to feel real. He is a recent transplant from New York, where he earned a BFA in painting and sculpture from the State University of New York at Purchase and studied improv comedy.
Related articles