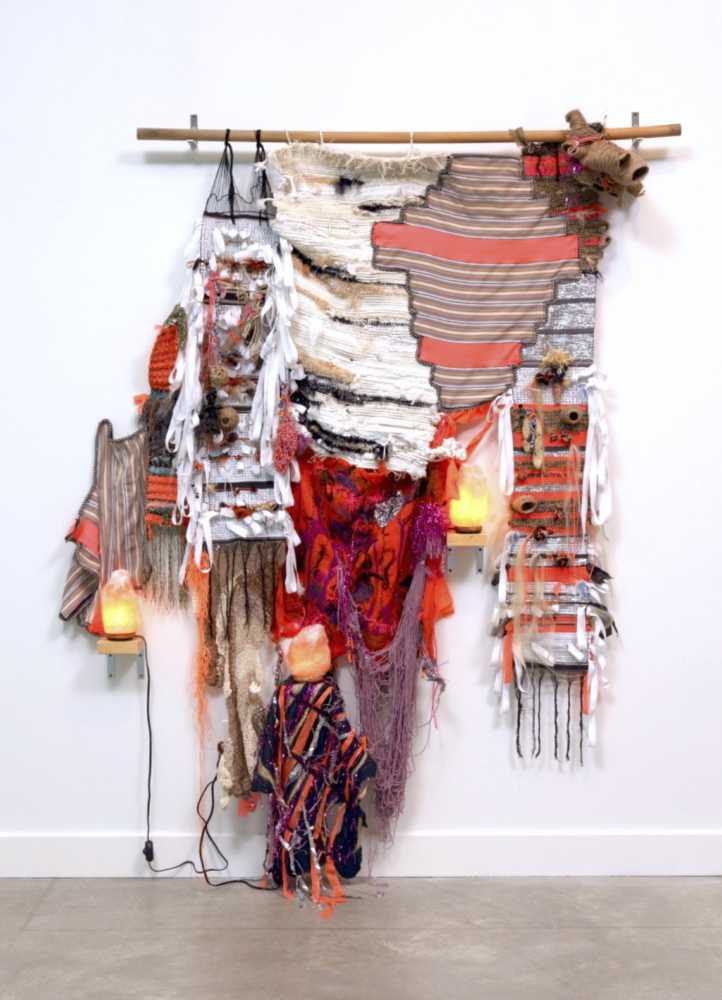 Artadia announces five finalists for 2020 Atlanta Awards
ATLANTA— Artadia has announced the finalist for the 2020 round of awards. Each of the finalists will receive studio visits with second round jurors who will then decide which artists will receive an unrestricted prize of $10,000. The Atlanta finalists are:
Yanique Norman is a visual artist whose multi-media work explores themes of alienation, identity and the black psychological body.
Zipporah Camille Thompson is a visual artist and sculptor based in Atlanta, Georgia. Thompson explores ritual and alchemical transformations through the unknown and through universals, including death, catastrophe, chaos, and the cosmos. Metamorphosed, shapeshifters and hybrid landscapes reflect various archaeological, psychological, and ecological perspectives, as well as a personal investigation of self and identity.
Artemus Jenkins is an Atlanta-based, award winning filmmaker who has used the documentary format to innovatively capture the raw and beautiful aspects black culture.
Jamele Wright Sr's work is concerned with the Black American vernacular experience. His work entails collecting found materials, Georgia red clay, and Dutch Wax cloth, by creating a conversation between family, tradition, the spiritual and material relationship between Africa and the South. 
Grace Kisa & Maurice Evans NU AFRICANS Project Historically black women in the United States have been degraded based in many systems of oppression. Controlling images depict black women as angry, promiscuous, and domineering. These images have appeared for centuries and they limit the extent to which black women can exist in this country. Nu Africans spin this long-lasting narrative on its head with images of black women as creator, warrior, and queen. 
The winners will be announced the first week of December.
---
New African art curator at the High Museum
ATLANTA—The High Museum of Art today announced the appointment of Lauren Tate Baeza as its Fred and Rita Richman Curator of African art. Baeza, who is the director of exhibitions at the National Center for Civil and Human Rights in Atlanta, brings a wide range of experience as a curator and Africanist working with museums and international aid organizations. She will join the High on November 9.
Baeza will oversee the African art department, including related exhibitions and programs, as well as its collection of more than 1,100 objects dating from ancient through contemporary times. The holdings reflect the continent's deep, rich history as well as contemporary innovations and include extraordinary examples of masks and sculpture alongside exceptionally fine textiles, beadwork, metalwork and ceramics. To represent the depth and breadth of the African diaspora, the High's broader collections also feature works by artists of African ancestry, including African American artists, that highlight cultural bonds throughout the Black Atlantic world and beyond.
As a scholar, Baeza has researched African political and economic phenomena through the lens of cultural geography, specifically examining the spatial history of food culture and artistic practices within the continent and across the Atlantic.
"This is a very exciting time for the field," said Baeza. "There are numerous incredibly talented artists living and working on the continent with increasing visibility. I look forward to creating a dialogue between their work and the impressive artifacts in the High's African art collection. I'm honored to join such a sharp curatorial team and to meaningfully contribute to a premier arts institution in my hometown."
---
VIA Art Fund and Wagner Foundation award $200,000 in incubator grants
BOSTON—VIA Art Fund and Wagner Foundation have awarded grants totaling $200,000 to five U.S.-based visual arts organizations. The recipients of the 2020 VIA | Wagner Incubator Grant Fund grant are: Artspace (New Haven, CT), Disjecta Contemporary Art Center (Portland, OR), The Lab (San Francisco, CA), Locust Projects (Miami, FL), and The Luminary (St. Louis, MO).
Katherine Rochester, Associate Director of Curatorial Research at VIA Art Fund, commented: "The 2020 VIA | Wagner Incubator grantees model a mission-driven commitment to uplift their communities by supporting contemporary artists. Distinguished by the quality of their artistic offerings and united through visionary leadership, each organization is dedicated to creating innovative programming that resonates at home while steering discourse further afield. Our 2020 grantees join a growing cohort of exceptional art spaces that enrich our national arts ecosystem by incubating experimental work across multiple platforms and geographies."
Building upon their respective philanthropic missions and achievements, VIA Art Fund and Wagner Foundation partnered in 2019 to establish a $1 million Incubator Grant Fund. The fund aims to build a robust and inclusive national arts ecosystem by awarding unrestricted funding to small nonprofit visual arts organizations throughout the United States, with a particular focus on regional diversity. Each organization will receive $40,000 for general operating support to be dispersed in $20,000 installments over two years.
Wagner Foundation Program Director Caroline Hart added: "The power of arts and culture to bring people together, create space for critical discourse, and offer new and innovative perspectives, is especially significant in this moment. We are honored to support the organizations selected from across the country for the 2020 VIA | Wagner Incubator Grant Fund cohort and believe their proven leadership, community-driven approach and resounding resilience will continue to guide us all."
2020 INCUBATOR GRANTEES
Artspace (New Haven, CT) – centers community-building and education while providing a platform to present the work of visual artists in the city of New Haven. Artspace's exhibition and commissioning programs encourage experimentation, discovery, and lively civic discourse while fostering appreciation for the vital role artists play in improving our community.
Disjecta Contemporary Art Center (Portland, OR) – presents an experimental program distinguished by ambitious solo and group shows in a sizable warehouse space. Fueled by its highly regarded curatorial fellowship, Disjecta creates ambitious offerings, including the Portland Biennial, that provide a platform for forward-thinking work by visual and performing artists.
The Lab (San Francisco, CA) – a catalyst for artistic experimentation, nurturing radical music, performance, and visual art from its home in San Francisco's Mission District. With a focus on traditionally underrepresented artists, The Lab's robust commissioning program gives artists significant funding, time, space, and the license to change any aspect of the organization's operating model.
Locust Projects (Miami, FL) – an alternative art space that nurtures ambitious new work and the exchange of ideas. Projects emphasize boundary-pushing creative endeavors, risk-taking, and experimentation by new, non-specialist voices selected through an open call process designed to reach underrepresented communities.
The Luminary (St. Louis, MO) – home to exceptional art that engages the issues of the present. Through an active roster of programs, the organization acts as a point of convergence for diverse local, national, and international publics. Host of the acclaimed Counterpublic Triennial, The Luminary cultivates thoughtful platforms for exchange, supports forward-moving art, and attempts to model a more equitable and interconnected art world.
---
Telfair Museums has announced the hiring of a new executive director/CEO who will lead its three sites in Savannah starting in 2021
SAVANNAH—Benjamin T. Simons, will join the museum on January 4, 2021. Simons has been the executive director of the Academy Art Museum in Easton, Maryland, since 2016. Before that, he worked for the Smithsonian American Art Museum in Washington, D.C., and for more than a decade at the Nantucket Historical Association in Massachusetts. Simons holds a bachelor's degree from Harvard University, a master's degree in literature from Yale University, and a master's degree in the history of art from the University of London's Courtauld Institute of Art. He is a graduate of the Getty Museum Leadership Institute.
Simons' hiring, which came after a six-month executive search, was made official by Telfair's board of trustees during a special meeting Oct. 30. Robert "Bob" Faircloth has served as Telfair's acting director since the previous director departed in May and will continue in that role for the remainder of 2020.
---
Southeastern Museum Conference announces 2020 awardees
ATLANTA—The Wiregrass Museum of Art (WMA) is the recipient of five awards at the 2020 Southeastern Museums Conference (SEMC), including three in the technology category and two in publications.Award winners were recognized at SEMC's annual conference, held virtually this year in October. The designations recognize WMA's contribution to professional standards in Southeastern museums.WMA received a gold medal for the website and digital marketing campaign developed for its 2019 Yard Party for Art (YPA) event. The silver medal in this category went to Crystal Bridges Museum of American Art (Bentonville, Ark.) for their project, "Trails & Grounds Takeover with Clay Baker," and the bronze medal was awarded to Georgia Museum of Art (Athens, Ga.) for their "Daily Inspirations on Instagram" series.
---
NEW YORK––Artist, fashion designer, and poet Frederick Weston, who was born in Memphis and grew up in Detroit before eventually relocating to New York in the 1970s, has died of cancer at seventy-three years old. Weston explored the queer body, mass media, and accumulation in elaborately intimate collages and designs. A longtime member of Visual AIDS and a self-professed attendee of "Clutters Anonymous," Weston lived and worked in New York with an impressive collection of both paper and fabric ephemera for fifty years. In 2019, Gordon Robichaux mounted the first solo exhibition of the artist's work, and Tribeca's Ortuzar Projects will mount a retrospective of Weston's work (planned before the artist's death), opening on December 12, 2020.
---
Crystal Bridges Museum of American Art announces $17.5M gift from Windgate Foundation to champion American craft
BENTONVILLE—Crystal Bridges Museum of American Art announces that Windgate Foundation has provided a $17.5 million gift to advance the field of craft through a dedicated position, research, programmatic support, as well as an acquisitions fund to bring craft objects into the museum's permanent collection. This gift builds upon the Crystal Bridges-organized exhibition, Crafting America.
"Today, as we reflect on the nine years Crystal Bridges has been open to the public, we are grateful to the visionaries at Windgate Foundation, who have been champions of craft and fervent supporters of arts education at the museum," said Rod Bigelow, executive director and chief diversity & inclusion officer, Crystal Bridges. "The Foundation's significant contribution will further the work and impact of the Crafting America exhibition and expand conversations about American art, history and culture. Craft is important for Crystal Bridges and aligns with our mission because it is an inherently inclusive field that has been more accessible to women, people of color, immigrants, Indigenous peoples, and other marginalized communities."
The Windgate gift focuses on extending and elevating dialogue around craft in American art—past, present, and future. Through a shared vision with the Foundation, Crystal Bridges seeks to raise the profile and visibility of craft by creating broad access to craft at Crystal Bridges and beyond. These new resources will help the museum champion artists, scholars and collectors, and facilitate partnerships across the field. Importantly, the gift will allow Crystal Bridges to leverage curatorial expertise and art historical knowledge, position craft within the museum's educational programs, and advance diversity and inclusion inherent to craft.
---