Deborah Dancy's Body of Evidence at Marcia Wood Gallery presents viewers with a bouquet of varying works. Upon entering the gallery, monolithic abstract paintings line the walls like a grand hall. Further within the space lies a collection of ornate dinnerware inscribed with somber messages. At the very back of the exhibition space, viewers find Dancy in dialogue with Currier & Ives: Printmakers to the American People by Harry T. Peters. Dancy's Body of Evidence blossoms forth, and with it a sickly sweet scent.
Along the gallery walls, muted hues cut through swashes of black, gray, and white paint. The abstract compositions bear faint gashes of color, as Dancy's painterly brushstrokes pull pigment across the surface. While these subtle paintings are eye-catching at a glance, their subversion is less obvious than some of the other series on display.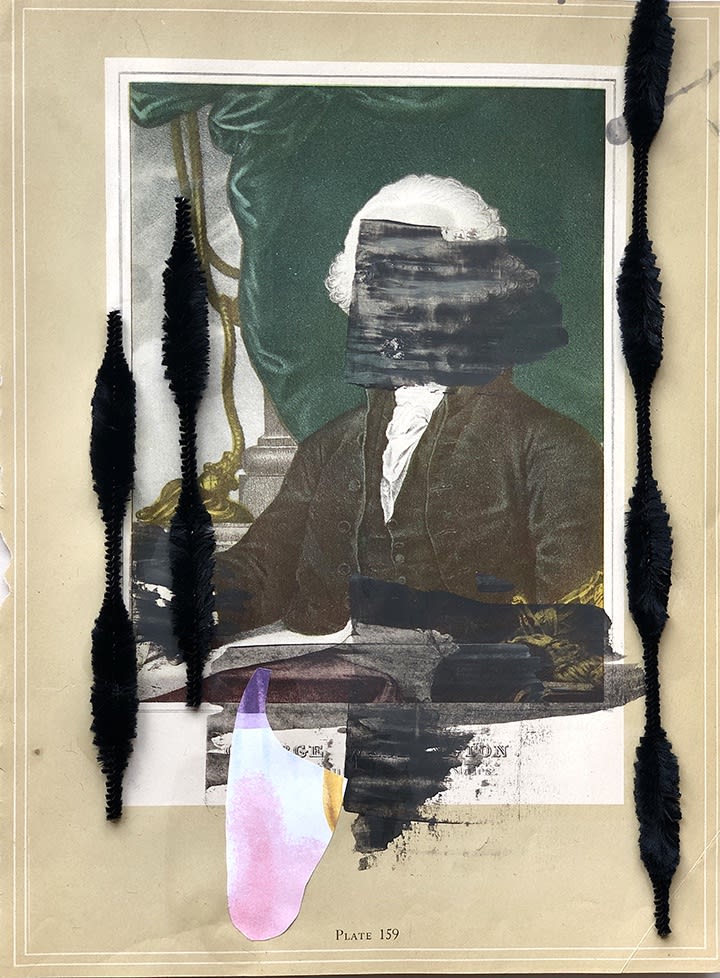 The rest of Body of Evidence wields more explicitly conceptual subject matter. Using a deconstructed copy of Currier & Ives Printmakers to the American People, Dancy manipulates the book's prints to her own ends, using annotation to illustrate a more complete history of American people. Her intervention proves even more effective when considering the text's role in popularizing racist caricatures of African Americans and reinforcing problematic stereotypes. Currier & Ives even goes so far as to dedicate their book, "to the memory of those resolute Americans whose sturdy achievements in building an empire provided inspiration for the prints in the Currier & Ives Gallery." This written affirmation of American imperialism is belied in Dancy's reworking of the text. The artist's deconstruction reverberates in a profound manner, challenging the way audiences may interpret histories considered marginal by the Western imaginary.
In Dancy's sculptural series, Domestic Resistance, the artist transfers images onto a collection of dinner plates and serving trays made up of various materials including ceramic, glass, and silver. By referencing texts that are relevant to her previous books such as The Practical Speller (1998) and The Legend of Yellow Mary: A Slave Girl's Tale of Survival by her Wit and Extraordinary Powers (2004), Dancy traces a conceptual lineage linking her own texts to those such as Harriet Jacob's, Incidents in the Life of a Slave Girl (1861) and The Narrative of the Life of Frederick Douglass (1845). These texts take on new meanings as Dancy embosses excerpts onto the pieces in Domestic Resistance. The narratives manifest in phrases such as "The smell of wet wool clothes caked with mud and vomit. Around his head a wild rose flowered" and "RUN RUN RAN AWAY." The antique table settings are filled with recorded testimonies and reflections on the Black experience during the eighteenth and nineteenth centuries. The haunting inscriptions are written in a script that is reminiscent of the time period. The series feel quite heavy, and takes on a disproportionate amount of gravity compared to the other pieces in the show.
At times, the exhibition's wide array of paintings, prints, dinnerware, and archival photographs felt disjointed, with the one constant being Dancy's approach to abstract mark-making. While the artist's explorations are unique in their creative usage of social critique, the work's labeling as subversive is debatable. Some viewers might leave the exhibition asking if Dancy's future works will yield similar inquiries, or if the artist's work will forego the white colonial gaze and its canon, and shift its audience to those who are foremost impacted by enslavement's long and arduous legacy.
---
Body of Evidence, an exhibition by Deborah Dancy, was on view at Marcia Wood Gallery in Atlanta from April 30, 2022 to June 18, 2022.