Stove Works Winter Arts Residency: Burnaway's Open Call!
Sep 16 - Oct 07, 2021
Chattanooga, Tennessee
Residency Dates: January 10 – 23, 2022
Open Applications: September 16 – October 7, 2021
At the invitation of Stove Works, a new residency and exhibition space in Chattanooga, Tennessee, Burnaway's editorial team will review applications and select a cohort of eight writers and artists for a two-week, writing-focused winter residency program. This special edition of Stove Works' year-round residency program is uniquely focused on individuals working in interdisciplinary, experimental storytelling, and narrative nonfiction in the field of contemporary art. While all visual arts disciplines are welcome, we strongly encourage arts writers, researchers and curators to apply. During the session, Burnaway will come to Chattanooga for a Saturday afternoon critique session, followed by a happy hour.
Please note, residents are ONLY selected by the Editorial Burnaway team. The residency will be hosted by and take place at Stove Works.
Stove Works' residencies "serves as a moment away from the rigamarole of life and an opportunity for artists (for you) to take advantage of the dedicated time, space, resources, and community we have to offer." While your time at Stove Works' will be unstructured, we hope to select candidates who would be eager the for collaboration, critique, and sharing that this small, unique program would provide.
Each resident will have a private studio/bedroom and bathroom; shared kitchen, living space, and laundry; 24-hour access to facilities, which include a metal shop, wood shop, print shop, common shop space, and a library.
To learn more about the Stove Works facilities and the residency program, visit here.
Associated Fees:*
$10/$15/$20 "Pay what you can" Application Fee (goes towards the cost of reviewing applications)
$100 Security deposit
$20 Studio cleaning fee
Except for a security deposit and cleaning fee, Stove Works' Residency is free to attend once accepted. Residents are responsible for their travel, materials, bed linens, and food/beverages during their stay.
*Fees—with the exception of the application cost—are set and collected by Stove Works. Once accepted, Stove Works will take over billing and coordination.
COVID Policy:
Vaccinations are required by Stove Works for participation unless medically exempt. Read more about Stove Work's COVID-19 policies.
Dates:
Applications Open: September 16, 2021
Applications Close: October 7, 2021, 11:59 PM EST
Residency Dates: January 10 – 23, 2022
Burnaway Crit Session + Happy Hour: January 15, 2022
Location: Chattanooga, Tennessee
Apply:
Please submit your application via the Google Form link below. We recommend you draft your application in a Word document before filling in the form, as you will not be able to save your work as you go.
Your application processing fee is submitted separately from your application. Submissions without the accompanying fee will not be reviewed.
For more information, please email [email protected]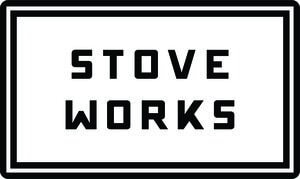 About Stove Works:
Stove Works' goal is to use Contemporary Art as a megaphone in order to foster an environment of exchange and reflection, to provide opportunities to learn from the experiences of others and to give voice. Stove Works seeks to bring outside elements into Chattanooga where creators, their work, and those that witness are engaged in a dynamic process: all three are impacted by the other in an evolving way, enriching outcomes for all. Stove Works aims to draw greater attention to the production of contemporary works in the Southeast, expand and educate an audience outside of traditional art goers, create an active base of arts advocates, and further establish the Southeast's (and Chattanooga's) contribution to the national dialogue surrounding contemporary art.