Stephanie Dowda resides on a different plane than the rest of us: one full of intense memories, emotions, dreams, and magnetic havens. At the same time, the notably graceful photographer is extremely disciplined, structured, and hardworking. Her photographs facilitate a compelling intellection regarding the spirit of natural terrain and its effect on the essence of the individual. What is so clear, when conversing with Dowda, is how sincere she is in her artistic intentions and the boundless thrill that she gleans from her powerful interconnection with locality.
It is spellbinding to listen to Dowda articulate the concepts behind the complex images she brings into existence. There is a quiet, yet strong self-possession about her; the artist can sweep you deep into her thoughts while maintaining a razor-sharp discourse. Get This! Gallery just started representing her as one of their artists, and she has happily been accepted into the studio program at the Atlanta Contemporary Art Center. I visited Dowda at two different locales over the course of a weekend in September 2013. We enjoyed a lovely tête-à-tête at the darkroom she uses at The Goat Farm Arts Center. The following day we explored her brand-new studio at The Atlanta Contemporary Art Center, and I was able to catch a glimpse of an exquisite selection of her most recent prints.
______________________________________________________________________
In the darkroom at the Goat Farm Arts Center
Sherri Caudell: How long have you been using the darkroom at The Goat Farm Arts Center?
Stephanie Dowda: It's been three years. I … come to the darkroom to work, [but] it is really nice to take a break and go walk around. There's always something going on. I actually just got done with the residency Cabin Time. This time it was in Green River, Utah; we camped for seven days in Desolation Canyon. I basically shot the whole time and did a lot of field notes. They produce a publication after each residency, so I'll be working on what I submit to that. It was really magical!
SC: What was magical about your time there—the people or the place?
SD: I think both. I didn't know anyone going into it. Everyone was so smart and doing amazing work. There was a writer, a performance artist, a musician, [and] screen printers.
SC: What was the environment like?
SD: The town was established, when people started settling out West, as the only safe crossing point for the river. You can sort of swim across it, though the current is pretty strong. We were literally in the valley of two canyons. Hundreds of millions of years of erosion from the river is bringing the top of the canyon down.
SC: Do you have any upcoming exhibitions?
SD: I just signed on with Get This! Gallery and will have a solo show in the spring of next year! Lloyd Benjamin, the owner, and I are just starting the editing process for the show. We had this remarkable dialog about my work and what my goals are as an artist. It means a lot to have really great communication, and he's just moving into the old Solomon Projects space. He's doing such great things, and I'm completely humbled by being part of that. All [of] his shows, in different ways, have been really energizing and it all feels very West Coast to me. I've always really resonated with that aesthetic and in some ways felt that I belonged there. When you think about where your work should be, you want it in a beautiful gallery and around other artists who are doing amazing things. It doesn't seem real; it's like I won the lottery or something!
SC: Could you talk a bit about your body of work, Topophilia?
SD: Topophilia is a geography theory. If I saw a mountain in North Georgia or North Carolina, I wouldn't feel the same way [about the two], but I would feel something different and kind of surprising. I think in some ways I was searching for this idea of topophilia without knowing that the actual theory existed. It allowed me to legitimize this sort of strange ethereal experience I was having. There's this academic scientific thought that's saying it's true that the natural world houses human emotion and memories, and its own emotion and memories, and that [those things are] transferable to humans. I was inspired by this quote from Luther Burbank where he compared the energy or light that every living thing has to film—so that literally the silver that's on film captures light. If I take a picture of you, I'm taking some of that light and fixing it forever on this piece of film. When I print a photo of you, it's you; it's your light. I altered my Mamiya camera with the intention that I wanted to give up control. I have to identify that topophilia, or that I'm feeling something in this moment; but let the camera, as a mechanical objective tool, capture it. I try not to go out into nature and expect anything. I don't think I seek a characteristic, I think it kind of seeks me.
SC: Do you find that in general you're drawn more to locations than to people?
SD: I've always been more interested in "place" than in me as a person or you as a person, in terms of my artwork. It's more about me as an idea and you as an idea.
SC: What draws you to abstraction?
SD: I think that the viewer automatically has nothing to hold onto! A sense is not a sharp scene; it's an intangible feeling.
SC: Is there a hidden place that you cherish?
SD: There's this really great field that is about an hour outside of Atlanta [where] my boyfriend Scott [Daughtridge] and I go and visit a lot and watch celestial happenings. It's meant for viewing stars, and it's a special place.
SC: Congratulations on your new studio at the Atlanta Contemporary Art Center! How did that come about?
SD: I applied and was accepted, but didn't move into the studio until August. It's humbling [because] you're working next to Faith McClure, Marcia Vaitsman, Paul Benjamin and Michi Meko—just, like, the cream of the crop in Atlanta.
SD: The studio is very minimal … almost like a sensory deprivation [tank, and] your mind is able to go somewhere else. I'll probably have to move the darkroom there or have some capacity to print at the Contemporary. The lighting in the studio is a lot better than the darkroom, so I can look at my prints better. I do a lot of writing there, a lot of filling out [of] applications, and reading. I've always been a very regimented person in terms of making [art]. I think it became more and more important for me to have a space I could go to that was like, "Hey, you're going to be here doing something "X" amount of time a week," and a space to really explore.
SC: Can you talk a little bit about The Clearing series in relation to illness?
SD: That started in late 2011/2012, and at the time I had a family member who got really sick and I spent a lot of time in a care capacity for them. I think a caretaker role is really interesting, and it's something that I had not been exposed to much. I don't have children, I'm not married; and the idea of giving over so much of your life to someone else in a very real, physical way is very weird. My time was limited in what I could produce as an artist, but I also simultaneously needed that outlet way more than anything ever before. The [pictures in the] series are actually photograms, so you don't need a negative. The time it takes to create one piece is the amount of time it takes for you to compose objects on a piece of paper and then expose it for three seconds. I could go to the darkroom for an hour and a half and make 15 pieces that I liked. The photograms were meant to look like astronomy photographs. I spent a lot of time with different elements like flour, sand, and lentil beans, putting them on different papers— that would create cosmic [gas] and star patterns.
SC: I saw your work most recently in the group show Cardinal at Marcia Wood Gallery and at Twin Kittens. How did you feel about the exhibition being shared between two spaces?
SD: It was a really smart idea and a very poignant identification of saying: "This is a useful way of making Atlanta car culture better." The act of going from one space to another—we do this all the time: we go from our house, to our work, to the coffee shop, to the library and we don't often imagine that being connected. It's so cool that I can just get in my car and drive across town and have this ongoing experience through the city.
SC: A patron could possibly be thinking about the artwork that they had just experienced while traveling to the next gallery!
SD: I really liked that, and I know that was part of the intention from Rachel Reese [the show's curator].
SC: What is your take on the concept of energy?
SD: I think that we're this body: We have two eyes that we can look at the world [with], two ears that can only hear certain kinds of sound waves, eyes [that] can only see a certain range of color, we can only think about things based on [limited] chemical reactions in our brain, and we have skin that can feel some things but not others. I don't think that humans are the only things that can know and have experience.
SC: Do you feel like nature can?
SD: Yeah! It grows, reacts to light, grows bigger and better if you sing to it, and doesn't if you add bleach to the soil. Nature has lasted so much longer than humans. Rocks have withstood millions of years of rivers running over [them] and down [them], and things crawling over [them]. I think that there's this beautiful idea, again, that idea of light or energy passing [between] things. You touch something and you know your handprint is on that thing.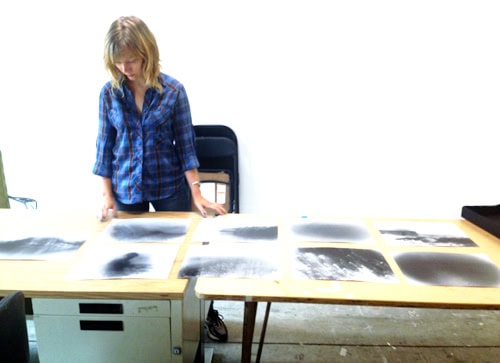 SC: How would you like your audience to relate to your work?
SD: I always want the audience to really look and absorb; but everything is so quick and immediate in our life. I almost want to counteract that behavior and make that connection real and not just consume it. I want [the] experience to overcome them and hopefully [they'll] look at the world a little bit different and imagine that there are magic places.
SC: What draws you to photography over other mediums?
SD: I'm a very visual person. It's easy for me to go into a new space for a minute and walk out of it and describe very well what it looks like, or what it feels like, or what the light was doing. My memories of places are dictated by light. I also dream in visual realms.
SC: Do you remember your last dream?
SD: I had these dreams about the way that water moves in the ocean, the way that wave patterns are, with an ephemeral figure in it. I was able to actually go to the beach recently with Scott and I was [saying], "We're going to take these pictures." I haven't developed them yet, so I don't know if they will come out in the way my brain [originally] thought about it. I tend to be mostly inspired by dreams or reading.
SC: I know that you write; do you think the literary scene has influenced you?
SD: It's been interesting being exposed to the way writers talk about process and just having more conversations about literature and authors. I credit that to Scott. I think it's cool that writers talk about [their process] or that it's addressed, whereas I don't feel like that is as pervasive in the visual art world. I've been thinking about what my process is, how I can better it, and how I can challenge myself. Even applying to the Contemporary was challenging because I was [thinking], "I'm not there yet." Getting accepted was like, "Okay, now I have to push myself further." I think it makes me take myself more seriously and see myself in a different way.