Floyd Hall chats with NEXT Atlanta cofounder and executive director Faith Carmichael about the organization's mission and its role in the city's arts community, and how NEXT brings a fresh approach to integrating visual, literary, theatrical, and musical art into the audience experience. Carmichael, a National Black Arts Festival board member, also sheds some light on NBAF's recent restructuring over the past few years, and how collaborating with NEXT has allowed it to deliver more contemporary programming as it has emerged from that transitional period.
NEXT and NBAF present NBAF NEXT: The Salon on Thursday, July 31, at 7pm at Hammonds House Museum, featuring the work of Emmy Award-nominated poet/writer Jon Goode, visual artist Fahamu Pecou, musician Brenda Nicole Moorer, and playwright Michael Molina. Click here for more information.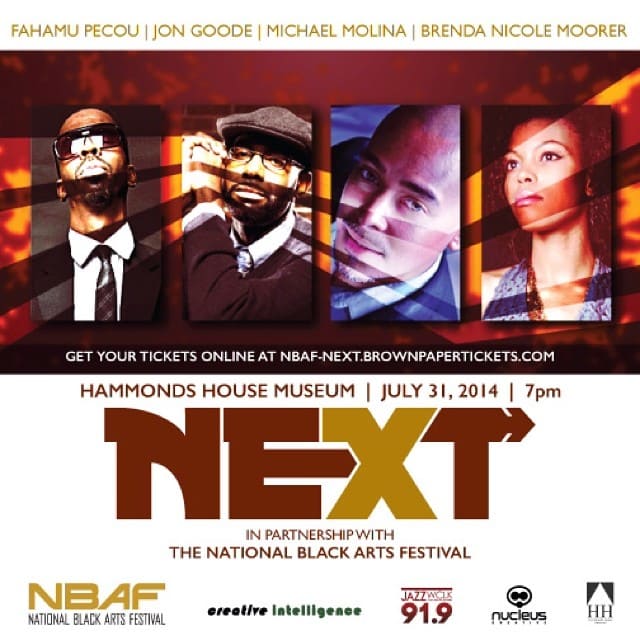 Floyd Hall is the interactive media manager for WonderRoot, where he helps guide WonderRoot's presence in the online space and creates digital content in support of WonderRoot's mission of uniting artists and community. Hall also produces weekly podcasts that feature WonderRoot's activities and programming, highlight local artists, and foster dialogue about Atlanta's arts community. 
BURNAWAY is a community partner of StoryCorps Atlanta. StoryCorps is a national nonprofit organization whose mission is to provide Americans of all backgrounds and beliefs with the opportunity to record, share, and preserve the stories of their lives.
BURNAWAY Radio is supported in part by Georgia Council for the Arts through the appropriations of the Georgia General Assembly. Georgia Council for the Arts also receives support from its partner agency, the National Endowment for the Arts.
Related articles