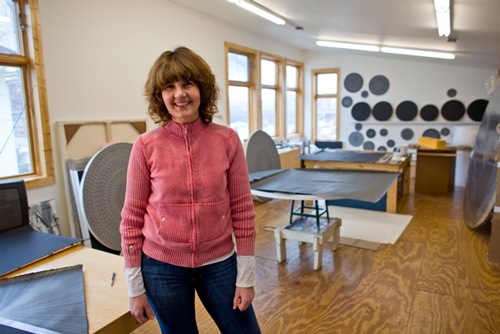 I had the opportunity to chat with artist, curator, educator, and gallerist Michelle Grabner about her experience curating the 2014 Whitney Biennial, the art spaces she runs, and her upcoming talks in Atlanta and Nashville. Grabner teaches in the painting and drawing department at the School of the Art Institute of Chicago. She is co-curating the Whitney Biennial with Stuart Comer, the chief curator of media and performance art at New York's Museum of Modern Art, and Anthony Elms, associate curator at the Institute of Contemporary Art, Philadelphia.
Grabner will speak at the Atlanta Contemporary Art Center this Saturday, December 14, 11AM-12:30PM. Her Nashville talk takes place Tuesday, December 17, 12-1PM, at the Nashville Public Library.
Alyssa Rabun: You, Stuart Comer, and Anthony Elms come from diverse backgrounds. How did you find common ground when selecting artists?
Michelle Grabner: We didn't. The curatorial concept was that each of us would have a different floor. We put together our takes on what contemporary art is, what's important, and where the meaning lies. We did have to collaborate on finding a designer to do the catalogue.
AR: With three varied perspectives, what can viewers expect?
MG: I'm excited to get feedback from viewers. I think the work I'm showing is much more object and painting driven than my colleagues', bringing us back to original Biennials, when painting and sculpture were most important.
MG: There will be an emphasis on discrete things and ideas as well as on painting. There are not a lot of screens, and nobody is in motion—as on the other floors, in the lobby space, and in the sculpture garden. Stuart Comer calls the fourth floor, "the zen floor". It will be quite quiet.
AR: You've said that you curate more as an artist than a professional curator. How so?
MG: As artists in the studio, we're thinking about context and how our work fits into art history.
I also realize that artists don't emerge once. That's a perpetuated myth. The artists I've selected have emerged many times over. I am giving primacy to artists who are also teachers rather than young emerging artists. I looked at the artists who are teaching these young artists.
AR: How will you commemorate this being the last year that the Biennial is housed in the Marcel Breuer building?
MG: I think we all do it differently. The Breuer building was built for sculpture and painting. My way of acknowledging Breuer is to assess the greatest volume of gallery space in the building with sculpture and painting. Anthony and Stuart are engaging the Breuer building differently. There are nods to Breuer in exhibition and language all over.
AR: Other than almost doubling the number of artists this year, what will be particularly striking about the 2014 Biennial?
MG: Hopefully, it's going to truthfully represent the diversity that's happening in art practice throughout the country.
AR: What are the implications of having so many artists?
MG: It's not unusual. I selected maybe 53 of the artists. I've invited more artists than my colleagues, but nearly 20 of them are in my video program, so not taking up significant real estate. Their works will be screened in the theater. We're treating the artists the same, whether they are showing a two-minute video or utilizing a large installation space.
AR: Will there be a unifying theme on your floor?
MG: No, there's no unifying theme, but I thought about three framing devices. The first is gestural abstract painting by women, where I was thinking about power and relationships to power. Second, artists engaged in criticality of the art world and society, which will involve a lot of language poking fun at the hierarchy and anarchy of the art world. The third is materiality and how material is a palpable presence rather than a digital presence, and how material things affect how we are in the world. Then, of course, there are artists in between those frames who are working and thinking abstractly.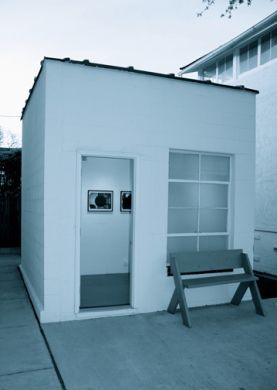 AR: You and your husband run two galleries, the Suburban, based in Oak Park, Illinois, and the Poor Farm, in Little Wolf, Wisconsin. At the Suburban, you give complete control to the artists with regard to what they produce and show. It's a pro-artist and anti-curator site that responds to the idea that the suburbs are an overlooked site for many artistic endeavors. Tell me about the relevance and evolution of this space.
MG: When one steps back, it's hard to get an objective distance from space. In 2008, the economy was devastating to the art world for a short period of time, and a space like the Suburban was a very important site for discourse about contemporary art. We have worked with over 200 artists who've come from as far as London and New Zealand, as well as many artists based in Chicago.
AR: BURNAWAY caters to a Southeastern audience. As you're traveling to Atlanta and Nashville to give talks on the Bienniel, could you comment on how those cities fit within the arts community as growing cultural hubs?
MG: I was in Savannah in February looking at the painting program at the Savannah College of Art and Design (SCAD) and doing studio visits with students. SCAD feels it needs to continue to build up in Atlanta, and I agree. Atlanta has infrastructure and interest in the populace in terms of contemporary art. I watch the High Museum regularly, from a Mid-Western perspective.
My graduate students generally head to New York or Los Angeles after school. Now, I'm seeing artists think about other cities, and Atlanta is going to be one of them. I see Nashville differently than Atlanta. It's akin to Boston. It's approachable in music, culinary arts, and visual arts.
AR: How do you balance studio time with teaching, spearheading art and social initiatives, and running two galleries?
MG: I'm dedicated to my art, and I have respect for the Dean who gave me the year off to work on the Biennial. I have to balance my studio work with organizing a third of the Biennial. I also have a hugely supportive husband who's also an artist, two older sons in college, and a nine-year-old daughter who understands that mom will travel a lot this year.
AR: What topics will you expound on in your upcoming talks?
MG: Adrienne Outlaw from Nashville's Seed Space is responsible for me coming to Nashville. I want to be as transparent as possible with artists involved in the Biennial, and I will discuss the importance of this transparency. In my past, I had several visits by Whitney Biennial curators, and no one would tell me if I was in or not. I am taking a transparent approach out of respect for the artists.
 Alyssa Rabun is a Nashville-based arts writer.