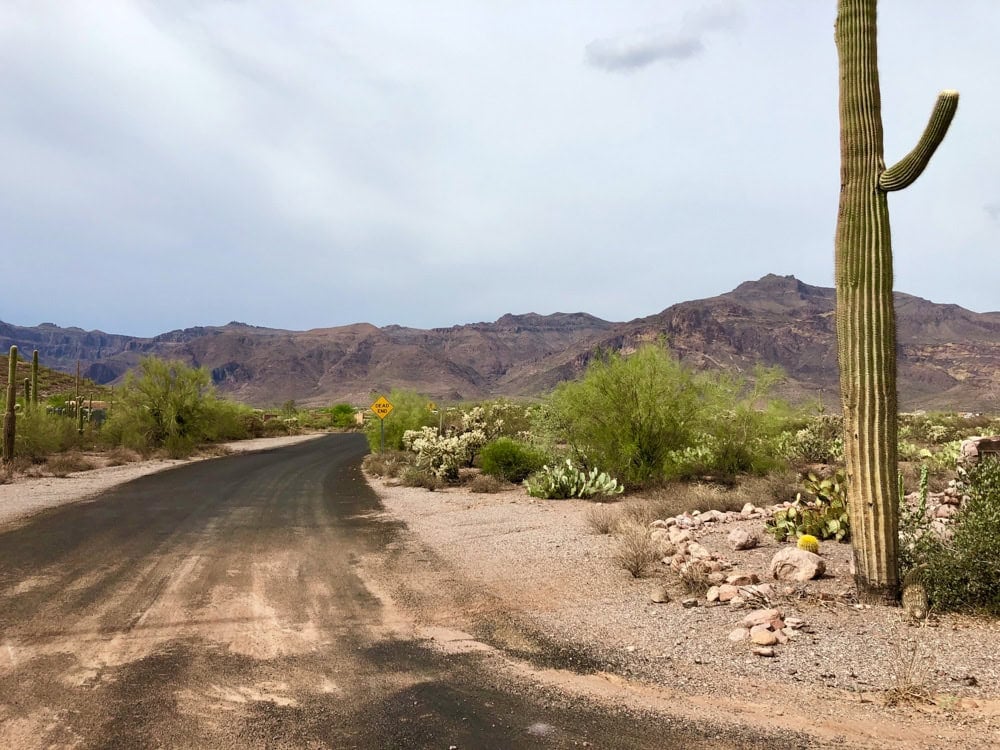 Despite the wondrous desert vistas surrounding it, Phoenix is a nightmare. It's like one massive, outstretched, never-ending strip mall. Aesthetically, it has the personality of toast. Unbuttered. The buildings are too new, the restaurants too large, everything is the color of old plastic. The sun is an evil goblin that follows you around everywhere, breathing fire in your face every second in a relentless attempt to annihilate you.
With the AC running full blast, you drive around town, light-headed, despondent, pondering why so many residents put herculean effort into fabricating their curious simulacrum of Midwest foliage—grassy lawns, delicate flowers, leafy shrubbery. It doesn't look nice; it looks incongruous and disorienting. However, I can't blame them for trying to pretend, in whatever ways they can, that they're not living in the Seventh Circle of Hell.
I spend a decent amount of time in Phoenix for work and I've concluded that Phoenix wants whatever is alive to become dead. Heat oppression and strip-mall-vibes aside, I've managed to find a few cool spots in the city.  
In the up-and-coming Roosevelt arts district, Revolver Records is a small record store that sells new and used vinyl, loads of CDs that surely no one buys, and a surprisingly good selection of used books. Quintessentially aloof employees spin records during their shift for the handful of customers that are meandering inside. The last time I went in, the guy behind the counter played an old Smiths record while methodically tagging prices on a stack of DVDs. It felt nostalgic, it felt right. I thumbed through bins of punk records for half an hour and snagged a copy of Dylan Thomas's Portrait of the Artist as a Young Dog, which I later read over a cocktail at Redeeming Place #2.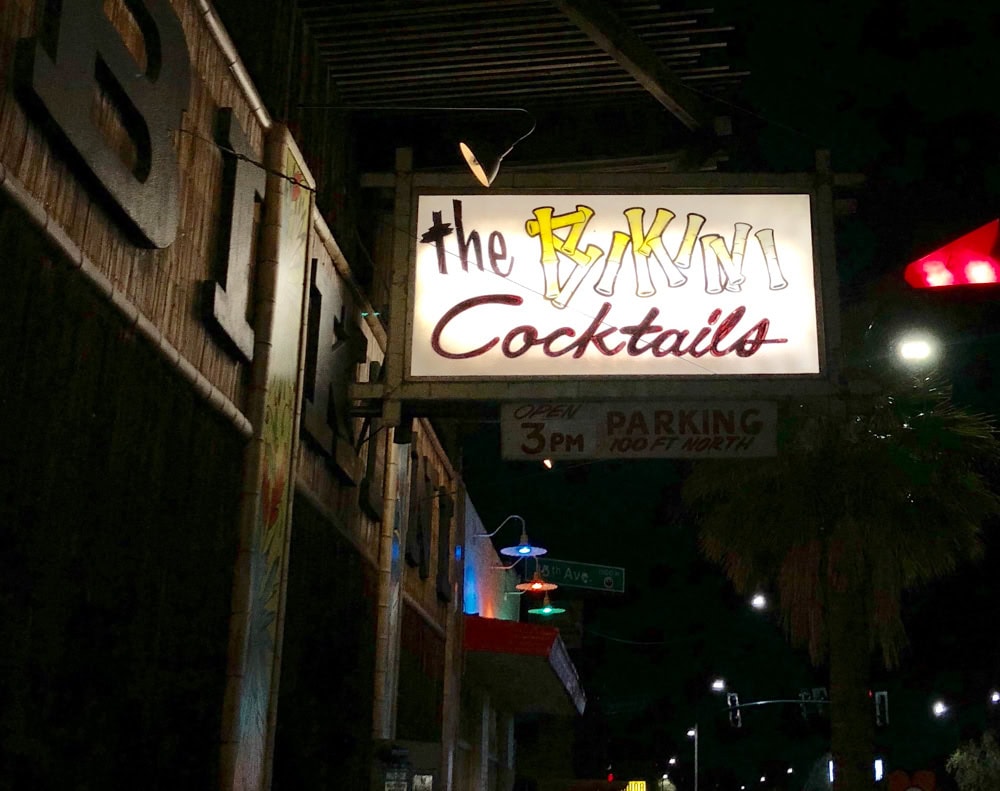 Phoenix has scant few good places to grab a drink, which is why the Bikini Lounge feels like a shimmery needle in a big, beige, desiccated haystack. It opened in 1947 and is one of the oldest remaining tiki bars in the world, according to this very serious tiki bar website. Named after a 1946 nuclear testing site (not the sexy swimwear), this cash-only dive has a rich, weird history and a highly un-toastlike personality. It has everything you could want in a dive bar: a jukebox, a pool table with lemon yellow felt, several paintings of topless ladies in hula skirts, and a badass barkeep who remembers your drink after the first time you order. You show up and she sets your drink in front of you, you never have to say a word. That, my friends, is art.
Speaking of art, I wasn't expecting much from the Phoenix Art Museum the first time I went. I'm not sure why, I guess because Phoenix was underwhelming on so many other fronts. Boy, was I wrong! The PAM (worst acronym ever?) is a glowing example of a solid city museum. Sure, the building is a little confusing to navigate, but if you can find your way to them, the temporary exhibitions are diverse, challenging, and gorgeous. The best parts of the permanent collection are contemporary works and as far as presentation goes, there's no overkill, which is always appreciated.  
Brazilian artist Valeska Soares's "Any Moment Now" occupied the main gallery. It is the coziest exhibition I've ever seen. Beds, books, glittery lights. Walking in, I was skeptical. The first works included a sprawling collection of vintage footstools and a pocket watch hanging from the ceiling. It seemed found-object heavy, which can be cloying if not done well. The Duchampian approach to sculpture has been milked for nearly all it's worth, so unless there is some substantial context, it's easy for found objects to feel redundant and uninspiring. Thus, I was bracing myself to be bored by it. But as you move through the exhibition, you learn the method to the madness. A nuanced method, a brilliant and sexy madness. Soares is an unbridled romantic and it works. For lovers of old books, you'll feel it right away with her dust jacket collages, walls of torn-out dedications, and framed underlined passages. The cool fonts, the faded colors, the triggers to a bygone era, a storeroom of memories we want to cling to.
Oh, and the hypnotizing marble pillows! The dreamiest freestanding sculptures I've seen in recent memory. When I was a freshman in college, our first assignment in sculpture class was to make an object out of an opposite-seeming material, for instance, a wedding gown out of sheet metal or a machine gun out of peanut butter, I don't know. No one in the class came up with anything that looked very good or beautiful. So when I saw the marble pillows, it was clear Soares found the perfect answer to that age-old assignment.
Ah, then there's Kusama. Phoenix is home to one of the best Yayoi Kusama infinity mirror rooms in the country, a limitless starry portal that transports you to another dimension. The title makes my knees weak (as do most of her titles): You Who are Getting Obliterated in the Dancing Storm of Fireflies. And the wall text kindly informs you of her intention to "obliterate your personality."
The installation isn't timed or otherwise regulated like many of her works in museums and galleries in New York or L.A. There are no special tickets for it, and there's no queue outside the entrance. I've been in three times and each time I had the room to myself. You can simply mosey alone into the most disorienting yet phantasmic abyss and let yourself get whisked away. There's nothing quite like it. Transcendent might be best word for it, but I'm still not even sure.
[Atlanta, get ready, Kusama's "Infinity Mirrors" is coming to the High Museum of Art and is expected to sell out. Tickets go on sale September 17; the show opens on November 18.]
Because it's dark and the mirrored walls are seamless, you wander around the room like you're just learning how to walk. You take baby steps and hold your hands out thinking "This can't be real. Where am I?" You return to a state of not knowing how to navigate. You have no clue where you are, or where to go. You can't judge the boundaries and limits of the space. You just guess, and go, and if you bump into a mirror, i.e., your own reflection, then you laugh it off and try again. Perhaps what Kusama means by obliterating the personality is obliterating the ego. And we can all use a little bit of that I think.