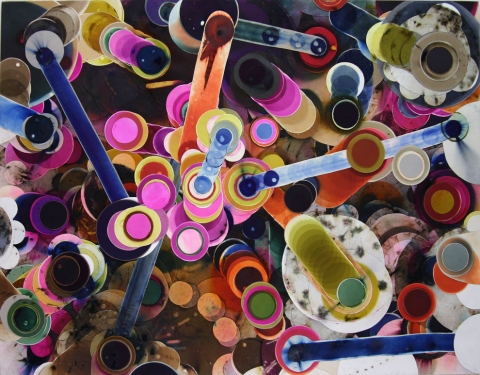 There's an intriguing radioactive instability of incompatible elements in any action painting. There's the stillness and permanence of the created object, but then there's also the implied volatility, noise, and irretrievability of the activity itself, still semi-present in its lasting traces, but ultimately insurmountably past. When the action is literally explosive, that juxtaposition becomes even more manifest.
New York-based artist Rosemarie Fiore's Firework Drawings, at SCAD-Atlanta's Gallery 1600 through December 6, is a selection of large works on paper created through the use of live fireworks and colored smoke bombs. Fiore refers to the pieces as drawings: Most are titled Firework Drawing and then numbered in a series. But the activity that created them, particularly the application of color in the form of smoke, and the resulting work seem closer kin to painting—perhaps even suggesting a playful literalization of the famous Renaissance mode of painting, sfumato (smoked), the use of smokelike borderless gradations between darkness and light to give a sense of the depth of solid forms (Fiore has worked as an art restorer in Europe and has pointed to Renaissance masters as a source of inspiration). The artist deploys a variety of colored smoke bombs, jumping jacks, monster balls, and rings of fire to create her work, using coffee cans, buckets, and other containers to transfer the pigment-rich smoke onto paper.
In the past she has likewise taken up a wide variety of unusual objects as part of her practice: waffle irons, lawn mowers, pinball machines, and floor polishers. It's mark-making as collaboration, often with objects designed for other uses—indeed, seemingly resistant to their use as a brush or tool in an aesthetic process, but often surprisingly pliant, their resistance to control part of their enhancive effect. One might be tempted to identify her purely as a conceptual artist, but the aesthetic rigor of the work itself often stands powerfully independent of any conceptual underpinnings.
"I've chosen to collaborate with machines," the artist has said. "I use machines as mark-making tools. For me, paint just isn't enough." Actually, she seems fine with the paint; it's the brush—its illusion of precision, its predictability, its obeisance, its specific design for its purpose—and perhaps the supposed authority of the painter's hand holding it, that she has rejected.
Fiore's work is charged with energy and a strange, almost perspectival depth, a richly suggestive and active field, or set of fields. Although most of the firework pieces have dark backgrounds—Fiore places cut paper, often in layered circles on surfaces, all stained in powdery daubs and streaks by smoke—the most successful works are the ones whose backgrounds are left more intriguingly bare, the traces of smoke less deeply saturated but their subtle, gemlike gradations more evident. Here the circles of paper seemingly float above the surface, their active interplay of depth more apparent against the white background, as in Firework Drawing #13. The work here seems to engage with cosmic themes of void and chaos, planetary and molecular motion.
The drawings suggest the famous 1960s fire paintings of Yves Klein, though I think Klein's work radiates a sense of existential terror, heat, sex, violence, and destruction, a post-apocalyptic non-landscape, and these issues don't seem as germane to Fiore in her colorful, almost celebratory, pieces. Contemporary Chinese artist Cai Guo-Qiang similarly works with gunpowder, the material itself indicative of war and destruction, the resulting beautifully bleak work often suggestive of their aftermath. In all of these artists' work, there is, of course, a moment of violent "destruction" channeled as creation, leaving behind an object of mysterious beauty. It's violence and chaos, if not controlled, then at least directed by the artist's will. The work argues for the aesthetic of the release of authorial control. Perhaps it might be even taken as a working definition of the artistic process in general: the conscious manipulation—but never quite conquered—movement of the chaotic and ultimately uncontrollable forces of matter.