"Night Map," an exhibition by the Danish feminist artist Nanna Debois Buhl at Hagedorn Foundation Gallery through July 15, includes a family-vacation–style slide show installation and a series of digital photographic prints documenting three nighttime walks she took in different cities, tinged a very specific shade of blue Walking past the prints is like walking past an Alfred Hitchcock film set still awaiting the entrance of its actors. In a series that is all about people, the absence of any person is thought-provoking.
This exhibition includes night walks from Brooklyn, New York (2012); Münster, Germany (2013); and Atlanta, Georgia (2013). Buhl is known for referencing films and books in her work and often delves into the Situationist International process of détournement, or re-presenting previous works in her current exhibitions. This series is no different. Here she focuses on the act of walking, which she thinks of as a time to contemplate life, when all your thoughts are set loose.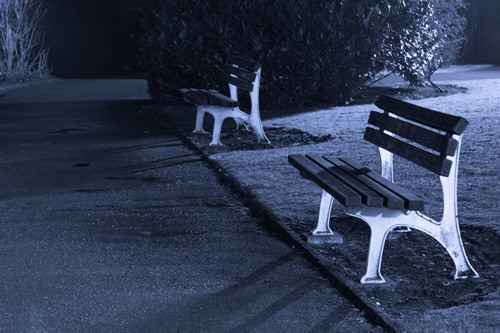 The night walks are based on a map she replicated from MichèleBernstein's 1961 novel La Nuit, a book modeled on the 18th-century classic novel Les Liaisons dangereuses, about three lovers wandering through Paris on the evening of April 22, 1957. The night walks also recall the 1959 movie adaptation of the novel by director Roger Vadim.
"Night Map" is a site-specific work that has been executed by the artist multiple times. The walk begins where the exhibition is going to be shown, and she produces a unique series of photographs by translating the novel's walking route to the city in question and photographing her findings along the way. The artist considers the series also to be a part of her continuous project Street Haunting, which engages the idea of the flâneuse(the female flâneur, a sort of strolling explorer of the metropolis). Bernstein's novel chronicles a story of love between a pair of intellectuals from Paris,Geneviève and Gilles  as they navigate the pathways of both their location and relationships with their younger lover Carole.
La Nuit was Bernstein's outlet for describing a somewhat fictionalized portrait of her life with the famous writer, filmmaker, and theorist Guy Debord in the 1950s. Where this sort of threesome spending time together could be cause for great tension and high drama in America, in Paris, it is translated as a lovely, positive experience—just a typical tale of a ménage à trios.
Buhl did a 7-day residency in Atlanta, where she rounded up a group of local bicyclists and avid walkers, including Chris Appleton, co-founder of Atlanta's nonprofit arts organization WonderRoot, to help her determine the route that would take her through many diverse neighborhoods. She copied the three lovers' Parisian route onto tracing paper, then put the tracing paper over different areas of an Atlanta map, and with her team of local guides, determined the best possible path to take, that would exactly followed the line of the original Paris route The maps are on view at the exhibition and they look like drawings of partial constellations—connected to each other in a meaningful but incomplete way. The artist began her walk at Hagedorn (425 Peachtree Hills Avenue) and photographed throughout the night. The imagery that came from this process created a sort of parallel story to the one happening in the novel—same trajectories, different settings, different protagonists. 
The 80 images of office buildings, strip malls, porn clubs, private homes and houses long abandoned were displayed in a side-by-side slide show projection. The photographs of the artist's travels are shown on the left, and, on the right, texts from the novel describing the trios saunter through Paris. One of my favorite lines was, "'I'd like to be in a labyrinth with you,' Carole says. 'We already are,' says Gilles.'" When a specific corner from the novel was mentioned, I naturally wanted to see an image of that corner, but because Buhl showed corresponding Atlanta imagery, perfect pairings clearly were not her intention. When texts describing things like smells from a Chinese restaurant, I felt as if I was on the walk with the three lovers, both physically and psychologically.
When Geneviève says, "Carole was familiar to them, they we're comfortable with her," I think she's trying to sort out her feelings about the tryst. I am reminded of the Howard Moss poem "Ménage A Trios" [sic] which can be found in the October 11, 1969, issue of the New Yorker magazine. A telling excerpt from the poem about a man recounting his affair with another man and a woman, reads:
"You ask how we get along? Not well.
Temperamental discrepancies:
Her habit of saying nothing grandly,
His fake interest in the cause of things.
The food is dreadful. The weather worse.
So much for all the touted joys
Of the Riviera—or wherever we are.
The dullness of the nights is hard to believe,
Though, from outside, I gather we cause
A sensation. Who's sleeping with whom?
We keep them guessing: Nobody is."
An acute attention to text, numbering, lettering, and neon signs is found throughout the photographs. The artist shoots what she sees: eerie lights coming from businesses closed for the day; park benches, cars, and swimming pools—all devoid of humans yet suggesting a ghostlike presence. Viewed individually, the photos don't yield much about the cities. But when seen together, there is an abstract yet palpable sense of location. In two images from Brooklyn, dimly lit bakery shelves showcase their offerings and a neon HOTEL sign glowing next to a closed door. I imagined stumbling into the room to find Geneviève, Gilles, and Carole joyfully at play.
There are no iconic images here, but a pleasurable, mysterious gathering is waiting to be discovered.
Sherri Caudell, a poet and writer from Atlanta, is the new poetry editor of Loose Change magazine, published by WonderRoot.