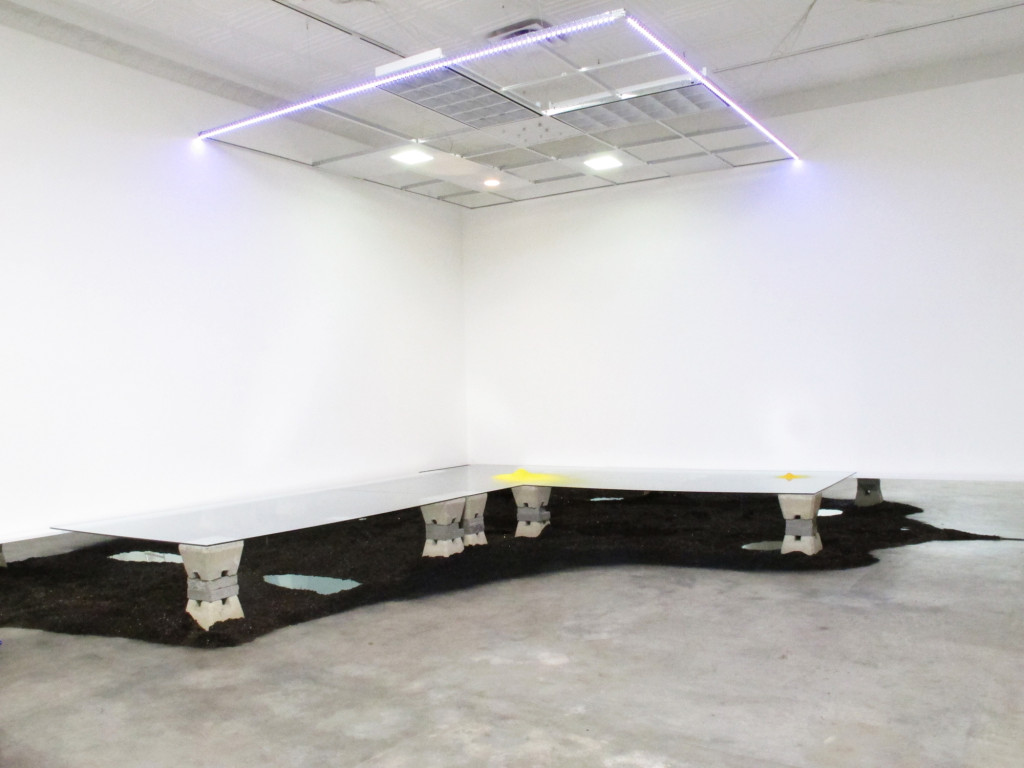 Although her first post-MFA exhibition was just five years ago, at the now defunct Gallery Stokes, Gyun Hur has quickly become one of Atlanta's most acclaimed artists. Her installation A System of Interiority, opening January 4 at Get This! Gallery, will be her second major show at the gallery since then.
"I want people to be able to converse," says Hur of one intention behind the new work. "So much depends on the viewers, how much they're willing to dig: only then will the conversation really flow."
Hur, who has been living and teaching in Hong Kong at that city's branch of the Savannah College of Art and Design since last fall, is taking six weeks in Atlanta to create the new piece. The front room of Get This! will have a few works on paper, while the gallery's main space will house a single, large interactive sculptural installation.
The installation will use some of the materials seen in her previous pieces, such as mirrors and powdered pigments created from hand-shredded silk flowers, but Hur says the new work reflects a recently deepening focus on emotional interiors. "I wanted to expose something underneath the skin, something really raw," she says. "In my earlier work, the patterns I was replicating—my mother's wedding blanket, for example—were only touching the surface. Underneath it, there was the essence of loss and rupture, all this stuff I wasn't quite ready to talk about. With this work, I really want to talk about what's inside."
Hur, who was born in Korea and moved to the Atlanta area with her family when she was 13, graduated from the University of Georgia with a BFA in painting in 2006. She went on to study sculpture at the Savannah College of Art and Design, where she graduated with her MFA in 2009. She's won several prestigious honors, awards and residencies since then, including the $50,000 Hudgens Prize (Georgia's largest art award) in 2010 and an Artadia grant in 2011.
Among her most memorable works in Atlanta was a major commission by Flux Projects in 2011 at Lenox Square Mall, for which she and members of her family hand-shredded Korean silk cemetery flowers and painstakingly poured the pigment-like powder on the floor in precise stripes replicating the colors of her mother's traditional wedding blanket. Hur also designed the performance space for 2013's Hippodrome at the Goat Farm Arts Center, a collaboration with Lauri Stallings's gloATL dance troupe and lighting designer Rebecca Makus.
Hur says that the experience of working with dancers was transformative for her. "When Lauri approached me, I was so excited and scared because I'd never done anything like that," she says. "My materials had always been so intentionally guarded with control and with that tension where you're not supposed to touch it. I think Hippodrome completely broke that."
But it was also the experience of working with light that proved significant, and for the new work, Hur is returning to collaboration with Makus, who also teaches at Kennesaw State University.
The new piece will consist of three levels. At the top is Makus's lighting system; beneath it will be a level of glass with poured silk-flower pigments, and on the bottom a dark layer of dirk, black glitter, charcoal dust, and broken pottery.
Hur, who says she was strongly influenced by the recent James Turrell exhibition at the Guggenheim Museum in New York, considers light an essential part of the system. Viewers will be able to change various aspects of the lighting through the use of wall controls. "The lights all render color differently," says Makus. "They expose texture and shape differently. You as the viewer walking into the space can frame her work in a gentle way or a harsh way, in an ugly way, in a beautiful way. You decide for yourself." On the walls will also be placards displaying texts by writers Lilly Lampe, Kristen Juarez,and Ruiyan Xu, each reflecting on the theme of interiority: the writers' work will rotate every few weeks throughout the eight-week exhibition, beginning with Juarez's work at the opening.
The new piece and its emphasis on the interior, says Hur, are the reflection of her becoming nomadic over the past year and relocating back to Asia. "It's not Korea," she says, "but being in Hong Kong, where life itself is so saturated and overwhelming, I'm kind of lost in the midst of all of it, therefore it becomes kind of introspective also. Where I come from ethnically or culturally really doesn't matter so much. There's no need to justify or explain my story. It really frees me up. It's really about what I explore within, and I think that's really reflected in this work."
Gyun Hur's A System of Interiority will be at Atlanta's Get This! Gallery, 1037 Monroe Dr. NE, from January 4 to March 1. Hur will give an artist's talk on Saturday, January 4 at 11 AM, in advance of the opening reception that evening from 7 to 10 PM.
Andrew Alexander is an Atlanta-based critic who covers visual art, dance, and theater.