The newly opened exhibition at the David J. Sencer CDC Museum, "GYRE: The Plastic Ocean," admirably tackles the pernicious problem of garbage in our oceans, and the consequences go far beyond littered beaches. The exhibition debuted last year at the Anchorage Museum and appears at the Sencer CDC Museum, January 26 through June 19.
According to the Anchorage Museum press release, the exhibition "doesn't demonize plastic," acknowledging the "role plastics have played in everything from modern medicine to automobile safety," but it does "ask visitors to examine their personal plastic footprint—how they use plastics, and how they re-use or dispose them." Among the 25 artists in the show are Pam Longobardi, Mark Dion, Alexis Rockman, Ed Burtynsky, and Dianna Cohen.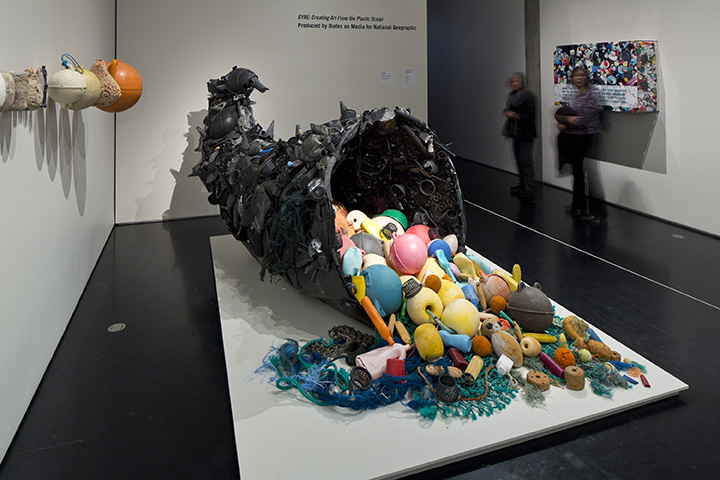 In conjunction with "GYRE"— the term is for the swirling ocean currents in which garbage is propelled thousands of miles—GSU distinguished professor Pam Longobardi has spearheaded a major symposium, free and open to the public, to take place March 26-27. Co-organized with the CDC Sencer Museum, the Plastic Pollution Coalition, and the Welch Foundation at GSU, "The Plastic GYRE: Artists, Scientists and Activists Respond" will bring together notable figures in various fields to discuss environmental and wildlife hazards and public health issues posed by plastics that end up in the ocean—bottles, Styrofoam, micro-beads, toys, fishing nets, etc.—and to propose collaborative solutions. Mark Dion and Susan Middleton are slated to appear; other details will be announced closer to the event.
The event, which will take place at the GSU Salon Ballrooms in the student center and the CDC Sencer Museum (pre-registration strongly encouraged to facilitate entry at the CDC), will include screenings of films about sustainability, including the National Geographic documentary GYRE: Creating Art form a Plastic Ocean, which follows a team of scientists and artists—Longobardi, Mark Dion, Alexis Rockman, Sonya Kelliher-Combs, and Andrew Hughes—on a June 2013 expedition to Alaska to collect and document plastic waste that has washed up on remote shores from places as far away as Japan. Works made with material collected on that voyage were displayed at the Anchorage Museum last year before traveling to the Sencer Museum. "Gyre: The Plastic Ocean" is on view through June 19.
BY THE NUMBERS
10 million pounds: Amount of trash volunteers collected during 2012's International Coastal Cleanup effort. That included more than 1.1 million plastic bottles and 1 million plastic bags. (Ocean Conservancy)
100,000: Estimated number of marine mammals killed annually by plastic debris. (United Nations Environment Programme)
1 million: Estimated number of seabirds killed annually by plastic debris. (United Nations Environment Programme)
600 Years: fishing line remains in the ocean. (Ocean Conservancy)
5 million tons: Japanese government's estimate of how much debris the 2011 tsunami swept into the ocean. (NOAA)
For more information on plastic ocean pollution, go to:
http://marinedebris.noaa.gov/
http://5gyres.org/