Over the past two decades, the need for authenticity has become a visual battleground for New Orleans. The city's tourism industry, while not inherently evil, reliably churns out pigeonhole iconographies that incidentally contribute to a plague of Airbnb pockets that eat away at local residential districts – the sites of genuine cultural generation. You can bet the Mercedes-Benz Superdome, Jackson Square, and a plethora of Mardi Gras shots show up in the collective libraries that get built up by this industry in the minds of outsiders. Intersection | New Orleans, a 2006 collaborative publication by poets and artists to preserve a sense of post-Katrina authenticity, identified this poison as "a lexicon of stock images and clichés." Fortunately, "Changing Courses: Reflections on New Orleans Histories" – the New Orleans Museum of Art's contribution to the city's tricentennial celebration – seems to have not only avoided these familiar pitfalls but instead, through six artworks, has provided a moving insider's look into lesser-known aspects of the visceral influence of the city's history on its born-and-raised citizens.
The show opens with New Orleans artist L. Kasimu Harris's photographic series War on the Benighted (2015-18), which uses a kind of fictionalized documentary style to tell the history of African-American students' efforts to gain equality in the city's public schools. This is most powerfully expressed in War on the Benighted #5, which shows a classroom scene in which two blurred silhouettes frame a black schoolgirl who is writing the names of important figures in African-diasporic history on a blackboard – presumably over the recently erased names of more well-known white historical figures. Much of Harris's series feels like walking through a Spielberg movie with peppy, misunderstood child protagonists rebelling against an oppressive adult world. We might pin one of their antagonists in the Louisiana State Legislature, which initiated a "recovery" effort of the Crescent City's schools following Hurricane Katrina, wrenching authority from local school boards and giving it to a charter system. This is soon to be finally reversed for most districts.
The educational theme continues with a recreation of Skylar Fein's Remember the UpStairs Lounge, an installation originally created in 2008 for the first Prospect biennial to memorialize  a queer bar at the corner of Chartres and Iberville streets which was destroyed by arson in June 1973, killing 32 people trapped inside. The objects on display are a mingling of actual memorabilia from the UpStairs Lounge and Fein's fabricated ephemera of the space. The two most noteworthy artifacts of the lounge are a plaster miniature of the Farnese Hercules which sat behind the original bar like a vernacular altar to the idealist, beefy male top, and a video booth featuring CBS local news coverage of the fire's aftermath.
The exhibition turns religious with an ode to Baptist evangelist Sister Gertrude Morgan by Lesley Dill. Morgan's later ministries utilized her own self-taught art, which incorporated biblically inspired text strewn throughout flattened figure-ground compositions for the purposes of teaching gospel. In her installation Heaven Heaven Heaven / Hell Hell Hell, Dill's recognizable text-heavy style speaks to the power of the written word and the lesser-known importance of Protestant Christianity to the cultural landscape of inner-city New Orleans and Sister Gertrude's place within it. Dill's recognizable mingling of variously sized fonts from different time periods creates a liturgical landscape of fear and trembling. Two garments stand centered in the room, together representing the apocalyptic and ecstatic literary styles Sister Gertrude drew from the imagery in Revelation. The text on the smaller dress reads "HELL" in fiery red-orange lettering against black fabric, while behind it stands a white preacher's robe accented with greens, reds, and blues. As if to emphasize the triumph of grace over punishment, the white robe sprouts bannered wings which reach to the ceiling, transposing it from heaven to earth with an otherworldly authority.
Continuing this exploration of religious traditions within the Crescent City is The Living Need Light, The Dead Need Music – a 2013 film by the artist collective Propeller Group (disbanded 2016) that premiered at Prospect 3. The city's Vietnamese community arose  after the fall of Saigon in 1975, when traditional Mahayana Vietnamese fleeing the country were relocated to New Orleans alongside many Catholic believers who were brought to New Orleans East under a relocation program initiated by the church. The competing faiths of these immigrants have continued to exist alongside Vodou practices and big-band parade traditions. The Propeller Group's technically stunning cinematography explores these parallels in narrative fashion. Viewers follow a small boy throughout the film who is contrasted with a more mature, though still young crossdresser. Wielding erotic dancing talents, she ushers a  funeral procession, at one point to a jazz version of singer-songwriter Trinh Cong Son's surrealist ballad "Một Cõi Đi Về." The celebration of the deceased's life offers up an unmatched theatricality: snake handling, sword swallowing, fire breathing, martial combat and the burning of money are but a few performances brought out in expressive grief for a spirit in need of guidance to the afterlife.
Artist Katrina Andry's Diverge, Divest, Deny (Repeat) draws attention to the problems of the city's urban development programs. Viewers are enveloped in a monochrome installation of layered, hanging banners of lush leafage in a verdant woodblock-printed passage. This garden, however, is littered with the enlarged, crumpled-up plans of large-scale construction projects, scattered across the banners like plastic bags floating over water. At once attractive and sad, they comment on the toxic romanticism associated with images of New Orleanian decay, from dilapidated houses overtaken by foliage to bays of cypress trees decimated by saltwater invasion. A great many artists, too, are guilty of aestheticizing decay. Obviously, those living in it benefit not at all from such perspectives of beautification.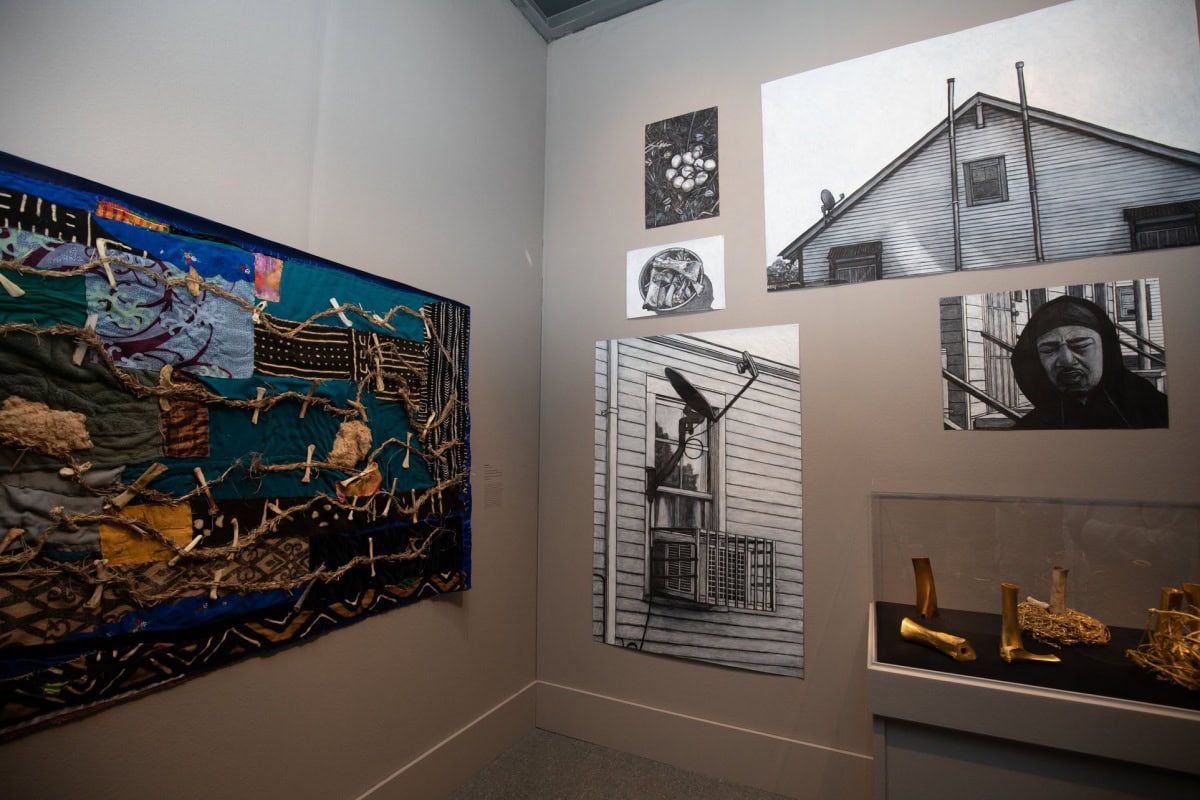 Closing "Changing Courses" with an emphasis to local history and lore is Willie Birch's Fabric, Root, and Bone. True to its title, Birch's contribution utilizes a slew of materials attempting to craft a material-focused relationship between marginalized histories and the contemporary communities that hold to those histories. A wall of grisaille portraits of the artist's 7th Ward neighbors, among them some recognizable local arts professionals, contrasts with similarly composed drawings of handguns, wire fences, roadkill, and other gritty realities of Birch's urban environment. The most demanding piece is a mixed-media tapestry, For a Generation not yet Born, that serves as a representation of the 1811 slave revolt in which approximately 500 enslaved peoples marched from Woodland Plantation southward to New Orleans before being stopped by military forces at Jacques Fortier Plantation two days later. Read right to left, the tapestry follows lines of bones united by rope lined into and out of patterned patches, all set against sectioned backgrounds of blue, black, gold and green, ending with a boneless grey area signifying the quenching of the revolt.
Most cities are far too complex to relate to a singular "true identity," but New Orleans has been forced to reckon with such an idea. Played out in the arts, big events like the Prospect triennial are vulnerable to a catering tendency, especially when funding is received directly from the city, which expects a return investment through the repetitive utilization of tourist-friendly  imagery. Rebecca Lee Reynolds pointed out in this publication, for example, that Prospect 4 (intended to celebrate the city's 300th birthday), "offer[ed] a moment of unearned grace, unearned because the tropes are tired for a local or regional audience and tend to work best with the out-of-towners who are still in awe of the city." Locals are lucky the New Orleans Museum of Art instead steered towards a carefully crafted, genuinely representative portrayal of its hometown – one that out-of-towners will benefit from as well.
"Changing Courses: Reflections on New Orleans Histories" is on view at the New Orleans Museum of Art through September 16.