A sunny spot amid the sad disputes, delays, and closures plaguing Atlanta's cultural scene can be found at the High Museum in the exhibition "Painter's Painters: Gifts from Alex Katz," which closes on November 2. With the Atlanta Symphony silenced and the Georgia Shakespeare Festival permanently shuttered, the exhibition offers a prized collection of new contemporary paintings acquired through the generosity of Alex Katz.
"The Alex Katz Foundation is helping me to build one of the richest public collections of contemporary painting, enabling us to present the plurality of voices and approaches to painting in the present moment," said Michael Rooks, curator of modern and contemporary art at the High.
The New York artist established his foundation in 2004 and has donated hundreds of works by influential contemporary artists to museums in the United States and Europe. The High has received 34 paintings, including 22 by Katz himself, through an ongoing relationship with the artist. [The High will show a survey of his work next year.]
The relationship between Rooks and Katz developed four years ago, when Rooks met Katz at an opening for Mathew Day Jackson at Peter Blum Gallery. Soon after, Rooks initiated the acquisition of Katz's Winter Landscape, which Katz reciprocated with a gift of his own, a dreamy winter landscape, Twilight, to the museum.
The current exhibition includes eight works by Katz and a number of strong paintings by other contemporary artists, including Ronald Bladen, Jan De Vliegher, Christopher Deeton, Martha Diamond, Juan Eduardo Gomez, Josephine Halvorson, Nabil Nahas, Rob Pruit, Wilhelm Sasnal, Spencer Sweeney, and Charline von Heyl among others.
One of Katz's signature works, Blue Flags, presents a close encounter with stalwart iris blossoms in the artist's characteristic flat rendering. The blossoms, painted in violets and lavenders, are set against a vibrant red background, creating a tension that unravels our expectations of the bucolic garden.
Joyce Pensato attacks the silver-coated canvas Daisy with viscous black paint in her rendition of the beloved cartoon character. Daisy appears with a gaping mouth and crossed-eyes and is more likely to chew your face off than quack sweet nothings. The velocity of thrown paint splatters and drips in an explosion against the silvered surface. Pensato reimagines this childhood icon as a menacing nightmarish form in an unsettling image that challenges the stability of the familiar.
"Alex sees every painting show in New York City. His eye is far more advanced than most human beings," Rooks said. (Anyone might find this a daunting schedule but the 84-year-old Katz told Architectural Digest that he starts his day with 300 push-ups and 400 sit-ups.)
Katz's eye for innovative painting can be seen in an untitled painting by Laura Owens. Confrontational black swathes of paint confound the space amid monochromatic floating grids. A faintly drawn cartoon cat anchors the background while sporadic heavy impasto brush marks reinforce the surface. Owens's diverse range of applications—including screen processes, computer-generated images, graphic line and impasto—expand the boundaries of art-making. This is a spectacular work whose meaning has many possibilities.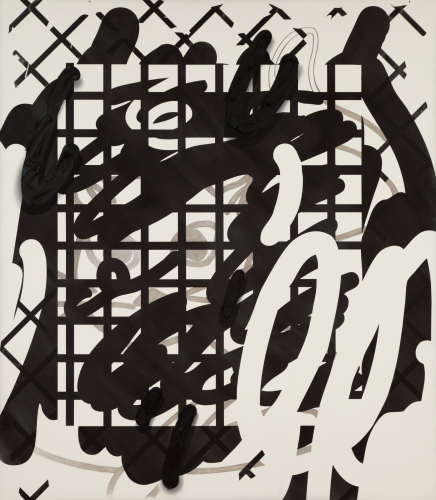 Jan De Vliegher's Man with Gigantic Bee depicts a compelling drama on a dinner plate. Painted on a grand scale, the plate's decorative detail reveals a small period figure who appears to be running from an enormous bee while threatening wasps encircle the plate. The familiar genre, the juicy paint, and pleasant colors contrast humorously in a world that has reverted to the Jurassic.
There is a larger narrative at work in this relationship between the High Museum and Alex Katz. Rooks explains, "I believe that Alex Katz is helping us to regain the critical and authorial agency that we used to have by identifying value in art—social, cultural or otherwise—early in an artist's career or in the work of great artists who haven't received the attention they deserve."
The polyphonic voices of some of the most gifted contemporary artists are a welcome addition to the museum's permanent collection. And the gifts keep coming. According to Rooks, more paintings from Alex Katz are expected later this fall. The generosity of Katz, his unerring eye for edgy painting, and Rooks's curatorial expertise is a grand slam for the High Museum. Don't miss this show!
Maggie Davis is an artist and scholar living in Roswell, Georgia.